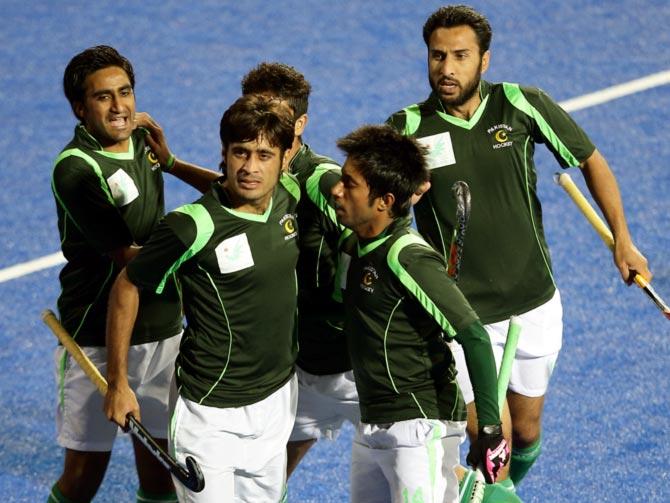 IMAGE: Pakistan's players during the 2014 Asian Games hockey match against India in Incheon. Photograph: Suhaimi Abdullah/Getty Images

Former India captain Dhanraj Pillay on Monday batted for participation of Pakistan's players in the Hockey India League (HIL) and urged Hockey India to take up the issue with politicians to ensure their presence in the future editions of the franchise-based tournament.

"Hockey India should have taken permission from the politicians to allow Pakistani players to participate in the HIL. I don't think they would have any issues with that," the 47-year-old said.
Pakistan's hockey players refused to tender an apology for their 'unacceptable behaviour' during last year's Champions Trophy match against India in Bhubaneswar and, hence, have been banned from playing in the HIL, Pillay alleged.
"The problem is they have not apologized for their misconduct... that happens. However, things could have been sorted if the federations would have approached the politicians," he said.

The International Hockey Federation (FIH) on December 14 last year banned two Pakistani players for one match each in the aftermath of Pakistan's victory over India in the Champions Trophy semi-final.

After winning the game 4-3 in a thrilling battle, several Pakistani players removed their shirts, danced in jubilation and made obscene gestures towards the crowd.
Hockey India president Narinder Batra had last month ruled out Pakistani players' participation in future editions of the HIL saying they will not be considered until they apologise.

Batra, who is also the chairman of HIL, said he would love to have players from the neighbouring country in the franchise-based league but not with the kind of conduct they displayed in Bhubaneswar last year.

"I would love to have Pakistan players but not with the kind of behaviour they displayed in the Champions Trophy," Batra said.

"And they have shown no regret of that incident in writing or otherwise. I don't want to politicise the issue but that kind of behaviour was unacceptable. Least we need is an apology from them," he added.
Replying to a query on development of academies in the country to boost hockey, Pillay said HIL authorities should release some funds for setting up of academies to breed young talented players.

"The HIL authorities should give some money for setting up of academies to breed young talents and bring them onto the world stage.
"We had appointed Roelant Oltmans as the High Performance Director, but did not give any grassroot programme for developing and improving the sport in India. Oltman was aiming only at the established players whether they were playing for a junior, sub-junior, Under-21 or senior team. He slowly spread his wings, came closer to Hockey India official, and now he has been appointed as India Hockey Coach," he said.

On the issue of foreign coach, Pillay said the country does not require them because the country has enough quality coaches.

"Moreover, Dhyanchand, Daljeet Singh Dhillon, Jugraj Singh and myself are products of Indian coaches, not foreign," Pillay argued.

"Foreign coaches also does not give hundred percent to different countries and language is the biggest barrier as Indian players do not understand English," Pillay said.

The former striker claimed HIL has increased money in the sport, which has resulted in players getting good money for their services.

"When I started my career in 1992, I was earning Rs 1.25 lakh, but now players are earning almost Rs 70 lakh. Yes, the league has not only brought lot of money to players but also to federations."