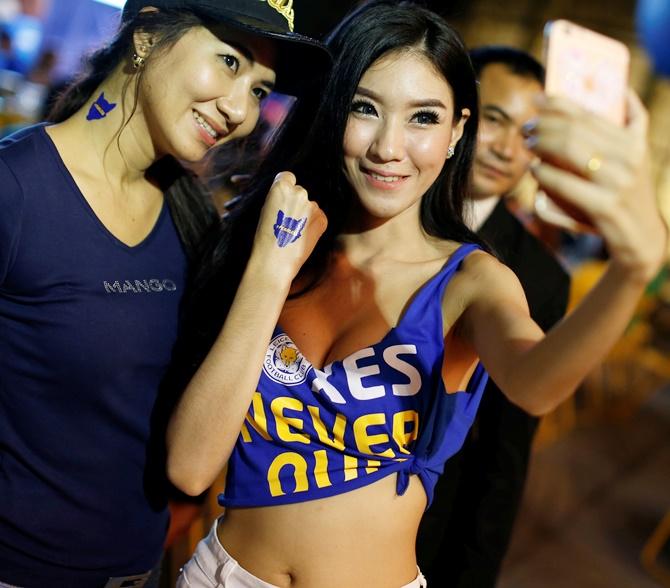 IMAGE: Leicester City fans takes pictures while watching the game against Manchester United on a big screen in Bangkok. Photograph: Jorge Silva/Reuters.
About 900 jubilant fans and employees of the Thai billionaire who owns Leicester City roared when the final whistle blew in their team's 1-1 draw at Manchester United on Sunday that left them on the brink of winning the Premier League title.
Victory at Old Trafford would have secured Leicester's first English top-flight crown but the club's growing fan base in Thailand will have to wait a little longer before the real party begins.
"It's good to get a draw at Manchester," said Thaweewat Ingkathanachai, a student who switched to following Leicester from Liverpool last season.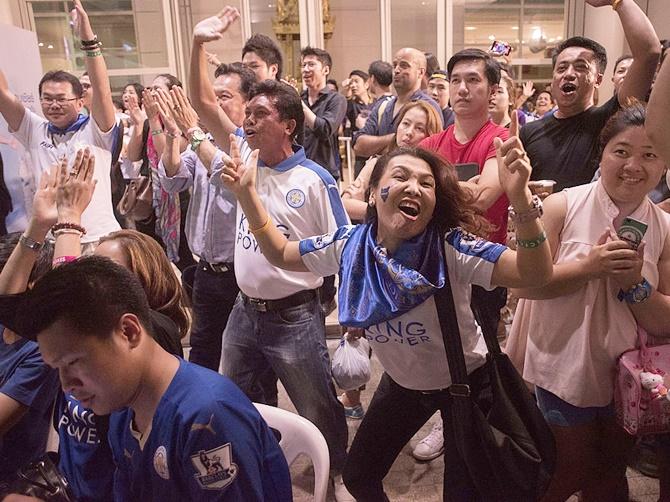 IMAGE: Leicester City fans gather at King Power Hotel in Bangkok to watch the Premier League game between Manchester United and Leicester City at Old Trafford. Photograph: Borja Sanchez-Trillo/Getty Images.
"But it's disappointing not to win it today. I just hope Chelsea beat Tottenham tomorrow."
Leicester will seal the title on Monday if Spurs fail to win at Chelsea. If Tottenham do beat their London rivals, Leicester will get the chance to be crowned champions in front of their own fans at the King Power Stadium by defeating Everton on Saturday.
Thai supporters gathered in front of a giant outdoor screen erected in front of the glitzy headquarters of King Power, the duty free franchise of tycoon Vichai Srivaddhanaprabha who bought Leicester in 2010.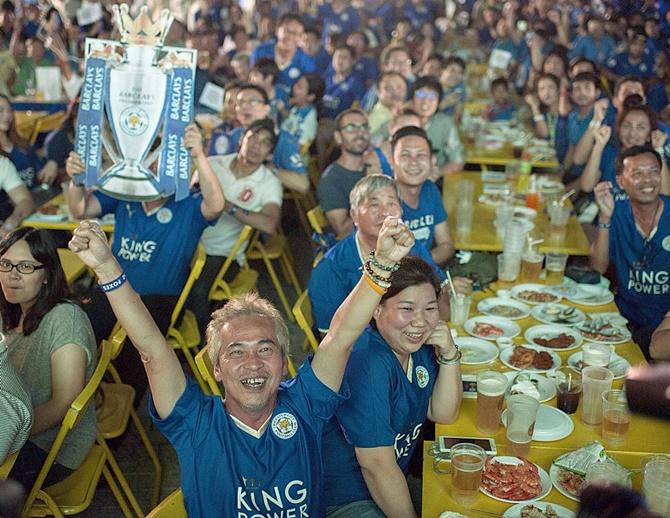 IMAGE: Leicester City fans celebrate a goal while watching their team play against Manchester United at King Power Hotel in Bangkok. Photograph: Borja Sanchez-Trillo/Getty Images.
King Power laid on food and beer for the fans watching the match and many more gathered in the streets outside.
"This is a golden point," said Wanchai Supan, a Leicester fan and local radio presenter sporting a Foxes headband carrying the Thai script and symbols written by the Buddhist monks that have blessed the club.
"We will win the title for sure."