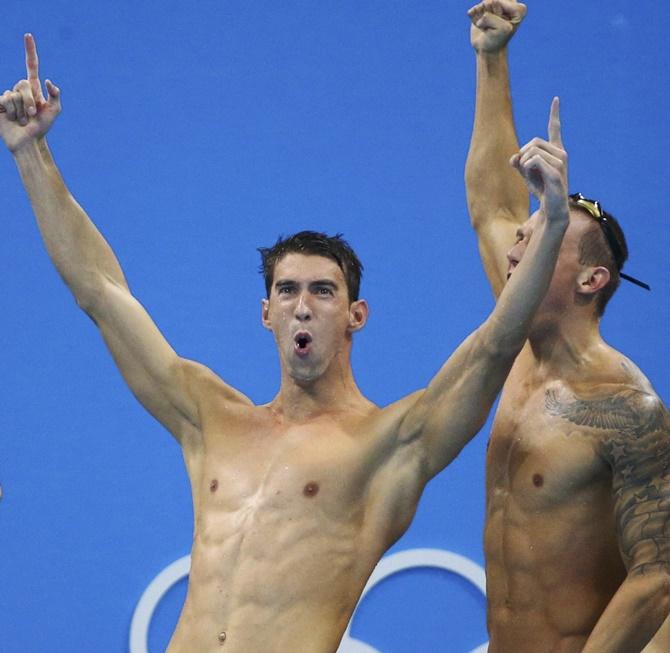 IMAGE: Michael Phelps of USA celebrates. Photograph: David Gray/Reuters.
Michael Phelps won the 19th gold medal of his Olympic swimming career on Sunday after helping the US men's team to victory in the 4x100 metres freestyle relay.
The 31-year-old, making his first competitive appearance in the pool at his fifth Games after sitting out the heats, now has an unprecedented 23 medals with two silvers and two bronzes filling out his tally.
London 2012 champions France took the silver medal and Australia the bronze.
Record-smashing Ledecky win women's 400m free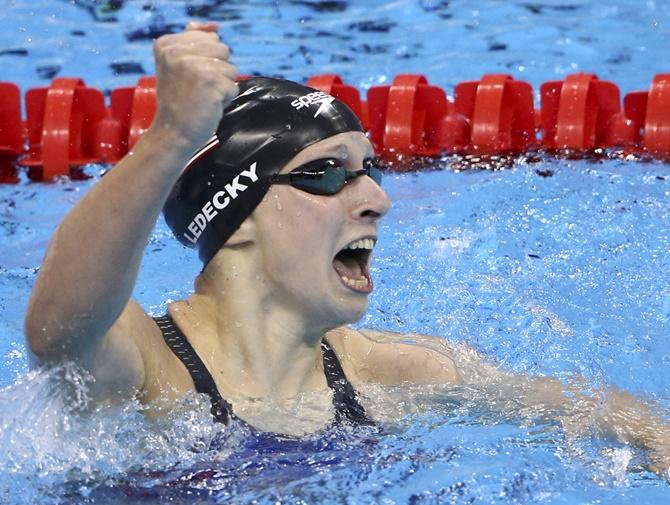 IMAGE: Katie Ledecky of USA celebrates after setting a new world record. Photograph: Marcos Brindiccir/Reuters.
Katie Ledecky of the United States broke her own world record on Sunday on the way to winning the women's 400 metres freestyle gold medal, the first stage of a rare treble she hopes to complete at the Rio Olympics.
Ledecky, who had come close to the record in the morning heats, led from start to finish to set a new mark of three minutes, 56.46 seconds, shaving 1.91 seconds off the previous best she set in Australia two years ago.
"It feels really good. I'm pumped. I was so close to breaking it (this morning)," Ledecky said. "I felt good throughout. The swim was almost identical to this morning, but with a bit more pop on the last lap. It's pure happiness."
It was the sixth world record to fall in just two days of competition at the Olympic Aquatics Stadium.
Jazz Carlin took the silver medal on a great night for British swimmers, minutes after Adam Peaty had won gold in the 100 metres breaststroke.
Leah Smith of the United States won bronze.
Ledecky's winning margin of 4.77 seconds underlined her total dominance of the event.
The 19-year-old is also overwhelming favourite to take the 800 metres freestyle, in which she won gold in London four years ago, and is also competing in the 200m freestyle.
If she wins all three, Ledecky - who also won a silver in the 4x100 freestyle relay on Saturday - will be the first women to achieve the feat since American Debbie Meyer at the Mexico City Olympics in 1968.
The 2012 London champion Camille Muffat of France was among 10 people killed in March 2015 when two helicopters collided in a remote region of Argentina during the filming of a reality TV show.
Peaty takes 100m breaststroke gold in record time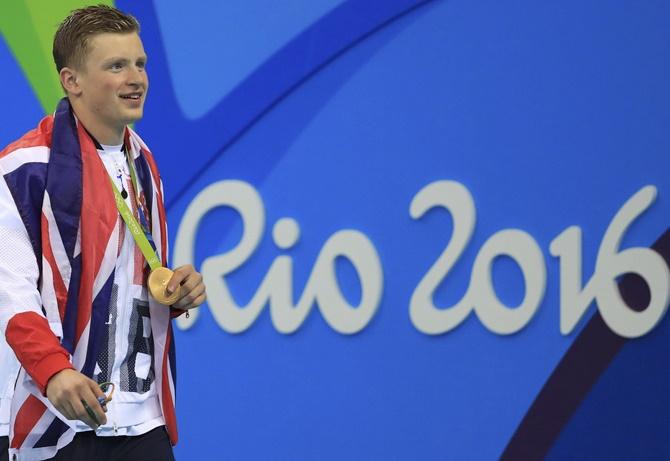 IMAGE: Adam Peaty of United Kingdom poses with his gold medal. Photograph: Dominic Ebenbichler/Reuters.
Adam Peaty smashed his own world record for the second time in two days on Sunday to win 100 metres breaststroke gold and become the first British male swimmer in 28 years to win an Olympic title.
The 21-year-old world champion, who clocked 57.55 seconds in Saturday's heats, sliced another hefty chunk off his mark to finish in 57.13 and open his country's medal account at the Games.
Defending champion Cameron van der Burgh of South Africa, whose 2012 world record Peaty took in April 2015, had to settle for silver in 58.69 and Cody Miller of the United States won the bronze in 58.87.
"It's surreal to get Team GB's first gold but this is a product of seven years' hard work," said Peaty, who showed no nerves as he walked out and calmly stripped down for the biggest race of his life.
Fastest off the blocks, Peaty made the turn 0.08 of a second inside world record pace and powered down the final 50 like a man determined to exceed the expectations that have built since he won three golds at last year's world championships.
"I gave it everything I've got and I did it for my country. I knew this arena would be absolutely perfect for me," said the Briton.
The last British male swimmer to win an Olympic gold medal was Adrian Moorhouse in the same breaststroke event at the 1988 Seoul Games.
The country's only other male champions over the last 100 years were David Wilkie in the 200m breaststroke in 1976 and Duncan Goodhew in the 100m breaststroke in 1980.
Moorhouse, commenting for BBC television, was lost in admiration for a youngster who still lives with his parents in Uttoxeter and was taken to his first swimming lessons after screaming at the sight of bath water.
"He has the technical ability and talent to do this and can then cope with the pressure of the moment and put a bubble around himself and say, 'You know what? I should be here'," the former champion told viewers.
"He has got everything."
Sjostrom avoids 'disasters' to win 100m butterfly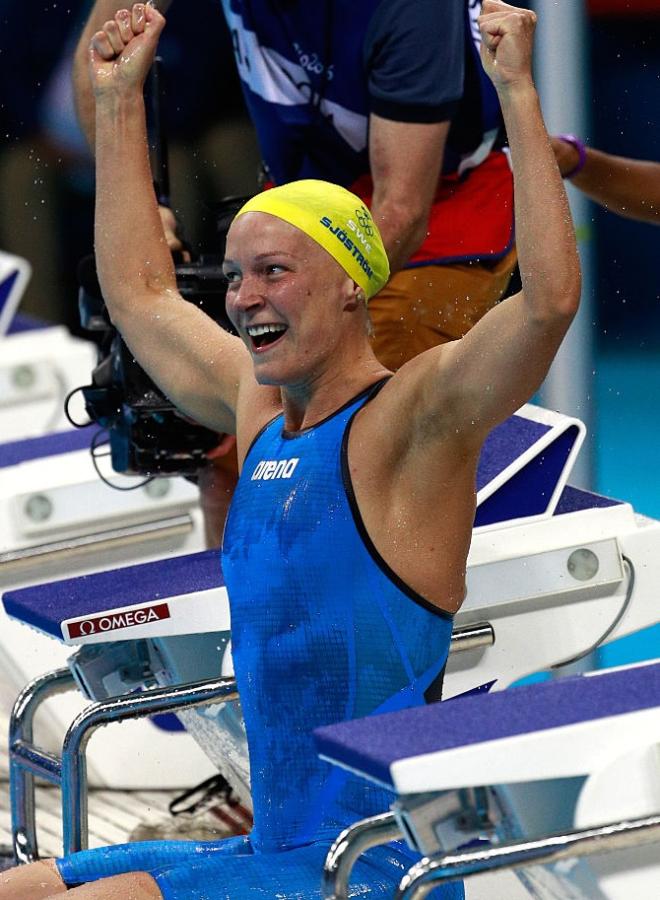 IMAGE: Sarah Sjostrom of Sweden celebrates winning gold and setting a new world record in the Women's 100m Butterfly. Photograph: Adam Pretty/Getty Images.
Calming her nerves by reassuring herself that 'it's just a pool', hot favorite Sarah Sjostrom broke her own world record in the 100 meters butterfly on Sunday to become the first Swedish woman to win an Olympic swimming gold medal.
Canada's 16-year-old Penny Oleksiak won silver and Dana Vollmer of the United States, the defending Olympic champion who became a mother last year, took bronze.
Sjostrom, three times world champion in the event, set a time of 55.48 seconds to break her previous mark of 55.64, set in Russia a year ago. It was the first Olympic medal for the 22-year-old Swede, competing in her third Games.
She will also race in the 50, 100 and 200 meters freestyle, but told reporters she knew the butterfly was her best chance.
"The feeling is totally crazy. I didn't realize it was a world record," Sjostrom said.
"I knew I was the big favorite. I was under pressure, so I tried to focus on no disasters. Before the start I said to myself: 'It's just a pool. It's nothing. I know what to do.'"
The reigning world champion led at the turn and pulled away in the last 50 meters as the crowd cheered her on in anticipation of the record.
Oleksiak put in a strong swim in lane two to snatch the silver ahead of Vollmer, breaking her own world junior record in the process.
"It is super amazing," the Canadian said.
"I still have a few more years left as a junior. Taking that time down is going to be fun."