Goalkeeper Gylmar, an ever present in the legendary Brazil teams that won the World Cup in 1958 and 1962, has died in Sao Paulo, aged 83.
The former Santos and Corinthians keeper suffered a heart attack last weekend and never recovered. He had been in poor health for several years following a stroke.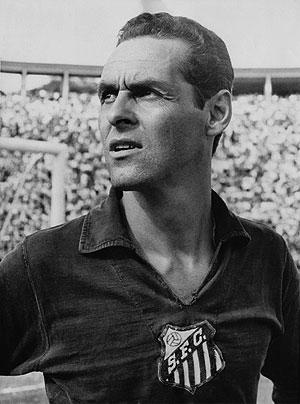 Broadcaster and journalist Juca Kfouri called him "simply the greatest of all time".
"No Brazilian goalkeeper was ever like Gylmar dos Santos Neves," Kfouri said.
"And none ever will be."
Gylmar began his career at Jabaquara, a small club in his home town of Santos, but he was there for less than a year before being snapped up by Corinthians.
He played for the Sao Paulo side from 1951-61, winning three Paulista state championships and having the dubious honour of going down in history as the man between the sticks when Pele scored his first professional goal.
He left Corinthians in 1961 to return home to a team that was emerging as Brazil's pre-eminent club side.
Alongside Pele and other stars such as Coutinho and Pepe, Gylmar helped guide Santos through the greatest period in their history.
During his seven years in goal at the Vila Belmiro, Santos won the Copa Libetadores twice, the World Club Championship twice, and five Paulista state championships.
He also played for Brazil on 104 occasions and was on the losing side just 16 times.
His son, Marcelo Neves, was instrumental in forming an association of former World Cup winning players.
He fought for older players, many of whom were living in undistinguished circumstances, to receive a bonus and monthly pension for their contributions to Brazilian football.
His father's death comes just a month after Djalma Santos, the full back in the triumphant 1958 and 1962 sides, passed away aged 84. Another full back in the 1958 team, Nilton De Sordi, died on Saturday, aged 82.
"As well as being a great goalkeeper, he was a worldwide hero and an example as both a player and a citizen," said Jose Maria Marin, the president of the Brazilian Football Confederation.
"The Brazil team he represented so well will pay homage in the upcoming friendly against Australia on September 7."
Photograph: Keystone/Hulton Archive/Getty Images