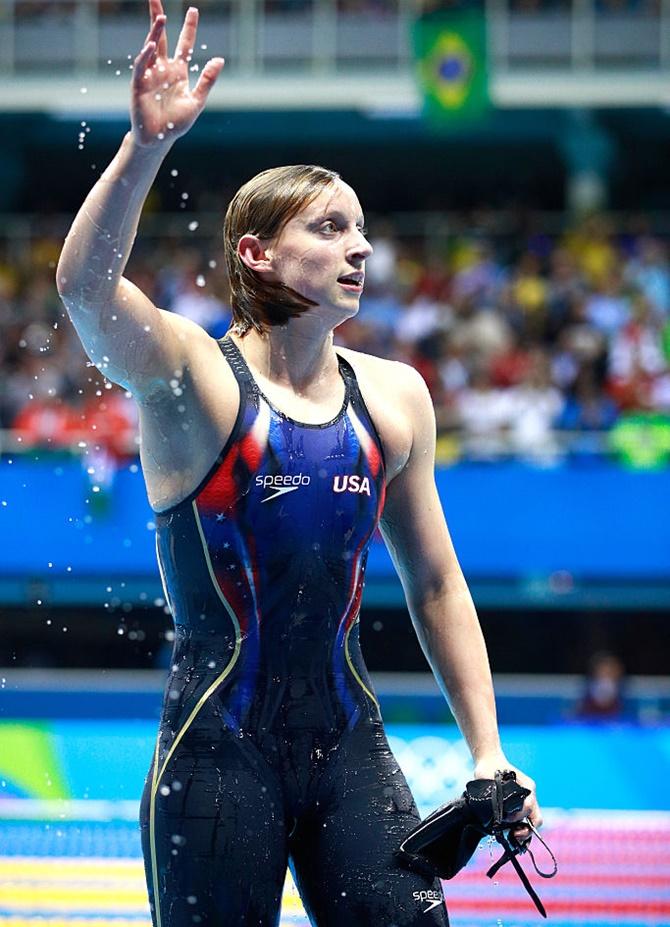 IMAGE: Katie Ledecky of the United States celebrates winning gold and setting a new world record. Photograph: Adam Pretty/Getty Images.
Katie Ledecky of the United States destroyed the field in the 800 meters freestyle on Friday and broke the world record to complete a rare Olympic swimming treble.
Ledecky led from the start to clock eight minutes, 4.79 seconds, beating her previous mark of 8:06.68 set in Austin, Texas in January.
Britain's Jazz Carlin won her second silver medal in 8:16.17, and Boglarka Kapas of Hungary took the bronze.
Ledecky, defending Olympic champion at the distance, added to her golds earlier in the week in the 200 and 400 freestyle and the 4x200 freestyle relay, plus a silver in the 4x100 relay.
The only previous woman to win the 200, 400 and 800 freestyle at the same Games was American Debbie Meyer in 1968.
DiRado catches Hosszu to take 200m backstroke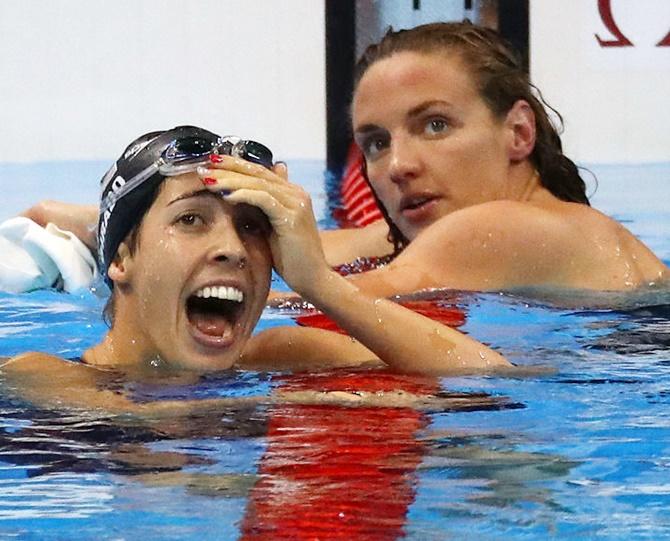 IMAGE: Madeline Dirado, right, of the United States celebrates winning gold in the women's 200m backstroke final on Day 7 of the Rio 2016 Olympic Games. Photograph: Dean Mouhtaropoulos/Getty Images.
Madeline 'Maya' DiRado of the United States won the women's 200 meters backstroke, reeling in Hungary's Katinka Hosszu in the closing meters to deny her a fourth gold medal of the Rio Olympics.
Canada's Hilary Caldwell won bronze.
Hosszu had led from the start, reacting fastest from the block, but DiRado shadowed her the whole way.
The Hungarian led the American by 0.57 seconds at 100 meters and by 0.48 at the final turn, but DiRado fought back and the two were neck-and-neck as they entered the final 25 meters.
DiRado touched the wall in 2 minutes 5.99 seconds to win by 0.06 seconds.
Turning to look at the scoreboard, her eyes widened and she clapped her hand to her mouth as if she could not believe the result.
"It's indescribable. That is just pure joy and surprise and excitement," she said.
Hosszu had already won the 100m backstroke and the 200m and 400m individual medleys in Rio, breaking the world record in the latter.
DiRado, 23, added to her gold in the 4x200m freestyle relay, silver in the 400m individual medley and bronze in the 200m IM.