- 'The honour to represent India at Rio Olympics 2016 is a dream come true. I am thankful to the All India Tennis Association for bestowing me this opportunity to wear the tri-colour on my heart once again.'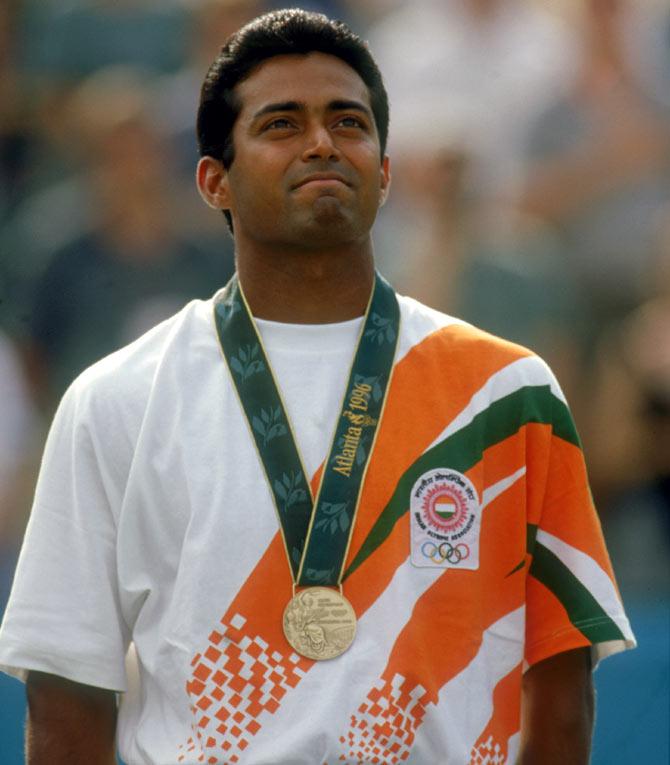 IMAGE: Leander Paes stands on the podium after winning a bronze medal in the men's singles tennis event at the 1996 Summer Olympic Games in Atlanta on August 3, 1996. Photograph: Gary M Prior/ Getty Images
Veteran Leander Paes, who will make his seventh Olympic appearance after he was named as Rohan Bopanna's partner for the men's doubles by the All India Tennis Association, said it was a 'dream come true' for him to be selected to represent India at the 2016 Rio Games.
Paes, winner of 18 Grand Slam titles, expressed gratitude for being selected in the Olympic team by the AITA.

"To play for the flag has always been the greatest inspiration for me. I am humbled by the love showered upon me by the people. Their overwhelming and unconditional support has been my pillar of strength and motivation throughout my career," Paes said in a statement, on Saturday.

"The honour to represent India at Rio Olympics 2016 is a dream come true. I am thankful to the All India Tennis Association for bestowing me this opportunity to wear the tri-colour on my heart once again," he added.
Bopanna, ranked 10th in the world, had picked world number 125 Saketh Myneni as his preferred partner, putting in doubt the fate of Paes, who last week won the French Open mixed doubles title with Martina Hingis.
However, AITA after their selection committee meeting rejected Bopanna's request and named Paes as his doubles partner.
"The committee decided that the best bet for Indian tennis to win a medal at the Olympics would be Leander Paes and Rohan Bopanna," AITA chief Anil Khanna said.
In all, a major crisis, which had become a trend before Olympic team selection, has been averted this time with Bopanna not defying AITA's decision.
"We have the highest respect for all the players. We want them to play at the optimum level while representing the nation. All the players are equally respected," Khanna added.
IMAGE: Leander Paes celebrates after winning a doubles match.Photograph: Simon Watts/Getty Images
Bopanna said he admires Paes, who won a singles bronze medal at the Atlanta Games in 1996, but believed their styles of play were not complementary.
"The AITA Selection Committee has now made its decision after due consideration of my representation... I respect this decision and look forward to participating in Rio," Bopanna said in a statement.
To ensure that Bopanna and Paes sort out their differences and 'discomfort', the AITA has also named them in the Davis Cup squad for next month's Korea tie.
Asked if one week is enough for Paes and Bopanna to sort out the differences that have piled up in years, Davis Cup coach Zeeshan Ali said, something is better than nothing.
"It's better to be together at least for a week, than not being together at all. Dialogue is important. Now that everything has been sorted, we are set for the Games," he said.