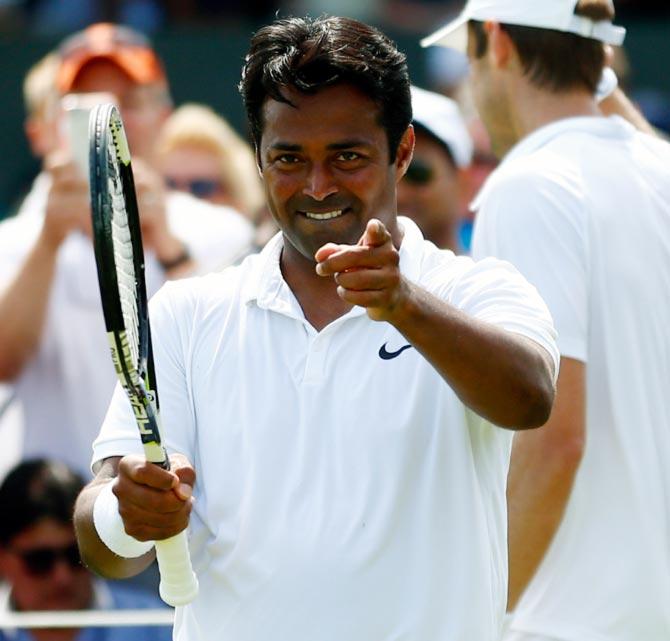 IMAGE: India's tennis legend Leander Paes. Photograph: Julian Finney/Getty Images
Decks were cleared for Leander Paes to make a record seventh Olympic appearance after Rohan Bopanna on Saturday accepted him as his men's doubles partner on the AITA's insistence, ending days of speculation surrounding the Indian team for the Rio Games.

Bopanna's original choice was Saketh Myneni but All India Tennis Association (AITA) selection committee felt that Paes and Bopanna are the 'best bet' for a medal at the Rio Olympics in August.

Bopanna will have two shots at the Olympic medal as he has also been picked in the mixed doubles event to partner Sania Mirza, who had also wanted to play him.

Sania will play women's doubles with Prarthana Thombare, who trains at her academy under her father and coach Imran Mirza.

To ensure that Bopanna and Paes sort out their differences and 'discomfort', the AITA has also named them in the Davis Cup squad for next month's Korea tie.

In a departure from the norms, AITA has named a seven-member team after Paes made himself available and feels that spending a week together before the Games will give them opportunity to
bond well.

In all, a major crisis, which was witnessed before Olympic team selection during the London Olympics in 2012, has been averted this time with Bopanna not defying AITA's decision.

"We have the highest respect for all the players. We want them to play at the optimum level while representing the nation. All the players are equally respected," AITA president Anil Khanna said after announcing the pairings.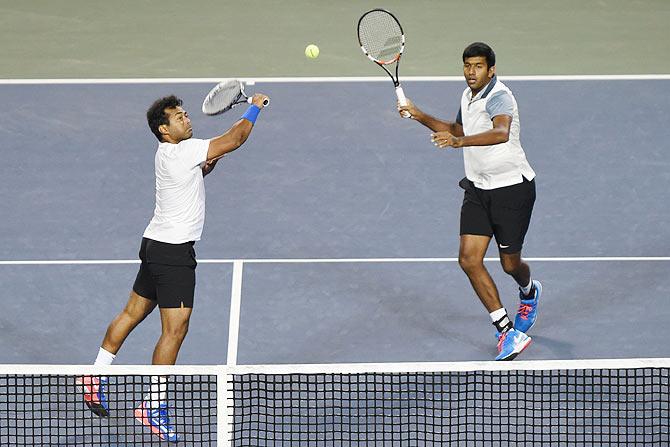 IMAGE: Rohan Bopanna, right, and Leander Paes of India in action.Photograph: Atsushi Tomura/Getty Images
Khanna said the selection committee looked at the results of Bopanna's combination with both Paes and Myneni in Davis Cup and concluded that Bopanna and Paes were the best bets for a medal.

Bopanna had written to AITA that he and Paes have not been able to put together a good combination despite best efforts.

"I have much admiration for Leander Paes and his many achievements but I do not believe our styles of play are either compatible or complementary. Considering that this is a team event where two individuals need to gel together to do well, regardless of individual achievements, it is the team and the combination that matters," he wrote in his letter to AITA, on Friday.

However, the 36-year-old said he has accepted AITA's decision and is ready to partner veteran Paes in Rio.

"The AITA Selection Committee has now made its decision after due consideration of my representation and has selected the team for the Olympics. I respect this decision and look forward to participating in Rio," he said in a statement.

AITA also appointed Davis Cup coach Zeeshan Ali as captain of the Olympic squad.

"It's time to look forward now. Leander and Rohan have it in them to fight tough for medal. It will be tough no doubt but they have been there at top level for some time now. Putting aside differences, they make a decent combination keeping in mind the field," Zeeshan said.

Giving the reasoning for pairing Sania with Bopanna, Khanna said it is a question of court combination.

"Rohan plays from the left side of the court and Sania from the right. Leander also plays from right. So we need to give this change," Khanna said.

AITA also announced a seven-member squad for next month's Asia/Oceania Group I tie against Korea in Chandigarh but the final announcement will be made on July 5.

Asked if one week is enough for Paes and Bopanna to sort out the differences that have piled up in years, Davis Cup coach Zeeshan said, something is better than nothing.

"It's better to be together at least for a week, than not being together at all. Dialogue is important. Now that everything has been sorted, we are set for the Games," he said.

Yuki Bhambri, the highest-ranked singles player in the country at number 147, Myneni (ranked 150 in singles and 125 in doubles), Bopanna (ranked 10 in doubles), Paes (ranked 46 in doubles), Ramkumar Ramanathan (224 in singles) Vishnu Vardhan and Sumit Nagal are in the squad.

Vardhan and Nagal will be the reserve players while four playing members will be announced on July 5.

Without naming either Yuki or Myneni, Khanna said some players are coming back from injury, so all seven were picked in the squad.

It has been learnt that Myneni, who recently recovered from a shoulder injury, may not be part of the playing squad.