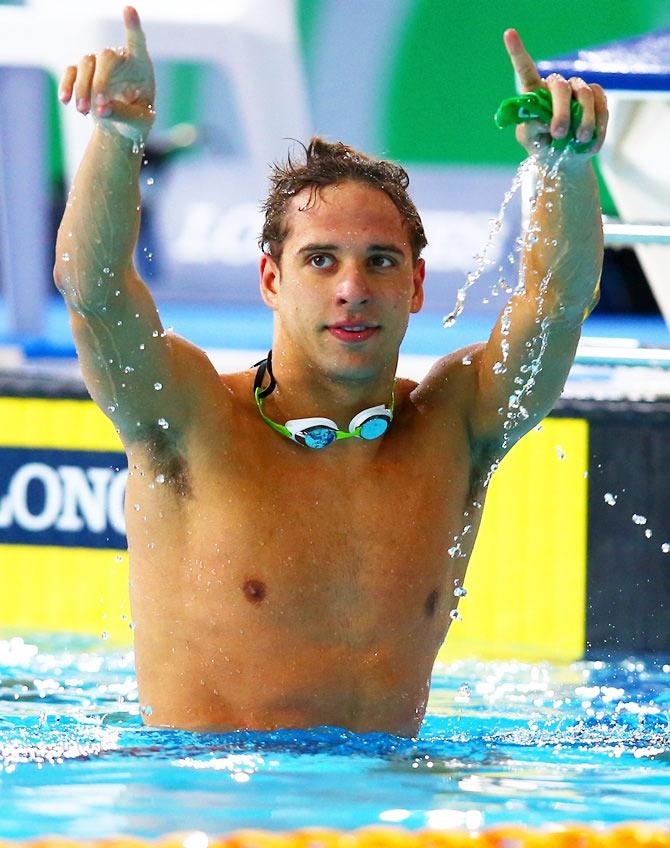 Chad le Clos of South Africa. Photograph: Clive Rose/Getty Images
Chad Le Clos took his fourth gold medal in Doha on Sunday and became the first male swimmer to win all three butterfly distances in a single world short-course swimming championships.
On a day when three world records tumbled, South African Le Clos won the trophy for best male swimmer of the week after winning the 200m butterfly to add to his 50m and 100m titles. The 22-year-old had also won the 200m freestyle gold.
Le Clos was overtaken briefly by Daiyo Seto of Japan but made a strong recovery to finish 0.05 seconds off his own world record time.
On the final day of the championships, Sweden's Sarah Sjostrom became the first woman to break the 55 second mark in the 100m butterfly with a time of 54.61 seconds.
Markus Diebler won Germany's first gold medal in a world record 50.66 seconds in the men's 100m individual medley, while Brazil's Etiene Medeiros also set a new global mark of 25.67 seconds in the women's 50m backstroke.
Poland's Radoslaw Kawecki successfully defended his 2012 title in the men's 200m backstroke, joining Ryan Lochte and Aaron Peirsol as the only men to have won the event twice.
In the women's 200m breaststroke, Denmark's Rikke Moller Pedersen also successfully defended her title.
Italian Gregorio Paltrinieri went one better than in 2012 by winning the 1500m freestyle and Brazil's Cesar Cielo took gold in the 100m freestyle.
Brazil's Felipe Silva followed up his win in the 100m breaststroke with gold in the 50m while Ranomi Kromowidjojo of the Netherlands took gold in the women's 50m freestyle.
Kromowidjojo also swam a brilliant anchor leg as the Dutch won the 4 x 50m freestyle relay while Brazil took the men's 4 x 100m medley relay, with Denmark taking the equivalent women's crown.