'It's a story of a fightback and believing in yourself. You should never give up.'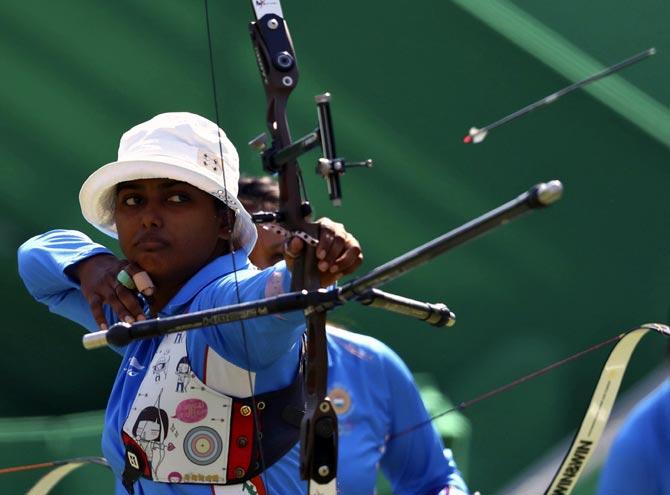 IMAGE: Deepika Kumar in action during the 2016 Rio Olympic Games. Photograph: Yves Herman/Reuters
The International Women's Day could not have been more special for Indian archer Deepika Kumari as a documentary on her life 'Ladies First' -- was released for worldwide streaming on Thursday.

The 39-minute documentary released on Netflix with subtitles in 28 languages, traces a poverty-stricken Deepika's journey from Ratu Road in Ranchi to Rio Olympics where she lost in the pre-quarters of individual section and last-eight in the team event.
"It was shot for over three years and travelled to all the places from Ratu Road, Tata Archery Academy to Delhi and Rio. It's a story of a fightback and believing in yourself. You should never give up," Deepika who won the Commonwealth Games in 2010, aged 16, said.

Directed by Uraaz Bahl and produced by Shaana Levy, the documentary has already won multiple awards including the London Independent Film Award and was screened at the Mallorca Film Festival in October 2017.

Actor Ranbir Kapoor and cricketer Sachin Tendulkar have endorsed the film and after watching the documentary.

Maneka Gandhi, minister of Women's Affairs and Child Development, said her ministry discussed setting up a fund to support women athletes and their training.

"I never imagined that it would come up so nicely and get so many accolades. This documentary was my way of showing the audience what goes on behind the scenes in the life of a sportswoman. I hope it will reach all and inspire people," the two-time Olympian, who is a four-time World Cup final silver medallist, said.

Recalling how archery became her passion, she said: "I had no idea that archery was even a sport. I did not pick archery -- it picked me. All I remember is walking into an academy that teaches tribal sports and next thing I know, I am being handed a bow and arrow carved out of bamboo."

"Needless to say, I failed miserably because I was weak and malnourished. The prospect of free food was too enticing to pass up, so I pleaded with the academy to let me train for three months before giving up on me."

"It was only when I discovered an inherent flair for archery that I started taking a real interest in it," she said as she had to convince her father who rode autorickshaw in Ranchi.

Her father was not supportive at first, but she would never give up and pleaded.

Post documentary, Deepika is focused on beginning the season on a high with Asian Games coming up later this year.

"We will have all India camp at Jamshedpur from March 16. It's an important year with many important events lined up. There's World Cup and Asian Games," she concluded.