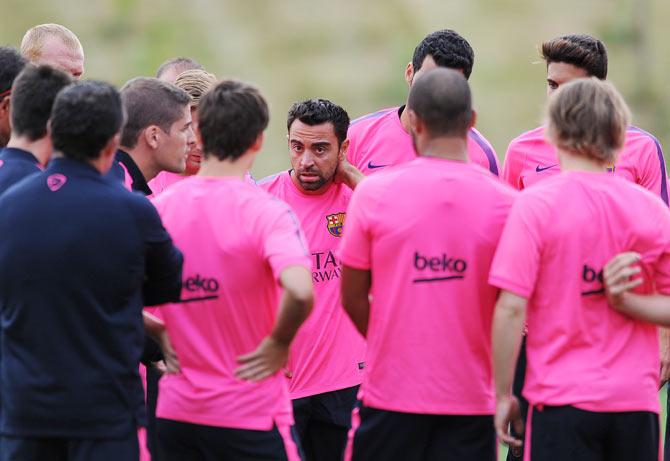 Xavi of Barcelona looks on during the Barcelona Training Session. Photograph: Chris Brunskill/Getty Images
Barcelona coach Luis Enrique has given his backing to Xavi and says the veteran midfielder remains a valuable member of the squad despite having played just 45 minutes in the opening five La Liga games.
The 34-year-old has been a fundamental cog for Barcelona and Spain in their recent glory years, winning a plethora of trophies, but he appears a bit-part player in Luis Enrique's restructured side so far this season.
He was named player of the tournament at Euro 2008 when victors Spain began an historic run which then saw them win their first World Cup two years later in South Africa and retain their European crown in 2012.
However, following Spain's dismal World Cup this year in Brazil where they were unable to progress from the first round -- and he was left out of the crunch second game against Chile -- Xavi announced his international retirement.
Xavi was also weighing up options of a move to Qatar or the MLS as he planned to leave Barca. Having come through the club's youth academy and played for the Catalan side all his life, he didn't want to play for a rival in Europe.
He was persuaded to stay by Luis Enrique, however, who took over ahead of the new season and is a friend and former-Barca team-mate.
The coach told Xavi that he remained an important member of the side, which he maintains despite the fact he has only started one game so far in the Champions League and played 45 minutes from the five league games.
"He is a fantastic player and we all know that, but I will choose who is best to play in each game," Luis Enrique told a news conference in Barcelona.
Barca won their first four league games, but still against Malaga on Wednesday when they failed to break down the Andalusian side he was not called on.
He was left as an unused substitute as Barca could only draw 0-0.
"In these kinds of matches I consider everything. I respect all the players and I need Xavi, as well as the other players, when I believe it to be the right moment," said Luis Enrique.
"He has the right attitude and whenever he doesn't play then there is a debate but I will always respond the same way.
'Nobody ever told me that I would have a secondary role'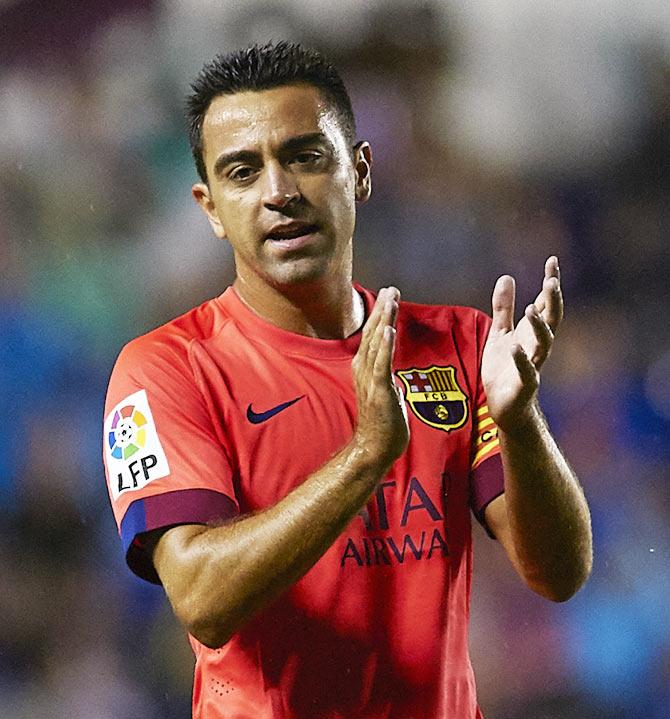 s
Xavi Hernandez of Barcelona reacts during the La Liga match between Levante UD and FC Barcelona. Photograph: Manuel Queimadelos Alonso/Getty Images
"I will decide who plays and I am sure that he could have played more and done very well but it is down to me.
"He is a special player but things do change as the seasons go by and we have to accept that. Having said that, I still want him in my side."
Xavi will always be synonymous with Barcelona's 'tiki-taka' style and his seemingly effortless ability to build play from deep using strong technique and short passes.
From the Terrassa area of Barcelona, he made his debut under Louis van Gaal in 1998 aged 18, and went on to help them win the title in his first season.
A consistent performer for Barca he really came to the fore under Pep Guardiola with whom he also played at the start of his career and is attributed with having replaced in midfield.
Barca won all six trophies available in 2009 in Guardiola's first full year in charge and Xavi directed play from the midfield.
Last season, though, Barca failed to win a major trophy for the first time in six years and Xavi had to be convinced to stay by Luis Enrique.
"I was told I was a key player. He told me that I would continue being useful for the team but that I would start again from zero.
"Nobody ever told me that I would have a secondary role," Xavi told reporters.
Barca face Granada this weekend and Luis Enrique is not giving anything away as to whether Xavi will play a bigger role.
Judging by his doleful expression sat on the bench in La Rosaleda stadium in Malaga in mid-week, though, Xavi may well be wondering whether he made the right decision to stay.