'Messi is a player that makes a difference in all games and in Clasicos he has always made a big impact but we will have to see if he is ready'
'You never know what can happen in these types of games and when you start as favourite it can often go wrong'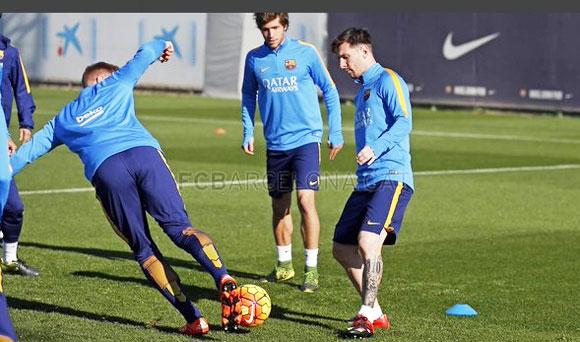 IMAGE: Lionel Messi at a FC Barcelona training session in Madrid on Wednesday. Photograph: FC Barcelona/Twitter
Barcelona forward Lionel Messi is looking sharp in training but remains a doubt for Saturday's 'El Clasico' against Real Madrid, teammate Luis Suarez said.
- Paris attacks aftermath: Heightened security for 'El Clasico'; French league on alert
Messi is in a fitness battle having returned to training on Monday following a knee injury he picked up at the end of September.
"Whether he plays or not is down to the coach, the medics and how he feels but he has been looking sharp in training. However, it is the type of injury where there are risks for the future," Suarez told a news conference on Wednesday.
"Messi is a player that makes a difference in all games and in Clasicos he has always made a big impact but we will have to see if he is ready."
In the absence of the four times World Player of the Year, Suarez and Neymar have excelled and propelled Barca to a three-point lead over Real at the top of La Liga.
Still Suarez is in no doubt over the value of Messi for the clash.
"Leo is above any other player due to what he has achieved and what he is still doing," said Suarez.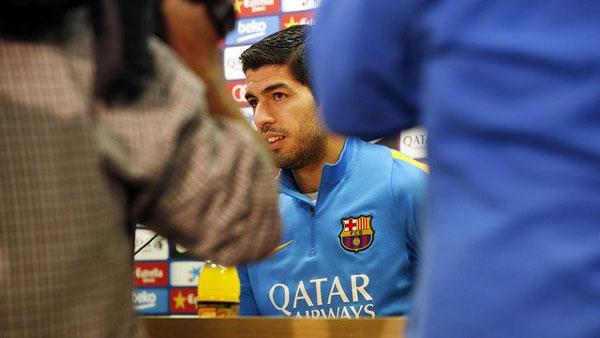 IMAGE: FC Barcelona's Luis Suarez speaks during a press conference on Wednesday. Photograph: FC Barcelona/Twitter
"Ney is amazing, behind Messi and could easily be the second best in the world. At the moment he is playing incredibly and it is great to see.
"We knew that we were going to be without Leo and that we had to be strong both physically and mentally. We have lost some points as have Madrid but we are happy because we have picked up good results without the best player in the world."
While Barca are looking for a seventh straight win between La Liga and the Champions League, Real need to battle back after defeat away to Sevilla before the international break when they were weak defensively.
"You never know what can happen in these types of games and when you start as favourite it can often go wrong," said Suarez.
"We will have to be fully concentrated. Just because Madrid lost their last game is not so important as they have great players.
"The league will not be decided by this game if we open up a six or four point lead as there is still a long way to go. It is not easy to win a league and there are also other teams like Atletico (Madrid)."