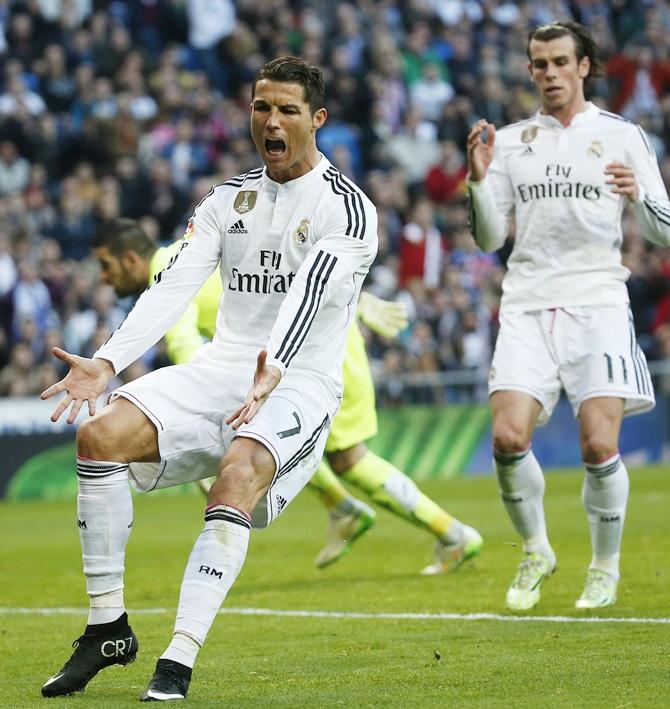 Real Madrid's Cristiano Ronaldo reacts, left, next to his teammate Gareth Bale. Photograph: Juan Medina/Reuters
Gareth Bale angered Real Madrid team mate Cristiano Ronaldo for the second La Liga game in a row on Saturday when he opted to shoot instead of passing in the second half of a 3-0 victory against Espanyol.
La Liga: Real back to winning ways against Espanyol
Ronaldo, well placed in the penalty area to the Wales forward's left during a swift break, reacted furiously after Bale's weak effort went wide.
It was a similar situation last weekend when Bale chose to go for goal instead of squaring the ball to Karim Benzema in the 2-1 defeat at Valencia.
Bale's actions on Saturday prompted whistling from fans at the Bernabeu and will do nothing to dispel the impression that he can be selfish, something that has earned him the label 'ball hog' in the Spanish media.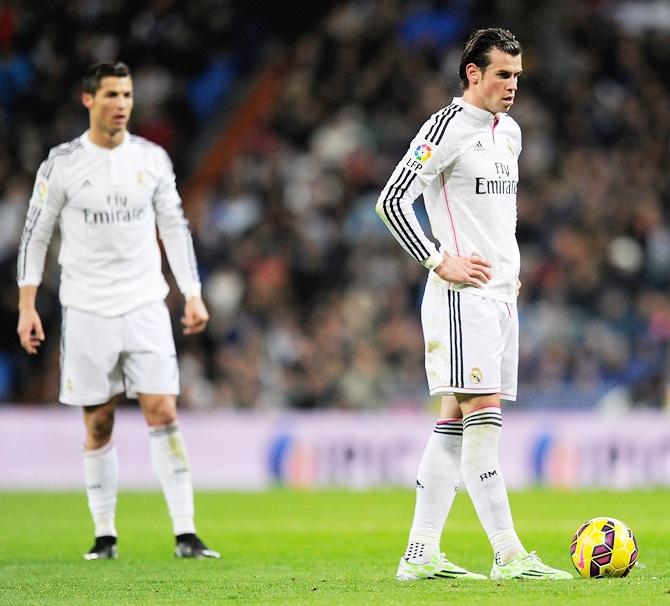 Cristiano Ronaldo and Gareth Bale of Real Madrid get ready to kick off. Photograph: Denis Doyle/Getty Images
Coach Carlo Ancelotti played down the incident and noted the Welshman had earlier scored a superb free kick that put Real 2-0 ahead.
"Later on the fans wanted him to pass to Cristiano but forwards are determined to score when they are through on the goalkeeper," Ancelotti said.
"Generosity is very important and if someone is being selfish then we will address it," added the Italian. "The supporters are very demanding when it comes to the important players and Bale is one of those.
"We shouldn't blow this out of proportion. It's one moment in a football game.
"Relations between them (Bale and Ronaldo) and everyone are very good. We are all pursuing the same goal which is to lift Real Madrid as high as possible."
The victory over Espanyol put them four points clear of Barcelona at the top of La Liga ahead of the second-placed club's game at home to champions Atletico Madrid on Sunday.