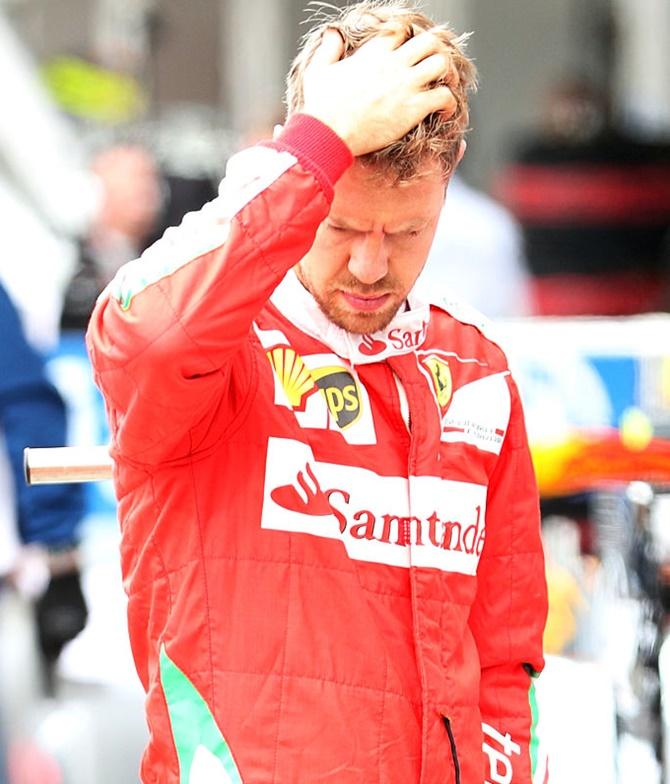 IMAGE: Sebastian Vettel of Germany and Ferrari. Photograph: Mark Thompson/Getty Images.
Ferrari's Sebastian Vettel let rip with a blast of swear words after two first lap collisions with Red Bull's Daniil Kvyat dumped him out of the Russian's home race on Sunday.
The two had traded barbs at the previous Chinese Grand Prix when Vettel took issue with an aggressive first lap overtake down the inside by the Russian that triggered a collision between the Ferraris.
They lined up together on the fourth row of the grid in Sochi and chaos ensued.
The Russian twice smashed into the rear of the Ferrari at successive corners, the second impact shunting the four times world champion -- who won his titles with Red Bull -- into the wall.
Vettel's reaction over team radio was mostly censored with bleeps for television audiences.
"I'm out. Crashed. Somebody hit me in the ... rear at turn two, and then somebody hit me in the ... rear again in turn three," the German ranted.
"Honestly. what the ... are we doing here?," exclaimed the German, who had called Kvyat a 'madman' in China and accused him of launching himself like a torpedo through the field.
Stewards imposed a 10 second stop/go penalty on Kvyat for causing the collisions.
The Russian had said before the start that he would do nothing different.
"You can never know how the start is going to go, it's all about instinct. you have to react on what is happening around you so I really don't know what the start will be like," he had told reporters.
Vettel, who won three races last season for Ferrari and finished second in China, got out after the impact and picked up the shattered front wing, trying to stuff it into the cockpit.
He then commandeered a scooter from a marshal, riding it back to the paddock with the official behind as a passenger, before seeking out Red Bull team principal Christian Horner on the pitwall.
"It was not my fault - there was nothing I would do differently," the German told the BBC.
"I don't dislike him (Kvyat). I think he did a mistake two weeks ago and I think he did a mistake today."
The race was Vettel's second blank in four this season, the German failing to start in Bahrain after his car's engine blew on the formation lap. He finished third in the Australian season-opener.