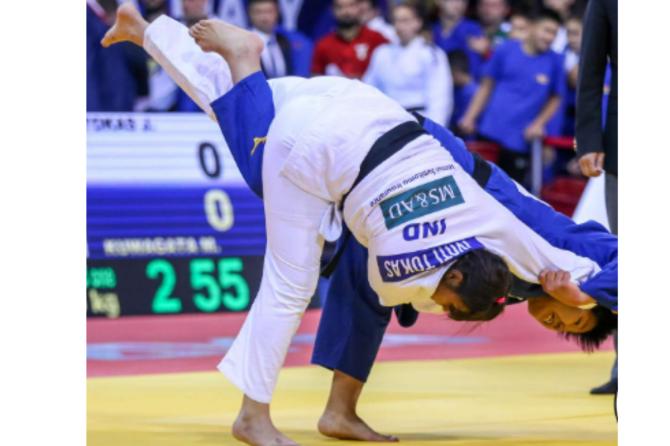 India's Kurash campaign at the Asian Games ended with Jyoti Tokas and Yash Kumar Chauhan enduring one-sided losses in their respective quarter-finals, to return empty-handed from Hangzhou on Monday.
Chauhan's men's 90kg bout against Sadegh Azarang failed to last the distance as the Iranian inflicted a 'khalol' -- comprehensive victory with 10 points -- to secure a 10-0 win.
The bout is stopped midway if there's a 'khalol' by one of the opponents. The arbitrator announces the "appraisal in case if the throw on back is done by a beautiful and accurate motion".
Earlier in the women's 87kg quarter-final, Jyoti was no match for her Iranian opponent Melika Omid Vandchaly, who won 3-0 securing three 'chala'.
Chala is a minor throw down on the opponent that garners one point.
A dominant Melika started off with a chala on Jyoti with a subtle attack on the Indian's legs.
There was no stopping the Iranian who secured two more chalas to race to 3-0 lead with the four-minute clock ticking away.
With less than 15 seconds left, Jyoti tried her best to overcome the deficit, but she failed to pin down Melika in any of her attempts.
India's Pincky Balhara, a silver medallist at Jakarta in 2018, was knocked out in the women's 52kg quarter-finals on Saturday.
India's Aditya Dhopaokar (men's 81kg), Suchika Tariyal (women's 52kg) and Keshav (men's 66kg) were also eliminated in their respective matches.
Kurash returned to the Asian Games for a second time.
Kurash made its Asian Games debut during Jakarta-Palembang in 2018.
India have won two medals in kurash at the 2018 Asian Games, with Pincky bagging silver in the women's 52kg category and Malaprabha Jadhav picking bronze in the same category.