Sania Mirza and her Spanish partner Nuria Llagostera Vives entered the second round of Kremlin Cup after a hard-fought victory over Darya Kustova of Belarus and Ukraine's Olga Savchuk in Moscow on Tuesday.
The third seeded Indo-Spanish pair beat its unseeded opponents 6-3, 5-7, 10-6 in a battle that lasted an hour and 27 minutes.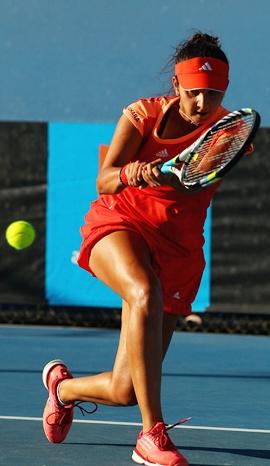 Sania and Nuria will take on the winner of the match between Abigail Spears and Raquel Kops-Jones and Kveta Peschke and Anna-Lena Groenefeld in the second round.
Sania and Nuria wasted as many as eight breakpoint opportunities out of 11, while the Belarusian-Ukrainian duo let go four of the six break chances.
There was little to differentiate between the two teams as both committed a number of unforced errors but Sania and Nuria managed to keep their nerves to walk away with the match.
Photograph: Lucas Dawson/Getty Images