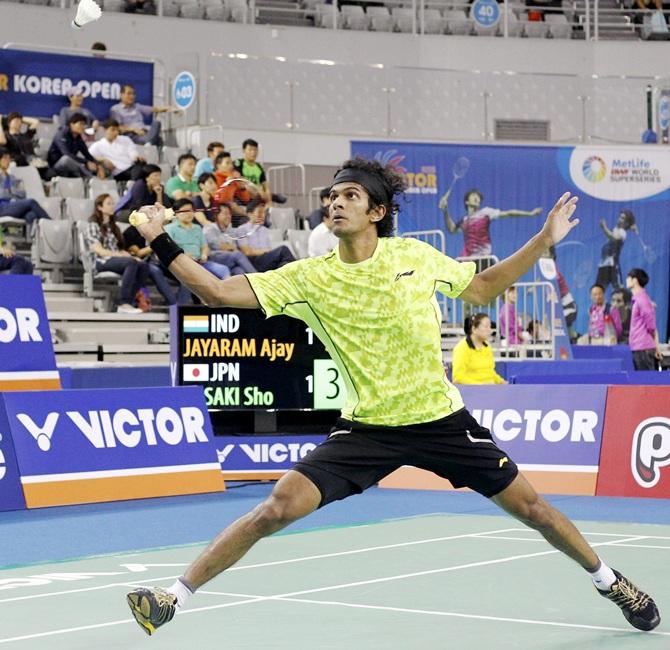 India's Ajay Jayaram in action. Photograph: PTI
A fairytale ending eluded him as Indian shuttler Ajay Jayaram's rampaging run was brought to a halt by defending champion and World No 1 Chen Long of China in the final of the $ 600,000 Korea Open Super Series event, in Seoul, on Sunday.
After producing a giant-killing run to earn a maiden Super Series final appearance, Jayaram failed to breach the Chinese wall as his fight ended with a 14-21, 13-21 loss to the current world champion Long in a 40-minute men's singles final.
En route to the summit showdown, Jayaram punched above his weight, stunning the likes of World No 6 Dane Viktor Axelsen, Japan's Sho Sasaki and Chinese Taipei's Chou Tien Chen to set up a title clash with Long, an opponent he had lost to at the Hong Kong Open last year.
Jayaram, who is coached by Tom John in Bangalore, could not produce the same skill and tenacity that took him to the finals as he succumbed to a series of unforced errors to go down in his toughest test in the tournament and end runner up.
Jayaram started with a smash but stumbled on a series of errors to lose points. Long was equally erratic in the beginning as both led 4-4 early on in the opening game. Long, however, quickly regrouped and started dominating proceedings as his smashes got sharper and he thrived on the Indian's error to lead 9-5.
Jayaram showed occasional sparks of brilliance and left Long completely stranded with a deceptive jump shot at 7-9 and with that clawed back at 9-9. However, Long produced two powerful smashes to go into the break with a two-point advantage.
After a talk with chief coach Pullela Gopichand, Jayaram came up with a cross court smash but hit long next. The Chinese jumped and smashed in every opportunity he got, while Jayaram looked to accumulate point with some sharp deception.
Jayaram kept hitting the shuttle back to frustrate Long as he hit the net to help the Indian narrow the gap. But errors crept in again in the Indian's game as Long led 18-13. A wide shot and a net error by Jayaram gave Long a huge six game point lead and the Chinese closed it with a backhand return.
The script didn't change in the second game as after picking up a couple of points early on at the nets, Jayaram failed to find answers to Long's superior game as he broke off from 5-5 to lead 11-6 at the interval. Long didn't allow the Indian much scope to recover as he jumped with a four-point bursts even as Jayaram's game crumbled.
Long quickly grabbed a huge 20-12 match point lead and even though Jayaram saved a point, the Chinese closed the issue in the next opportunity at the SK Handball stadium.
Jayaram, who had reached the semi-finals of Malaysia Masters Grand Prix Gold, Swiss Open Grand Prix Gold and Russian Open Grand Prix this season, had battled serious injuries and was out of action for most part of the last three years and even though he lost in the title clash here, it remains a creditable performance from the 27-year-old Indian.