Lionel Messi's corner was headed in by Nicolas Otamendi in the 67th minute as Argentina defeated Venezuela 1-0 in an international friendly in Kolkata.
The rest of the match was all about the Barcelona star.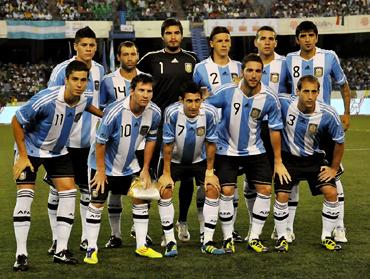 His first touch came as early as the opening minute. Two minutes later, he stretched to the right flank, received the ball, evaded his marker, stopped and sidestepped his marker again. And then it started – the diagonal run – one-two-three men running behind and chasing; they chased and chased. The roar accompanied him.
The three-hour long traffic jam ahead of the kick-off, since that moment didn't come back to haunt any anymore. Messi twisted, twirled, feinted, ran, essayed passes – making football look so easy; the crowd staying Messi-merised.
In the first twenty minutes, Messi created three clear chances for Argentina. First, running from one end of the box to the other; the next time with a deft touch catching the rival defence on the wrong foot; and then -- all by himself but failing to get the elevation after getting past three or maybe four; Angel di Maria and Lucho Gonzalez providing him the perfect foil.
The renovated Salt Lake Stadium under the lights learnt Messi loves to run – and run with the ball. There's something about the casual elegance with which most of his runs start. But then, he's Messi. When the defenders gauge him to run that extra yard, he prefers to pass the ball and vice versa. And he manages to find space between defenders where there's hardly any.
Venezuela chased and chased. But in between, they caught Argentina on the wrong foot a couple of times – Frank Feltscher and Cesar Gonzalez almost scoring off a counter-attack. 
Maybe in a tribute to the crowd which may have reminded him of Camp Nou or the La Bombonera, Messi was desperate to score but it just didn't happen -- the found it best to conspire against him. That was the sole complaint from his fans.
Argentina: Sergio Romero, Martin Demichelis, pablo Zabaleta, Marcos Rojo, Nicolas Otamendi, Javier Mascherano, Angel Di Maria, Ricardo Alvarez (Javier Pastore – 61st), Lucho Gonzalez (Jose Sosa – 68th), Lionel Messi (captain), Gonzalo Higuain (Sergei Aguero – 74th).
Venezuela: Rafael Romo, Fernando Amorebieta, Oswaldo Vizcarrondo, Angel Flores, Gabriel Cichero, Nicolas Fedor, Tomas Rincon (captain), Frank Feltscher (Yohandry Orozco – 68th minute), Csar Gonzlez, Roberto Rosales, Jose Salomon Rondon.
Photograph: Dipak Chakraborty