Virat Kohli, Sanjiv Goenka to raise funds for celebrity golf tournament
Nine teams comprising celebrity golfers, corporate honchos to tee off on Nov 10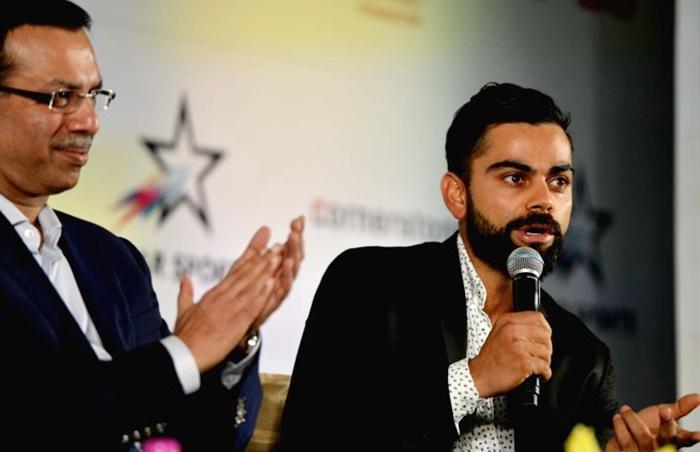 IMAGE: Virat Kohli, right, has collaborated as co-promoter with Sanjiv Goenka. Photograph: PTI
The RPSG Group (RPSG) and the Virat Kohli Foundation (VKF) have joined hands to organise a charity golf tournament, as part of their sports development initiatives.
The two have collaborated as co-promoters on this annual event which will feature corporate executives and celebrity golfers teaming and competing in a day-long event called the RP-SG Invitational Celebrity Golf Tournament.
This event is a lead-up to the RPSG Indian Sports Honours, conceptualised to engage corporates across the country. All proceeds from the event will go toward the Virat Kohli Foundation. The funds raised through the event will be utilised to support deserving junior athletes from different disciplines through the foundation.
Star Sports has been finalised as the broadcasting partner for the event. Interestingly, this will be one of the only golf events to be aired on the Star India network, since Sony Ten Golf owns most of the properties in the market.
The event was conceptualised by Cornerstone Sport- the Mumbai-based sports marketing and talent management agency that handles the brand Kohli, along with the business engagements and brand management of other star cricketers.
"The objective is to create an opportunity for like-minded corporates to come together for the betterment of sport in the country. Golf is a great platform to achieve this. Most CEO's and decision makers within the corporate fraternity play golf recreationally and this was a chance to bring them together to work towards a common challenge," explains Anirudha Thammanna, GM, intellectual properties at Cornerstone.
Interested corporates will be invited to buy slots to compete in the event. There will be nine golfing celebrities taking part in the event, apart from nine corporate representatives, who will be playing alongside in the event. A draft ceremony will be held where the participating corporate representatives will pick the celebrity they would like to play with. Apart from the participation fee that the corporates will need to pay, funds will also be raised through sponsorships (on-ground).
The competition will be played with a 4-ball format across 18 holes, using a 'shot-gun' start. There will be one round of Golf (18 holes) as part of the competition, with exciting prizes to be won for 'hole-in-one', longest drive and straightest drive. The venue of the event is yet to be decided as are the participating celebrities.