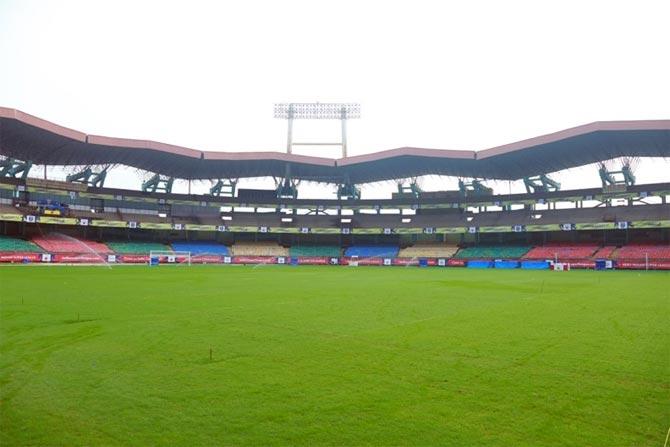 IMAGE: The Jawaharlal Nehru Stadium in Kochi. Photograph courtesy: AIFF
The Jawaharlal Nehru International Stadium in Kochi was on Thursday declared fit for hosting the prestigious FIFA Under-17 World Cup.

Tournament director of the Local Organising Committee, Javier Ceppi made the announcement at a press conference in Kochi after inspecting the works being carried out in the stadium and the training sites.

"At this point of time, we are happy to say that Kochi is a World Cup venue. There would be eight matches to be played in Kochi," he said.

"The core infrastructure has been completed and only those which are meant to be completed closer to the tournament are left," he added.

The stadium, which boasts of a capacity of 60,000 people, will, however, accommodate a maximum of 41,748 persons for the tournament considering the safety and security of spectators.

"The stadium is fit for accommodating 41,748 people. Not a single person more," Ceppi said, adding that the decision to cut down the number of people to be accommodated was made after an assessment by the experts regarding evacuation measures in case of an emergency.

"In all stadiums across the six host cities, the capacity has been
reduced considering the safety and security of players and spectators. Now we are very sure that with that capacity that this stadium can provide to the spectators safety and well being," he said.
He said no shops would be allowed to work inside the stadium premises during the tournament which will held from October 6-28 in six Indian cities.
The organising committee will make sure that the content in the shops are removed and vacated,' he stated.
Ceppi described as "tremendous" the works that have been done on to the stadium and also on to the training sites.
The progress in works in stadiums and venues were made in two months following the visit of a FIFA inspection team which had expressed deep concern over the pace of work at the stadium. They had set May 15 as the deadline for completing the work.
Visiting the stadium late last month, Sports Minister Vijay Goel had expressed disappointment over the delay in completion of works.
The Local Organising Committee of FIFA U-17 World Cup had earlier this month asserted that Kochi was on its way to complete preparation work by May 15.
It was in October last year that Kochi was officially declared as one of the venues for hosting the FIFA U-17 World Cup by a high-level FIFA delegation.
Besides Jawaharlal Nehru Stadium, Ceppi also visited the training grounds -- at Parade Ground, Fort Kochi Veli Football Ground, Maharajas College Ground and Government Boys High School Panampilly Nagar.
© Copyright 2021 PTI. All rights reserved. Republication or redistribution of PTI content, including by framing or similar means, is expressly prohibited without the prior written consent.