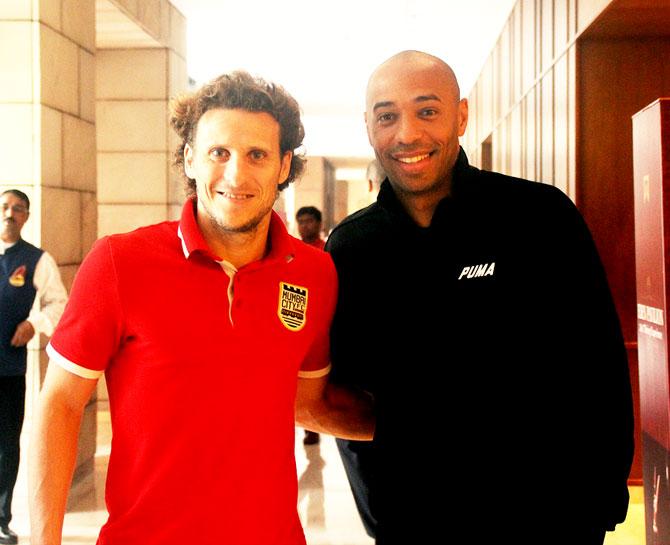 IMAGE: Uruguay legend and Mumbai City FC's Diego Forlan and French football legend Thierry Henry pose for an epic photograph before the Indian Super League match between Atletico de Kolkata and Mumbai City FC in Kolkata on Tuesday. Photograph: Mumbai City FC/Twitter
France football legend Thierry Henry, who's on his maiden visit to India, has put Lionel Messi and Cristiano Ronaldo among the top contenders to win this year's Ballon d'Or trophy.
"One of (Gareth) Bale, Leo (Lionel Messi), (Cristiano) Ronaldo and (Antoinne) Griezmann could win the Ballon d'Or," Henry told reporters at a promotional event in Kolkata on Tuesday.
The 30 names shortlisted for the 2016 Ballon d'Or was released on Monday.
Messi has won the Ballon five times, including last year, while Ronaldo has bagged it thrice. The two great rivals have finished first and second in the last five years.
"Those (two) guys are just abnormal. I've never seen players like them before. They score 50 goals, 60 goals, 90 goals a season. It is irrelevant asking if defenders would have stopped them and not fair on defenders of their time. We will never know that," Henry said.
Henry added that he would love to see Messi with the Ballon d'Or for a record sixth time.
"I have played with Leo, so you know how I would feel if he wins. It is difficult to see anyone coming between him and Ronaldo," Arsenal legend Henry said.
Talking about ways to improve Indian football, Henry said India should look to Euro 2016 quarter-finalists Iceland, as well as Costa Rica as templates for growth.
IMAGE: Thierry Henry in Kolkata on Tuesday. Photograph: Thierry Henry/Twitter
"Iceland and Costa Rica are proof that hard work pays. You need to start early and not at a late age when you are becoming professional," he said.
On Paul Pogba's woeful start to his Manchester United career, Henry, who is World Cup winner with France, said, "Jose Mourinho is still looking for best 11, best system. When I came (to the Premier League), I was not playing well. I have faith in Pogba. Nowadays, people want things to happen very fast. He needs time to adapt."
Henry was a key player at Arsenal, part of The Invincibles of the 2003-04 season.
Asked whether any team can emulate the feat, Henry, who is now the second assistant coach in the Belgium national team, said, "It is possible to repeat Invincibles' feat of winning the League by remaining unbeaten. But we did it first."
He also had a few good words for Real Madrid coach and his former France teammate Zinedine Zidane.
"Definitely, Zizou is on the right path. Winning the Champions League first up is great," Henry said.
Earlier, on his arrival in India, Henry tweeted: "Namaste India. So happy to be here. Amazing to see the energy. Thank you @PUMA for getting me here."
He certainly seems to be having a good time!
© Copyright 2021 PTI. All rights reserved. Republication or redistribution of PTI content, including by framing or similar means, is expressly prohibited without the prior written consent.