'I personally haven't tried the 11-point format. The 21-point (format) is working well for me and I prefer it to be the same way.'
'I can definitely be the world No. 1 by winning tournaments in the next 3-4 months.'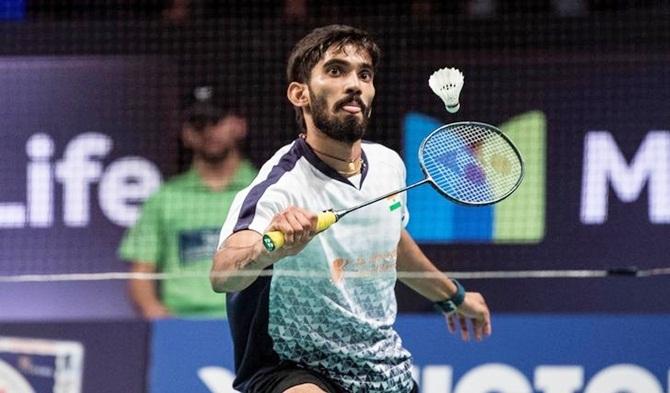 IMAGE: Kidambi Srikanth prefers the 21-point format since it is working well for him. Photograph: Claus Fisker/Reuters
Kidambi Srikanth is against any drastic changes in the scoring system being contemplated by the world body.
The BWF has proposed a new scoring system in which five games of 11 points may replace the current three games of 21 points format.
The proposal will come up for discussion and voting at BWF's Annual General Meeting, scheduled for May 19 in Bangkok.
"A couple of things are happening, but I have not heard anything official. They had asked (about it) a couple of years back - before the Rio Olympics. I personally haven't tried the 11-point format. The 21-point (format) is working well for me and I prefer it to be the same way," asserted Srikanth.
On the service rule change, which comes into force at next month's All England championships, Srikanth felt it would affect the taller players more.
"The new service rule also starts with the All England (championships). The new rule will not affect most players; only the tall players will get affected. The six-plus footers."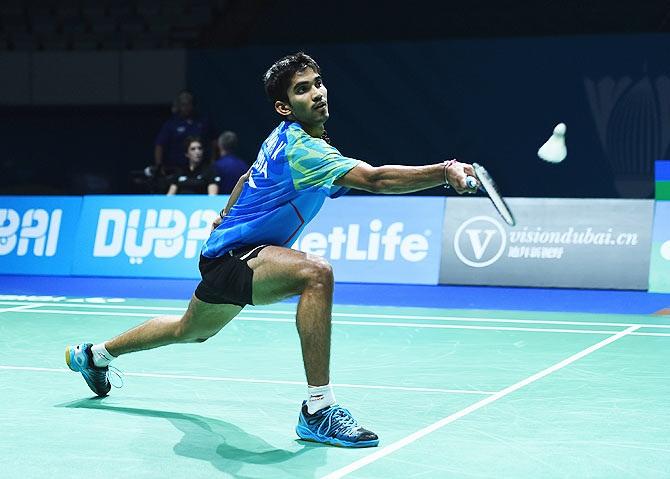 IMAGE: With the Asian Games and Commonwealth Games scheduled later this year, Kidambi Srikkanth expects a tough season ahead. Photograph: Christopher Lee/Getty Images for Falcon
Having narrowly missed the world number one ranking during a highly successful 2017, India's leading shuttler is optimistic about his chances this year.
"I have not completely missed it. I still have a chance to be the world No. 1. I can definitely be the world No. 1 by winning tournaments in the next 3-4 months," he said, after being announced as one of the new brand ambassadors of tyre company Bridgestone, which is associated with the Olympic movement.
Srikanth, who lost to Chinese great Lin Dan in the quarter-finals of the men's singles in the 2016 Rio Olympics, conceded that a tough season lies ahead with some big events, like the Commonwealth and Asian Games, apart from a packed badminton calendar, lined up.
"It's a tough season and a tough couple of months ahead with the All England and CWG (in the Gold Coast, Australia, in April) scheduled. It's important throughout this season, to remain fit and plan accordingly," he said.
"It's definitely going to be tough for every other player. I hardly managed to play 6-7 Super Series (events) last year out of 12 and this time they want us to play in 12 (mandatory SS events) out of 15 (overall). It's about keeping my body fit for the big events and playing well there," said Srikanth, who won the singles title in two Super Series Premiers and four other Super Series events last year.
Talking about the heavy monetary penalty for no-shows in tournaments and the need for players to provide valid medical certificates to the BWF, Srikanth said, "(I can skip) if I can actually provide with proper medical certificates. Otherwise, I have to pay a heavy fine to BWF. It's definitely tough and that's why you see many top players coming to tournaments and conceding in the first round. It's just the appearance (of players) that the BWF wants in all tournaments. The government supports players in playing but not in paying fines."
The 25-year-old shuttler said the Asian Games provides tougher competition than the Commonwealth Games, with more top badminton-playing countries competing in the former multi-sport meet.
"We don't really have too many countries in CWG and Asia is dominating in badminton. You have less competition (in CWG). With Rajeev Ousef (England)and (Malaysia's Lee) Chong Wei present it (the CWG) will be tough, but Asian Games will be tougher."
Meanwhile, talking about Srikanth and other athletes' association with Bridgestone, Chief General Manager Vaibhav Saraf said, "The idea is to bring them (Indian athletes) on board and see how they inspire people. Apparel endorsement is not part of the contract. They are purely brand ambassadors. It's up to 2024."