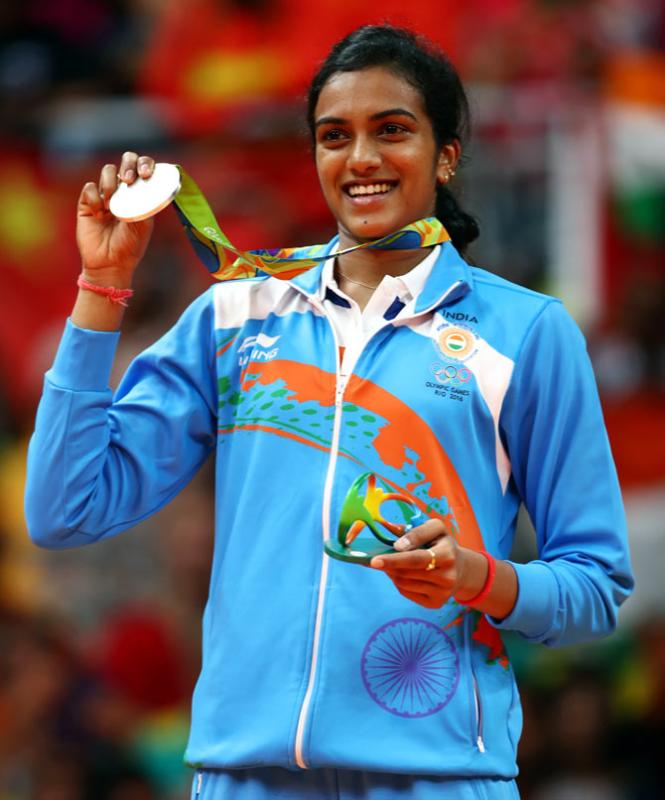 IMAGE: India's P V Sindhu shows off her silver medal during the medal ceremony, after losing to Carolina Marin of Spain in the women's singles badminton final. Photograph: Clive Brunskill/Getty Images
In an unprecedented move, the Rajiv Gandhi Khel Ratna, the country's highest sporting award, will be conferred on four athletes this year.
The Sports Ministry announced on Monday that Olympic medalists P V Sindhu and Sakshi Malik will be honoured alongside trail-blazing gymnast Dipa Karmakar and ace shooter Jitu Rai.
While shuttler Sindhu created history by becoming the first female athlete from India to win a silver at the just-concluded Rio Olympics, Sakshi bagged a bronze in the 58kg women's wrestling.
Dipa, India's first female gymnast to qualify for the Olympics, missed a bronze by 0.15 points but her clean finish in the high-risk Produnova vault won the hearts of the nation, and Jitu bagged over half a dozen medals over the past two years, including gold at the Asiad and Commonwealth Games and a silver in the World Championships, through which he booked his ticket to Rio.
The ministry also selected 15 athletes for this year's Arjuna Award. The notable names in the list are boxer Shiva Thapa, long distance runner Lalita Babar, cricketer Ajinkya Rahane, hockey players VR Raghunath and Rani Rampal among others.
This year's Dronacharya Award will be conferred on six coaches, the most notable among being Dipa's coach Bishweshwar Nandi and India Test team captain Virat Kohli's mentor Raj Kumar Sharma.
Besides Nandi, others who will be honoured with the Dhronacharya Award are Nagapuri Ramesh (athletics), Sagar Mal Dhayal (boxing), Pradeep Kumar (swimming, lifetime) and Mahabir Singh (wrestling, lifetime).
The Dhyan Chand Lifetime Achievement Award will be given to Satti Geetha (athletics), Sylvanus Dung Dung (hockey) and Rajendra Pralhad Shelke (rowing).
The Punjabi University of Patiala will be awarded the Maulana Abul Kalam Azad (MAKA) Trophy 2015-16.
The National Sports Awards are given every year to recognise and reward excellence in sports.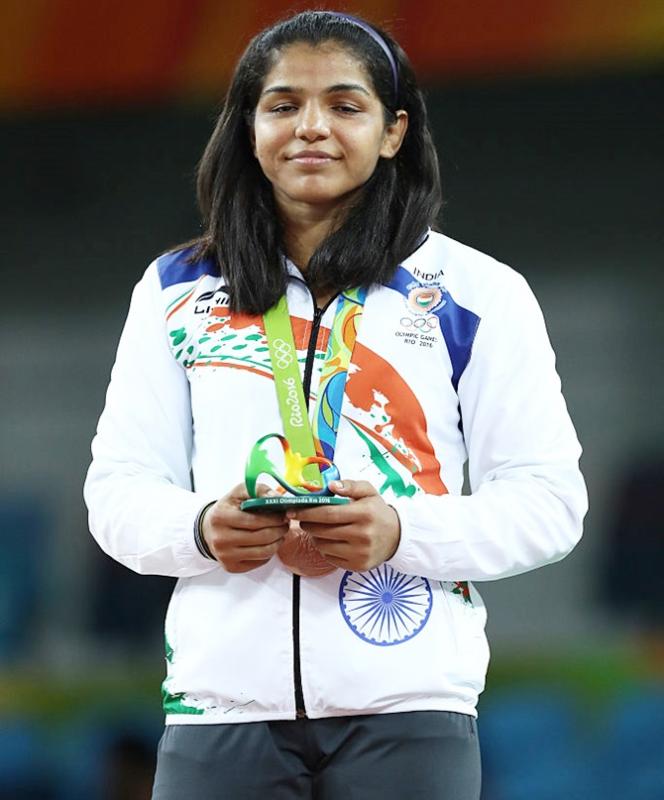 IMAGE: India's bronze medalist Sakshi Malik during the medal ceremony of the women's freestyle 58 kg wrestling at the Rio Olympics. Photograph: Lars Baron/Getty Images
The Khel Ratna Award is given for spectacular and most outstanding performance in the field of sports by a sportsperson over a period of four years. Apart from a medal and citation, the Khel Ratna awardee will receive a cash prize of Rs 7.5 lakh.
The Arjuna Award is given for consistent performance over four years, while the Dronacharya Award is given to coaches for producing medal winners at prestigious international sports events and the Dhyan Chand Award for lifetime contribution to sports development.
Arjuna, Dronacharya and Dhyan Chand Awardees will receive statuettes, certificates and cash prize of Rs 5 lakh each.
The recipients of the Rashtriya Khel Protsahan Puruskar will be given trophies and certificates. The overall top performing university in inter-university tournaments will be presented the MAKA Trophy, award money of Rs 10 lakh and certificates.
The awardees were selected from a large number of nominations by a selection committee consisting of former Olympians, Arjuna Awardees, Dronacharya Awardees, Dhyan Chand Awardees, sports journalists, experts, commentators and sports administrators.
The selection committee for Rajiv Gandhi Khel Ratna Award and Arjuna Awards was headed by Justice SK Agarwal, a retired Delhi high court judge.
The selection committee for Dronacharya Awards and Dhyan Chand Awards was headed by MC Mary Kom, while selection panel for Rashtriya Khel Protsahan Puruskar was headed by Rajiv Yadav, Secretary (Sports).
The awardees will receive their awards from the President of India at a specially organised function at the Rashtrapati Bhawan on August 29, 2016.
Awards:
Rajiv Gandhi Khel Ranta 2016: PV Sindhu (badminton), Dipa Karmakar (gymnastics), Jitu Rai (shooting) and Sakshi Malik (wrestling).
Dronacharya Awards 2016: Nagapuri Ramesh (athletics), Sagar Mal Dhayal (boxing), Raj Kumar Sharma (cricket), Bishweshwar Nandi (gymnastics), S Pradeep Kumar (swimming, lifetime) and Mahabir Singh (wrestling, lifetime).
Arjuna Awards 2016: Rajat Chauhan (archery), Lalita Babar (athletics), Sourav Kothari (billiards and snooker), Shiva Thapa (boxing), Ajinkya Rahane (cricket), Subrata Paul (football), Rani (hockey), VR Raghunath (hockey), Gurpreet Singh (shooting), Apurvi Chandela (shooting), Soumyajit Ghosh
(table tennis), Vinesh (wrestling), Amit Kumar (wrestling), Sandeep Singh Mann (para-athletics), Virender Singh (wrestling, deaf).
Dhyan Chand Award: Satti Geetha (athletics), Sylvanus Dung Dung (hockey), Rajendra Pralhad Shelke (rowing).
Rashtriya Khel Protsahana Purushkar, 2016:
Category Entity recommended for Rashtriya Khel Protsahan Puruskar, 2016:
1. Identification and Nurturing of Budding and Young Talent: Hockey Citizen Group, Dadar Parsee Zorostrian cricket club, Usha School of Athletics, STAIRS.
2. Encouragement to sports through corporate social responsibility: India Infrastructure Finance Corporate Limited.
3. Employment to sportspersons and other welfare measures: Reserve Bank of India.
4. Sports for Development: Subroto Mukherjee Sports Education Society.
Maulana Abul Kalam Azad (MAKA) Trophy 2015-16: Punjabi University, Patiala.