'Now I can say I'm a Grand Slam champion and it sounds really crazy'
'I was match point down in the first round and had one foot in the plane to Germany'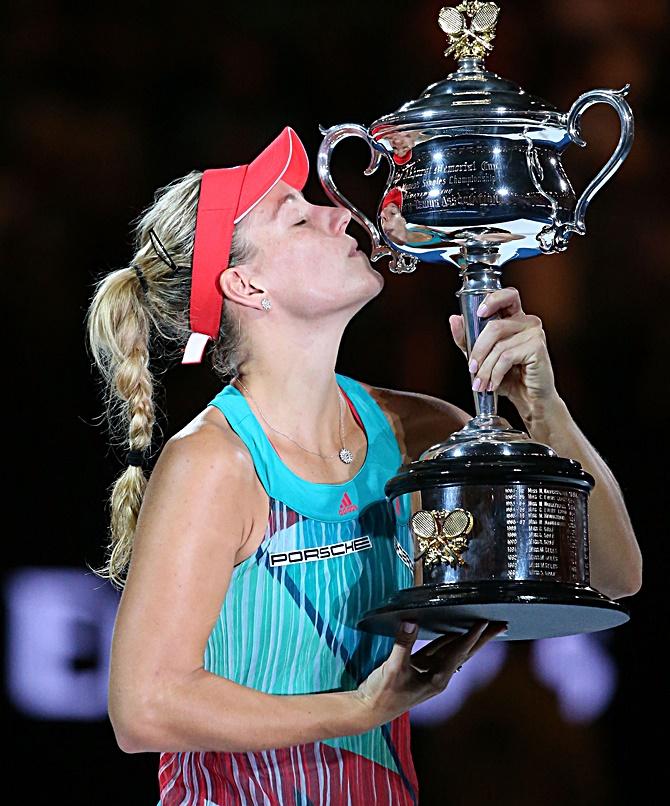 IMAGE Germany's Angelique Kerber poses with the Daphne Akhurst Trophy after winning the women's singles final against Serena Williams. Photographs: Scott Barbour/Getty Images
Angelique Kerber said her dreams came true in just over two hours on Rod Laver Arena on Saturday when she upset defending champion Serena Williams 6-4, 3-6, 6-4 to win the Australian Open.
Debutant Kerber upsets record chaser Williams
The 28-year-old was a rank outsider in her maiden grand slam final but stunned the six-time Melbourne champion with an inspired performance to become the first German Grand Slam winner since Steffi Graf at Roland Garros in 1999.
"My dream came true tonight," the emotional seventh seed said at the on-court presentation.
"My whole life I've been working really hard and now I'm here. Now I can say I'm a Grand Slam champion and it sounds really crazy.
"I think sometimes I am really not easy but I have the best family and the best team in the world ... To all of you guys, all of my fans around the world, thank you."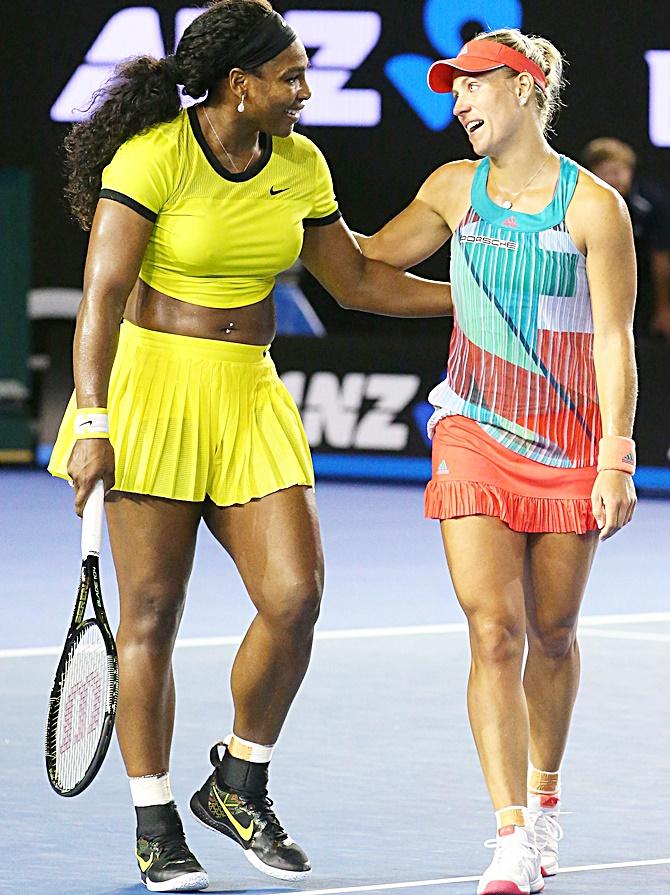 IMAGE Germany's Angelique Kerber is congratulated by Serena Williams. Photographs: Scott Barbour/Getty Images
Kerber also spared a thought for the vanquished champion, who had never lost a Melbourne final and had been hoping to match Graf's open era record of 22 Grand Slam singles titles.
"You are really an inspiration for so many people, so many young tennis players," Kerber said.
"You are a great champion, you are an unbelievable great person so congrats for everything you did already."
While Saturday was Kerber's first Grand Slam final, Williams was playing in her 25th and, with a beaming smile, she accepted defeat gracefully.
"Angie, congratulations," the 34-year-old American said.
"You did so well. You really deserved it. You played the best in the tournament. I'm so happy for you and I really hope you enjoy this moment."
Kerber, who saved a match point in the first round against Misaki Doi, became the first woman to save a match point during the tournament before going on to win the title since Williams did it in 2003 in her semi-final against Kim Clijsters.
She was also the first woman to win the title after being knocked out in the initial round the previous year since Kerry Melville Reid in 1977.
"It's been such an up and down two weeks, I was match point down in the first round and had one foot in the plane to Germany," she said.
"Now I have beaten Serena and won the championship. I have so many emotions, so many thoughts, but all of them good ones."