'A lot of new and good players are coming. They will challenge Serena. They will challenge me'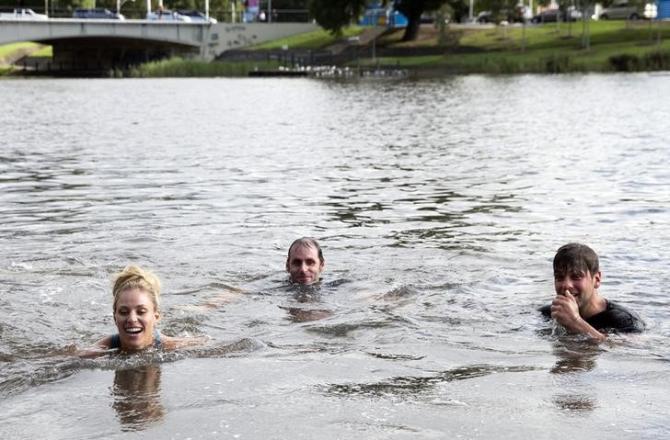 IMAGE: Angelique Kerber (L) swims in the Yarra river with members of her training staff, a day after winning her women's singles final match at the Australian Open. Photograph: REUTERS/Fiona Hamilton.
Angelique Kerber leapt into murky surroundings on Sunday, just hours after she became the first German since 1999 to win a grand slam tennis title by defeating world number one Serena Williams at the Australian Open.
The 28-year-old's plunge into the Yarra River on Sunday, as a result of a bet with Eurosport journalist Matthias Stach, was an apt metaphor for what her life now holds.
On Monday she is expected to rise to a career-high number two on the WTA Tour rankings.
She can also expect a warm reception from her home country after she became the first German since her childhood idol Steffi Graf to clinch a grand slam, prompting congratulations from sportspeople and the country's President Angela Merkel.
Kerber's victory also painted a large target on her back by proving that Williams was not invincible, though she was quick to acknowledge the American's powers were not on the wane.
"I think against Serena it's not so easy to win. You must play really your best tennis to beat her," Kerber told reporters. "I think it's still tough to beat Serena.
"But of course I think that a lot of new and good players are coming. They will challenge Serena. They will challenge me. They will challenge all the good players.
"Let's see what happens in the next few months."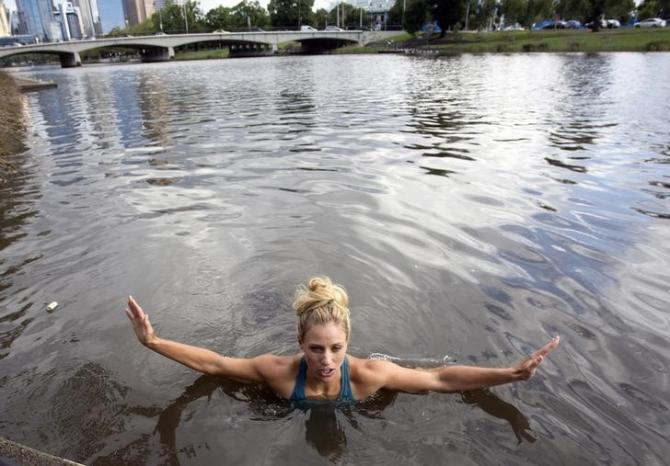 IMAGE: Angelique Kerber defeated world No.1 Serena Williams to clinch her maiden Grand Slam title at Australian Open.
Kerber's victory would undoubtedly not force a seismic shift in the women's game. Many of the world's top women are power hitters and the German is among them.
However, by producing superb defence along the baseline chasing down Williams' blistering groundstrokes and forcing the American to play one extra shot, she proved the 21-times grand slam winner was fallible.
That resulted in unforced errors, something Williams had not been forced to do through her run to a seventh Australian Open final.
Williams produced 23 unforced errors in the first set of the final, which gave Kerber all of the momentum she needed, knowing that battling back from a set down would be tough against one of the game's best closers.
"I was happy that I won the first set because it was better to win against her the first set than the second set," she added.
"I was actually more confident going into the third set (and) I told myself actually, 'okay, you can do it'."
That mental toughness has been a long time in the making, stemming from a poor run in 2011 when she suffered 11 successive first-round losses.
A surprise run to her first grand slam final at the U.S. Open in 2011 while ranked 92nd in the world had helped turn it around. Since 2012, when she clinched her first WTA title, she has been ranked inside the top-10.
Winning also breeds confidence, she added.
"Here it's changed everything," she said.
"You must be relaxed and you must really believe in yourself. This is actually the biggest thing what I learned in these two weeks, to go for it.
"Of course you will have some losses in your career and also tough moments still.
"But you must believe that you can do it."