Two-time champion Saina Nehwal recorded her third win over World No 4, Shixian Wang of China in a gruelling three-game match to make the semi-finals, while P Kashyap also continued his rampaging run to enter the last four stage of the Indonesian Super Series in Jakarta on Friday.
In a marathon battle that lasted an energy-sapping one hour and 37 minutes, World No 5 Saina saw off Shixian 21-17, 21-23, 21-19 in the women's singles at the Istora Gelora Bung Karno Stadium to inch closer to her third title.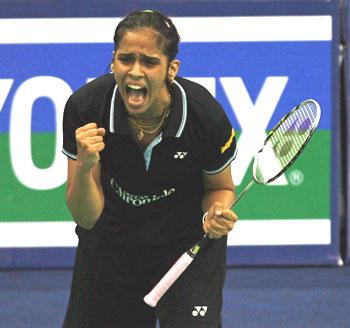 She will face World No 10 Korean, Ji Hyun Sung, on Saturday. Saina has beaten Sung on three previous ocassions.
Earlier in the day, Kashyap cruised into the semi-finals with a 21-15, 21-14 victory over Hans-Kristian Vittinghus of Denmark in the men's singles competition. He will next take on seventh seed Simon Santoso of Indonesia.
In a see-saw battle, Saina and Shixian both found it difficult to control the shuttle as drift played a role. Both succumbed to a lot of unforced errors before Saina found her touch and went into the break at 11-10.
After the break, the smashes were out of the closet and both traded points to move neck and neck till 16-16. But Saina remained patient and went into the lead by pushing the shuttle at the back court.
She played a wonderful drop, to which Shixian had no answer. The Chinese hit the shuttle out and found the net a couple of times to award the game point to Saina.
Shixian saved a game point before Saina pocketed the game with a cross court smash after a long rally.
In the second game, Saina pushed her opponent to the limits and opened up a 8-4 lead.
The fitness of both the players were tested but with Shixian's game crumbling, Saina went into the break at 11-6 and then led 17-13.
There was very little margin for error but Saina committed some unforced errors to allow Shixian narrow the gap. But with the Chinese finding the net, Saina got a three-match point cushion.
However, an aggressive net play by Shixian, and a ghastly error in judgement and a loose shot by Saina allowed the Chinese to not only save three match points but also grab the lead at 22-21 and eventually bounce back into the contest.
Saina started the decider positively and was leading 5-4 when there was a brief interruption due to leakage in the stadium roof allowing a few drops of rain to fall on the court.
On resumption, Saina took a 10-6 lead. However, Shixian used her drops and half smashes to good use to register five straight points and grab the advantage at 11-10 at the break.
After a pep talk by coach Pullela Gopichand, Saina once again started dominating. She constructed some good rallies and tried to change the pace of the game.
But Shixian returned the favour equally and put away the loose strokes to move to 15-16.
Saina earned a couple of points at the nets to enjoy a three-point cushion but the drift once again came to haunt the Indian as she made another misjudgement.
Shixian won a long rally and a wide shot from Saina helped the Chinese to narrow it 19-20.
It finally took another mammoth rally for Saina to grab the match point and with Shixian once again hitting wide, Saina burst into celebration as tears of joy rolled down her cheeks.
"It is the longest match of her career and she played well. It was almost 100 minutes. Actually, there was very little to differentiate between the two players. Till the last point it could have been anybody's game, so there was no such turning point in the match," Gopichand said.
"Probably she had a couple of chances to wrap up the match in the second when she was leading but Shixian fought back. The shuttles were also very quick today. It is good win against a top four player," Gopichand further added.
Asked about the next match, the coach said: "Saina has played the Korean and has beaten her. I don't know about her record now. Hopefully it will be a good match tomorrow."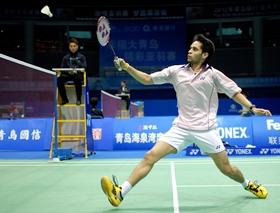 Earlier, the 25-year-old Kashyap from Hyderabad, who qualified for the London Olympics during the India Open Super Series in New Delhi, matched his rival and used his sharp smashes to tame Vittinghus.
Kashyap took early initiative and moved to a 10-6 lead. Vittinghus narrowed down the gap a couple of times but the Indian, with his 17 smash winners, was too good for the Dane.
In the second game, the duo fought tooth and nail till 9-9 before Kashyap once again moved ahead and held fort to earn his place at the semi-finals.
"It was not an easy match. I was finding it difficult to control the shuttle. In Asia, especially in Indonesia and Singapore, the drift plays a role and I am happy I played well overall today," Kashyap said.
"I scored off my pushes and net play. My strokes were coming good. I didn't commit errors and I was putting pressure on him at the net and my drops and smashes were sharp."
Asked about his next match, Kashyap said: "I am just happy to win today. I haven't thought about tomorrow's match. I will talk to Gopi sir and prepare accordingly. I had played against him in Thomas Cup this year and hope to play well tomorrow."