Hussain will now be deported as his visa expired in August.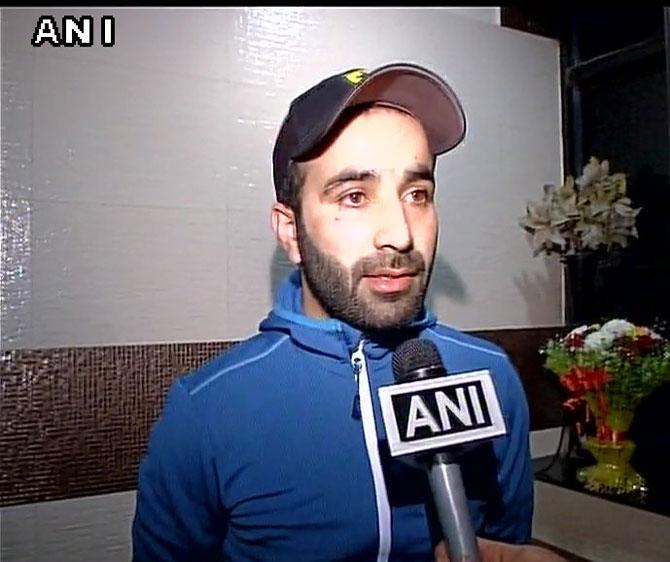 IMAGE: Kashmiri snowshoer Tanveer Hussain. Photograph: ANI/Twitter
A 25-year-old Indian sportsman, who was arrested in New York in March this year on charges of sexually abusing a minor girl, has avoided trial by pleading guilty and is awaiting deportation, authorities have said.
Tanveer Hussain, a snowshoe racer from Kashmir, was charged with first-degree sexual abuse, a felony, and endangering the welfare of a child, a misdemeanour for "engaging in a passionate kiss" with a 12-year-old victim and "touching her in an intimate area over her clothing".
He was arrested on March 1 following the incident which took place on February 27 at a village bed and breakfast.
The athlete had travelled to Saranac Lake in upstate New York, from Kashmir, with fellow athlete Abid Hussain Khan to participate in the World Snowshoe Championships, which was held between February 23 and 25.
Hussain entered the plea in an Essex County Court, the district attorney in New York State has said.
Interestingly, Hussain and Khan were allegedly denied visas by the US government after the executive order of President Donald Trump, barring citizens from Syria, Iraq, Iran, Yemen, Libya, Somalia and Sudan from entering the country for 90 days and suspended the admission of all refugees for 120 days. The order indefinitely bans entry of those fleeing from war-torn Syria. However, the American Embassy in New Delhi had maintained that Indians are not affected by that order.
"From day one of this investigation, the child witness has been degraded, called a liar and victimised by people who supported Hussain financially and emotionally," Essex County Deputy Attorney Kristy Sprague said in a statement.
"This plea of guilty is an admission of guilt, and Tanveer Hussain admitted to his criminal conduct involving a child, which was done under oath and with aid of (legal) counsel and an interpreter," she said.
Sprague expressed hope that this admission of guilt alleviates the stress and anguish the child and her family have endured.
"She has been vindicated, and shame on those who publicly attacked her credibility and reputation. She is a child and the defendant an adult male, and she should never have been subjected to such cruelty and insults," the District Attorney said.
The Essex County grand jury had earlier indicted Hussain on one count of first-degree sexual abuse and two counts of endangering the welfare of a child. He faced two to seven years of jail and a post-release supervision for three to 10 years.
As part of his plea agreement, the other two counts were dismissed, an official statement said.
Hussain will now be deported as his visa expired in August.
Village trustee Rich Shapiro and his wife Lindy Ellis, where he has been living since March, when the couple bailed him out of jail, said deportation proceedings brought by the District Attorney through the Immigration and Customs Enforcement are vindictive and unnecessary, local newspaper the Adirondack Daily Enterprise reported.
Shapiro said Hussain's mother has been ill and put off a surgery until he returned, and that Hussain's sister postponed her wedding.
He said Hussain wants to go home and had plans to fly out of JFK airport in New York City on Sunday, the daily reported.
However, the process of deportation could take months.
Shapiro said Hussain made it clear in the court that he had pleaded guilty out of desperation and maintains his innocence in actuality.