The Karnataka High court on Saturday stayed the two-year ban issued imposed on tennis players Mahesh Bhupathi and Rohan Bopanna by the All India Tennis Association on disciplinary grounds.
Justice Mohan Shanthan Goudar while hearing the petition filed by Bhupathi ordered a stay on the ban until further orders.
- 'The AITA is either misinformed or delusional'
Bhupathi had challenged the ban issued by the AITA, terming it as unconstitutional and said that an opportunity had not been given. Further arguments on the matter are likely to come up next week.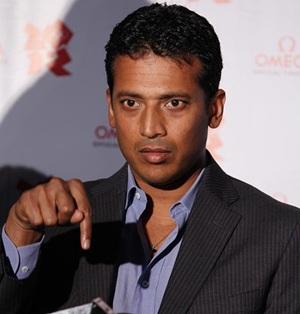 The AITA had banned Bhupathi and Bopanna after both the players refused to pair up with Leander Paes for the London Olympics. They were entered at the Games as the second doubles team from India but were knocked out in the second round.
"It was decided in the AITA executive committee meeting here today that Bhupathi and Bopanna will not be considered for selection up till June 30, 2014," the AITA said last week.
Earlier, this week veteran Bhupathi slammed the AITA, accusing the game's governing body of resorting to "divide-and-rule" policy and said its "dictatorial attitude" will be harmful for the future of Indian tennis.
A hurt Bhupathi made a scathing attack on the AITA and its president Anil Khanna, who he alleged is playing "dirty politics" and creating a rift among players, particularly between him and Leander Paes.
"Khanna has redefined the term divide and rule. The AITA and its dictatorial attitude, and its administration are harmful for the future of Indian tennis," said Bhupathi, addressing a press conference in Mumbai, during which he also circulated his correspondence with the AITA ahead of the London Olympics.
He had also urged either the Sports Ministry or Indian Olympic Association to intervene.
- Guess I'll have to die without an Olympic medal: Bhupathi
"There are powers like IOA or Sports Ministry who can take action. I don't know who to complain to. If it is Sports Ministry or IOA or somebody, it needs to step in for Indian tennis."