The 35-year-old golfer has now won three times in the last eight months.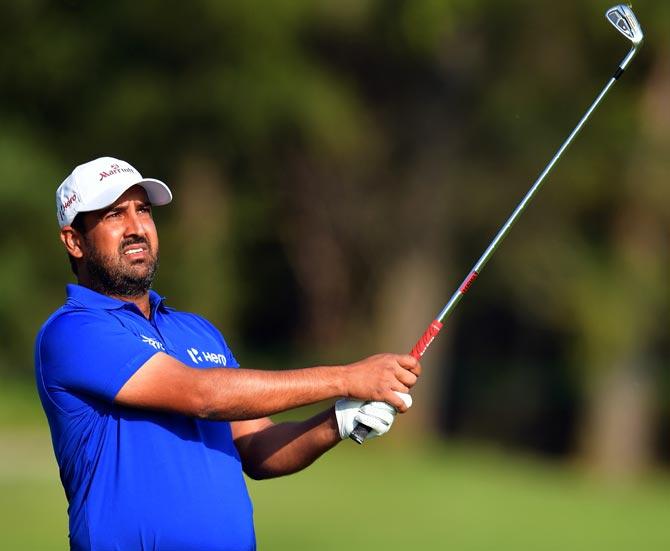 IMAGE: India golfer Shiv Kapur. Photograph: Stuart Franklin/Getty Images
India's Shiv Kapur produced a dramatic turnaround in the closing stages to win the Royal Cup and end the year on a high note by claiming his third Asian Tour title of 2017 in Pattaya, on Sunday.

The 35-year-old golfer, who had just one win in almost 11 years till April this year, has now won three times in the last eight months.

Making the win sweeter for Kapur was that his wife Maya and five-month old daughter, Veda, were present on the 18th green.

Kapur came through a see-saw battle as he shot four-under 67 to finish at 14-under, while Thailand's Prom Meesawat (70) ended at 13-under.
Making it a great week for Indian golf was Gaganjeet Bhullar (66) who was sole third at 11-under 273, while Khalin Joshi (67) was sole sixth at 8-under 276 and Jyoti Randhawa (72) finished tied 41st at one-over 285.

Kapur registered his first victory on the Asian Tour in his debut season in December 2005, but it took more than 11 years and four months for his next Asian Tour win, which came in April 2017.

He has now won three times in eight months. This latest win marks Kapur's fourth Asian Tour win and sixth international title -- he won twice on European Challenge Tour also.

Kapur, the only multiple winner on Asian Tour this year, is also the only Indian to have won three times on the Asian Tour.

The golfer, who had 19 birdies against five bogeys this week, earlier won the Yeangder Heritage and the Panasonic Open India this season.

"It was a see-saw battle indeed. I had to come out fighting straight out of the blocks. I made two birdies in my first three holes and that reversed Prom's advantage. It doesn't always go to plan, but luckily, I started well and he made a bogey on the second hole and before I knew it, I was leading the tournament," an elated Kapur said.

"On the ninth, I made a good par, which was pivotal. I had a great putt from off the green on 10th. At that stage, I thought I was in control. I hit a poor drive on the 11th and got away with par. He made good birdies on 11th and 12th and regained the lead.

"I felt that I made a bad swing on 13th and that carried over to the next hole. After the two bogeys, I was obviously disappointed as a two-shot lead turned into a two-shot deficit," he added.

With four holes remaining, Kapur mounted yet another challenge.

"Standing on the 15th tee, I told my caddie that we are not going to go down without a fight. Let's make a birdie here and see what happens or at least give myself a chance going into the last two holes," he said.

"The birdie there (on the 15th) got me back into the tournament."