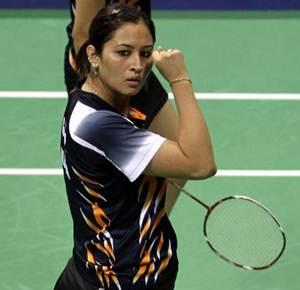 Embattled shuttler Jwala Gutta moved the Delhi high court on Wednesday against the Badminton Association of India after its disciplinary committee recommended a life ban on her for an alleged code of conduct breach in the Indian Badminton League.
"We decided to go ahead with legal action in the case and accordingly filed a petition in the Delhi high court today," Jwala's father, Kranti Gutta, said.
The BAI had ruled out considering Jwala for selection in any international event in the next one month, pending a decision by the three-member committee that was formed on Monday by president Akhilesh Das Gupta.
It means the Commonwealth Games gold medallist won't be able to play in Denmark and French Open.
Jwala's coach, Syed Mohammad Arif, had advised the top shuttler to file a defamation suit against the BAI for going to the press without issuing her a ban notice.
Sports Minister Jitendra Singh also said he could look into Jwala's dispute with the BAI if she approaches him.
The BAI's disciplinary committee had recommended a life ban on the shuttler for trying to stop some players of her franchise, Krrish Delhi Smashers, from playing a match against Banga Beats in the recent Indian Badminton League.
BAI demanded an "unconditional apology" from the feisty shuttler to reconsider her case.
With the BAI mounting pressure, Jwala had a series of meetings on Tuesday with her IBL franchise and lawyers to chalk out the next course of action.
The three-member disciplinary panel comprises Indian Olympic Association joint-secretary Anandeshwar Pandey, Luge Federation of India president Deepa Mehta and Swati Shukla, a former associate of the Commonwealth Games Organising committee.
The committee is awaiting a reply from Jwala within a week.
The controversy erupted during the August 25 tie when Delhi Smashers threatened to pull out against Banga Beats over the last-minute replacement of injured singles player Hu Yun of Hong Kong with Denmark's Jan Jorgensen.
Image: Jwala Gutta
Photograph: Reuters