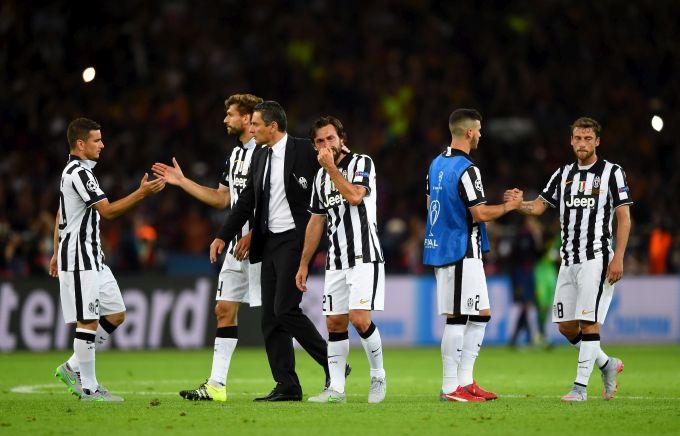 Andrea Pirlo of Juventus (third from right) looks dejected alongside team-mates after the UEFA Champions League final loss to FC Barcelona at Olympiastadion. Photograph: Shaun Botterill/Getty Images
Juventus may have become the only club to lose six European Cup finals but they took heart from pushing Barcelona to the limit in Saturday's riveting final and restoring the honour of Italian football, coach Massimiliano Allegri said.
"More than anything else we come out of this final with greater self-esteem, greater confidence and greater awareness of what we can do," a remarkably upbeat Allegri said after Juve lost 3-1 in their first Champions league final since 2003.
"I can't say that I'm disappointed with the performance of my team," he added, proud of the equaliser by Alvaro Morata in the 55th minute that sent the large Juve following into a frenzy and turned the last 35 minutes into a thriller.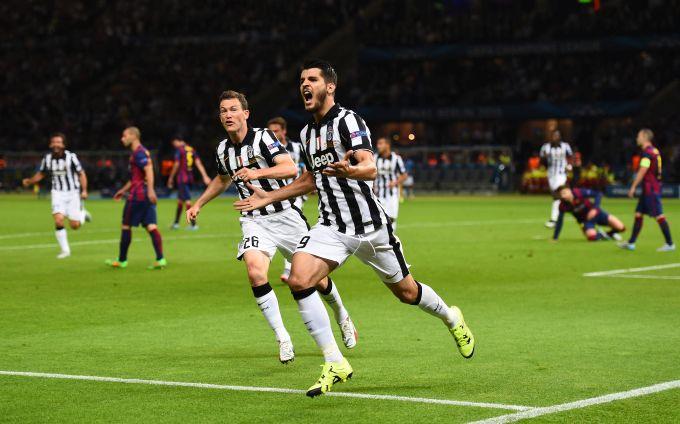 Alvaro Morata of Juventus celebrates scoring his team's first goal with Stephan Lichtsteiner during the UEFA Champions League final against FC Barcelona. Photograph: Laurence Griffiths/Getty Images
In his first season coaching Juventus, Allegri led his side to the domestic double, winning the scudetto and Coppa Italia.
There were no signs that he or his players were feeling the weight of history on their shoulders either during or after the match despite now having lost more finals than any other club in 1973, 1983, 1997, 1998, 2003 and 2015.
They have also won European Cups twice in 1985 and 1996. Two other clubs, Bayern Munich and Benfica, have lost five finals.
"We're sorry that we didn't win but I'm proud of what the boys did," said Allegri. "We can come away from this having played in European competition with personality. That was apparent on the pitch tonight."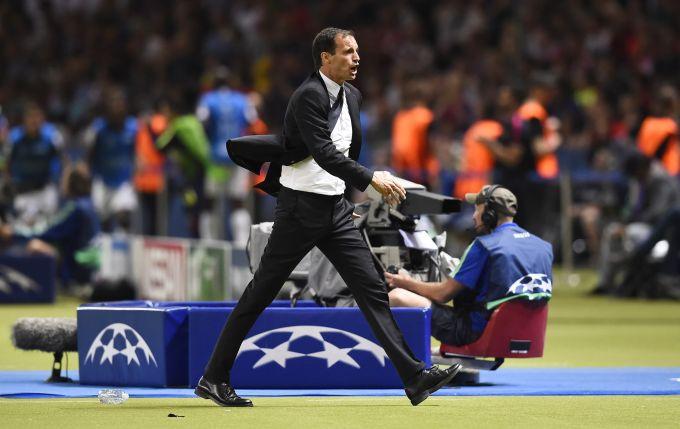 Juventus coach Massimiliano Allegri. Photograph: Dylan Martinez/Reuters
Allegri said he -- and all of Italy -- were proud of the team that he said wants to establish itself long-term as one of the top eight clubs in Europe and banish the memories of having the Serie A title stripped after the 2005/06 season.
"We can further improve the quality of our game," he said. "Not necessarily the results because that would mean winning the Champions League as well as the league and cup.
"We can improve upon what we already have and try to stay among the top eight teams in Europe on a stable basis. That's the most important objective of the team," he said.
Juve were stripped of the Italian title in the 2005/06 season and relegated over the Calciopoli corruption scandal.
"The enthusiasm that the people in Turin had, and the enthusiasm for the team from the whole football world, is only due to these boys who played here in Berlin," added Allegri. "I'm proud of what they did."