'It is performing for my country which motivates me every day.'
'That is why till the day I can give my best I will continue to be in boxing.'
Having failed to make it to the Rio Games, five time World Champion and Olympic bronze medallist MC Mary Kom tells Harish Kotian/Rediff.com she will not call time on her career yet.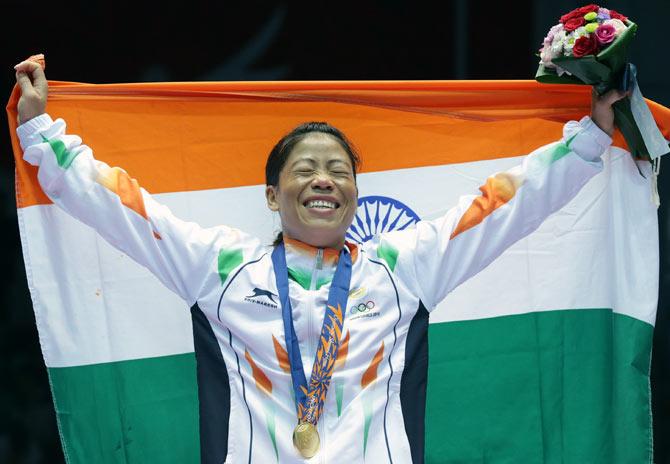 IMAGE: MC Mary Kom celebrates her gold medal at the 2014 Asian Games in Incheon, South Korea, October 1, 2014. Photograph: Chung Sung-Jun/Getty Images
Her dreams of competing in a second Olympic Games dashed, MC Mary Kom insists she is not ready to give up boxing, yet.
The 33-year-old mother of three had said the Rio Games would be her last competition, but failure to qualify for the event has made the Olympics bronze medallist even more determined to give it another shot four years down the line.
Mary, who won a historic bronze medal at the London Olympics in 2012, says she will only quit on a high.
The five-time World Champion won a gold medal at the Asian Games in 2014, but failed in two attempts to book a Rio berth -- first in March at the Asian Zone Qualifiers and then last month at the World Championships.
She was denied a wildcard for the Rio Games, prompting speculation that she would hang up her gloves.
Following the disappointment, the Manipuri boxing legend explains to Harish Kotian/Rediff.com in an exclusive interview why she won't quit boxing just yet .
Now that you haven't got the wild card for the Rio Olympics, will you continue boxing or retire from the sport?
I haven't given a thought to retirement yet. I will continue my boxing career for another two years, at least.
I won't retire now because I am not feeling good about quitting the sport in this manner. I didn't qualify for the Rio Olympics and I also didn't get the wildcard, so I am not feeling good about retiring right now.
So you want to achieve something before you retire and go out on a high?
Yes, absolutely! I don't want to quit when things have not gone well for me.
I want that to happen. I want to win more medals and competitions. I still believe I am fit to win.
Is Mary Kom finding it difficult to give up boxing?
Yes, I am finding it very hard to give up boxing. I am finding it quite difficult thinking about it; I can't even sleep.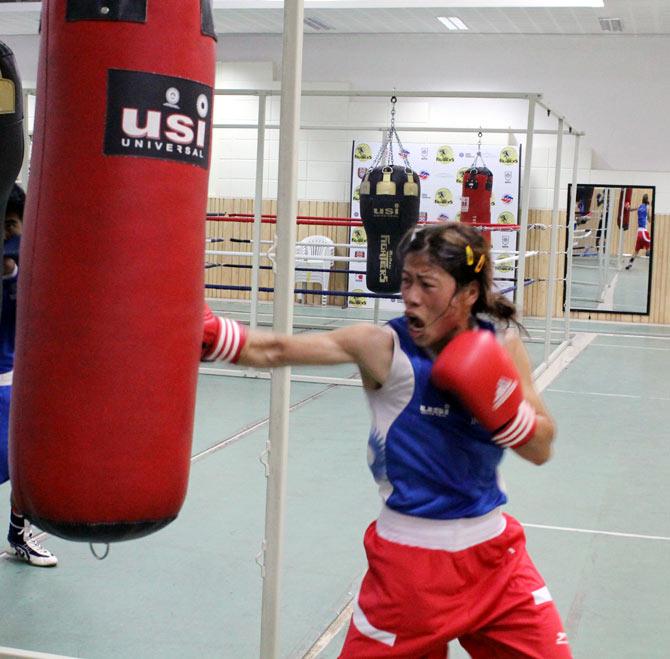 IMAGE: MC Mary Kom during a training session in Pune. Photograph: Hitesh Harisinghani/Rediff.com
But the thought of retirement must have crossed your mind. Everybody is talking about it. You had said in the past that the Rio Olympics would be your last.
If I would have qualified for the Rio Olympics, it would have been my last. But since I didn't qualify and could not make it I am finding it hard to quit boxing.
Maybe now I will aim for the 2020 Olympics. The AIBA is planning to introduce more categories in women's boxing, so definitely I will have a better chance then.
Yes, the thought of retirement did cross my mind and I felt some pressure too. My friends and fans all over India, even members of the All India boxing selection committee, wanted me to try for the Rio Games as they felt that I would get the wildcard.
Unfortunately, I didn't get the wildcard. I feel that since so many people are still backing me, I can still continue to represent my country and make them proud.
That means you will continue boxing for the next two years and then take a call on whether you want to keep going till the 2020 Olympics?
I am a member of the Rajya Sabha also, so I will dedicate my time to that while I focus on my boxing by training hard and taking part in competitions.
I want to focus on both things because I feel honoured to be part of the Rajya Sabha. I want to give time to it also.
So we can say that you are not retiring now, at least for the next two years?
No, no, I am not retiring!
As I said, I will continue boxing for the next two years and if I am performing well, then I will continue till the 2020 Olympics.
You are 33. Do you believe that four years down the line you will stay fit and compete in a big event like the Olympics?
If you have a strong will, then anything is possible.
This thing of competing in the Olympics in 2020 is in my hands; it is in my control only and no one else.
If I continue in boxing, perform at the highest level and give my best in every competition, then certainly I can achieve what I am looking for.
I don't want to spoil the name of my country at the highest level. I don't want to continue boxing for the sake of it.
I want to give my best every day and keep performing and winning laurels for my country.
I did try hard to make it to the Rio Olympics. I worked hard in the last few weeks in training because everybody, including officials of the Indian Boxing Federation and (boxing coach Gurbax) Sandhu Sir, told me that I should continue to train as I could get a wildcard.
They all believed in me because they know that I have it in me to succeed at the highest level. Eventually, I didn't get a wild card; that was not in my hands.
You have a young family, with three young sons, two of whom are going to school. Does you husband Onler support your decision to continue boxing?
He has always supported me in my boxing career right from the start. Even now he tells me that till the time I am interested in continuing my career I am free to do so and he will continue to support me.
The support of my family and my will to keep going, the combination of these two things, are important for me to continue boxing.
Why do you say you failed to make it to Rio despite giving it your all in training in the last couple of years?
Even I don't know what went wrong. I gave it my all, I tried my level best, whether it was in training or in competition. I never wanted to let my country down. Unfortunately, I could not make it through the qualifying tournament.
I want to apologise to all Indians; I want to tell them am sorry for not living up to their expectations.
But, believe me, I tried my best in the last few years so that I could go to the Rio Olympics. Somehow, things didn't work out.
I know everyone in India loves me a lot. I want to make a strong comeback and prove my critics wrong. Some people have written me off. They say I cannot make a comeback. I want to prove them wrong.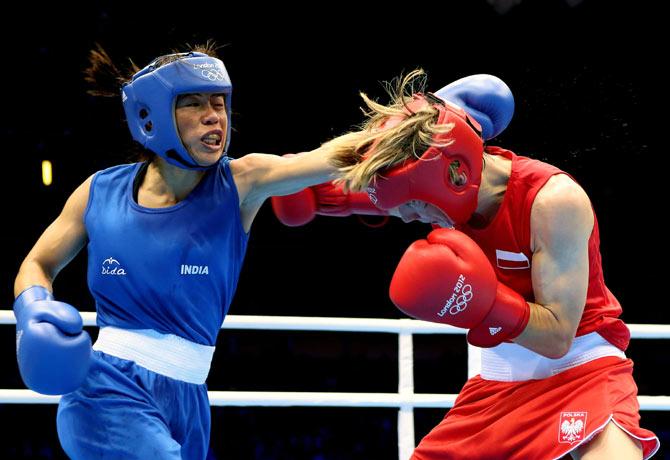 IMAGE: MC Mary Kom, left, in action against Karolina Michalczuk of Poland at the 2012 Olympic Games in London. Photograph: Scott Heavey/Getty Images
Are you sad and disappointed that you will miss the Olympics?
I have no words to express. I feel so sad, I feel so hurt, but I want to bounce back now and take some positives out of my failure to qualify for the Olympics.
I believe I have enough experience in boxing and in life to handle such tough situations and come out of it stronger.
Just wait and see, Mary Kom will be back soon!
After winning the bronze medal in the London Olympics, you were away from the sport for nearly a year-and-a-half. You had a baby, underwent a couple of surgeries, but made a comeback from that and won the gold medal at the Asian Games in 2014.
Is this another chance for another comeback and show that you never give up?
Everyone knows what I have gone through; so much has been written about it and spoken too. The fans have given me so much love over the years that I never ever had a negative thought even during my difficult times.
I want to repay them for all their love and support by continuing to do well in boxing and win more medals for my country.
I want to inspire the youngsters, especially girls, to take up boxing and prove that they can also do well and win medals for the country.
You admitted you were surprised by your nomination to the Rajya Sabha. Will you now be giving more time to politics and try and do something for boxing through the same?
Yes, you will see me in Parliament next session. I don't have much experience of how it functions, but I will learn and try to fulfill the responsibility that is bestowed upon me.
I am honoured that my efforts and achievements over the years were recognised.
I will regularly attend Parliament, look to learn things and do something for the people of my country.
What is the latest on your academy -- the Mary Kom Regional Boxing Foundation in Imphal? When you will launch it?
You know, till Prime Minister Narendra Modi doesn't come and inaugurate it I won't launch it. No matter how long it takes, I will wait for him to come and inaugurate it.
I am in touch with the PMO and still waiting for his dates to be confirmed. Hopefully, it will happen soon.