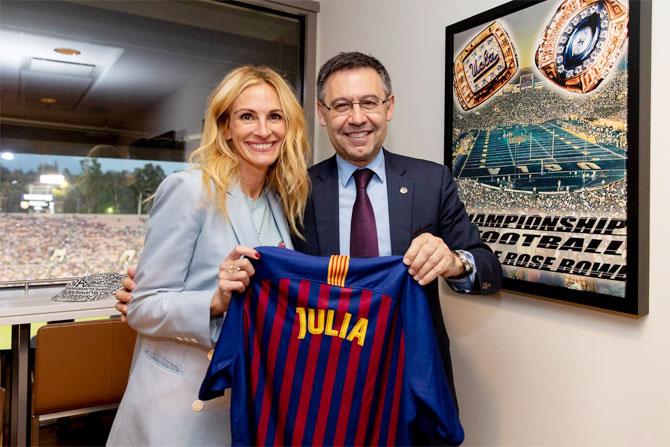 Either Julia Roberts loves European club football or is just a collector of jerseys of European soccer clubs.
The Hollywood beauty was clicked in the FC Barcelona locker room at the Rose Bowl stadium in California, where the Spanish giants beat Tottenham Hotspur on penalties in the International Champions Cup on Saturday.
Roberts watched the match with Barcelona club president Josep Maria Bartomeu and was then presented a personalised FC Barcelona shirt.
On Thursday, Roberts and another Hollywood biggie Gary Oldman were spotted with Manchester United players after their win over AC Milan in their pre-season opener.
Last year the 'Pretty Woman' actor was seen cheering for the Red Devils in a pre-season match against Real Madrid.
Julia was seen wearing a United top and it was posted on the club's Twitter account with a caption: "Julia Roberts is a Red!"
The star had also attended a slightly less high-octane match at Old Trafford, where United drew 1-1 with West Ham in 2016.
She may just be a United supporter after all!