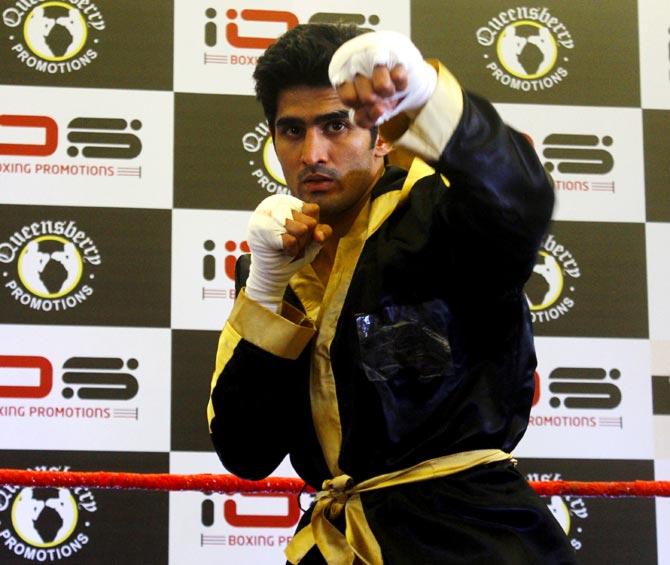 IMAGE: Vijender Singh during a live training session. Photograph: Hitesh Harisinghani/Rediff.com
Eight years ago, he scripted history by opening the country's account in amateur boxing's marquee event and Vijender Singh feels India might just go one better on that during the 19th World Championship, starting August 25 in Hamburg.
The 31-year-old had fetched a bronze medal at the 15th World Championship in Milan, just over a year after becoming India's first Olympic medallist in boxing -- a bronze-winner at the 2008 Beijing Games.
The nation has a bronze each to show for in the 2009, 2011 and 2015 World Championships -- the other two bronze-medallists, apart from Vijender, being Vikas Krishan (2011) and Shiva Thapa (2015).
"It is a mature bunch of boxers. I have been in teams that had Shiva (Thapa), Vikas (Krishan) and Manoj (Kumar). So, I know some of them well. They have the ability to ensure that India ends up with more than one medal. If they compete to their full potential, I think there is a real chance of more than one medal," Vijender said.
"They have competed at the highest level in the past and know what they should do. I cannot give any suggestions to them but I can just say, they need to be very focussed," he added.
Both Vikas (75kg) and Shiva (60kg) are part of the eight-member team, which has already reached Hamburg after qualifying for the event through the Asian Championships earlier this year.
Young Aryan finishes 3rd, Harika poor 29th at Abu Dhabi International
India's celebrated GM Harika Dronavalli finished a disastrous 29th, even as 15-year-old GM Aryan Chopra finished a creditable third at the 24th Abu Dhabi International Chess Festival, that concluded on Tuesday.
Chopra with ELO Rating of 2507 beat Leven Pantsulaia of Georgia in 42 moves to finish with 6.5 points. Chopra is India's second youngest to become Grandmaster after Parimarjan Negi.
The nine-round tournament was won by GM Amin Bassem of Egypt with 7.5 points while celebrated Briton GM Nigel Short was runner-up with seven points.
For India, IM NR Vignesh drew with Constantin Lupulescu of Romania to finish tied 11th with six points. Another Indian GM SP Sethuraman also had six points, beating IM Saveliy Golubov of Russia, but finished 15th due to inferior progressive score.
In 18th place was GM Murali Karthikeyan with six points.
Harika's 29th place finish with 5.5 points was due to an inferior progressive score.
IM Abhimanyu Puranik at 19th place and GM Shardul Gagare at 22nd also finished above Harika. The notable name to finish after Harika was GM Neelotpal Das, who ended 31st and GM Abhijeet Gupta, who finished at 36th.
I dedicate my Arjuna Award to women of India: Bembem Devi
Oinam Bembem Devi, the flagbearer of Indian women's football for over two decades, dedicated her Arjuna Award to women of the country who are trying to break the stereotypes.
The 37-year-old Bembem Devi retired from international football last year during the South Asian Games in Shillong, having represented India in 85 games and scoring 32 goals.
"I dedicate this to all the women in the country who overcome hurdles every day in the sociological context to excel in their respective fields. This award is for all of them as much it is for my mom, all my teammates and coaches.
"I also need to thank AIFF for the continuous support," Bembem Devi was quoted as sating 'the-aiff.com'.
Bembem Devi made her international debut in 1995 and is closely associated with All India Football Federation (AIFF) for spreading awareness about women's football in India.
Defending champion Pallikal out of Nationals with ankle strain
An ankle strain has forced defending champion Dipika Pallikal to pull out of the 74th Senior National Squash Championship at the last minute, dealing a blow to the premium domestic event to be held in Greater Noida this week.
Pallikal decided against playing her first round match on Wednesday, fearing an aggravation of the injury ahead of the pro season opening China Open from August 29 to September 3.
"It's very unfortunate that I have to pull out. As I have an important season coming up, I thought I needed to be fully fit before the new season starts," Pallikal said after informing the Squash Rackets Federation of India (SRFI) about her withdrawal from the Nationals.
"We all have an important year coming up, next year is a huge year for us as we have the CWG and Asian Games, so I feel that to be properly ready for the season I needed to give my ankle some time to heal before I rush to match practice.
"I will definitely miss playing the nationals as I was looking forward to defending my title," the 25-year-old added.
Jude Felix appointed coach of junior men's hockey team
Former captain Jude Felix Sebastian was appointed coach of the Indian junior men's hockey team on Tuesday.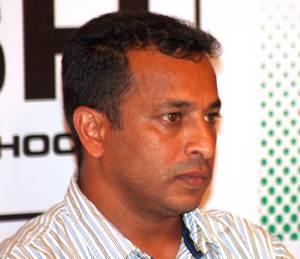 Hockey India made the appointment following the team's successful Europe tour that featured nine players from last year's junior men's core group.
India's High Performance Director David John emphasised that the programmes initiated by Hockey India in the past five-six years are paying dividends with the juniors pushing for a spot in the senior team, increasing the talent pool in this new Olympic cycle.
The 33-member junior men's core group will train under Jude Felix as the boys prepare for defending the World Championship title.
"Jude Felix brings with him vast experience as former India captain as well as a highly reputed coach. Under him, we want to strengthen the junior core group," said John.
"With Hockey India's programmes structured to bring good results in the 2020 and 2024 Olympic Games, I would expect players from this junior core group to push the seniors for a spot in the team," he added.
As a player, Felix was a vital cog in the Indian team as a half-back. His composed attitude with a wide vision for hockey's development set him apart from his contemporaries.
Felix is an Arjuna Awardee (1995) and was the captain of the team from 1993 to 1995. He also led the team in the 1993 World Cup and in the Asian Games in 1994 at Hiroshima.
His previous stint with the national team was in 2014 when he assisted chief coach for men's team Terry Walsh.
10-year-old Aryaman creates golf history
Ten-year-old golfer, Aryaman Singh wrapped up the season on a high note, blazing his way through the first five events of the Indian Golf Union-West Zone, this year, thereby breaking his own zonal and national records.
Singh remains undefeated at the zonal level for four years, winning every tournament he has played. His winning streak now extends to 1,266 days, which is the longest in the history of junior golf in India.
He won the first event at the Kensville Golf Course, Ahmedabad, followed by another win at his home course, the Poona Club Golf Course, Pune, Oxford Golf & Country Club,
Pune, the Gaekwad Baroda Golf Course, Vadodara.
At the Gulmohar Greens Golf Course, Ahmedabad to extend his winning streak over four consecutive years, by winning every tournament he took part in, the release said.
American distance runner Flanagan gets silver medal from 2008 Olympics
Distance runner Shalane Flanagan received her 2008 Olympic silver medal on Monday after the Turkish runner who finished ahead of her tested positive for a performance enhancing drug, the US Olympic Committee and USA Track & Field said.
Flanagan was the bronze medallist in the 10,000 metres at the Beijing Games until second-placed finisher Elvan Abeylegesse was disqualified in March after a re-test of a 2007 sample showed positive for the banned steroid stanozolol.
The USOC and USA Track & Field said Flanagan, who preferred not to have an official ceremony, received her silver medal at her home in Portland, Oregon, earlier on Monday.
"Receiving my proper medal and having the record books changed is a dream come true," Flanagan, said in a statement.
"I greatly appreciate the USOC's efforts to host a more formal medal ceremony in my honour, but with my coach and my family, I have decided to forego that option and instead celebrate in private.
"This news, and receiving my medal, are all that I need to feel incredibly fulfilled and happy."
The 2008 bronze medal previously owned by Flanagan, 36, has been returned to the IOC.
CAS upholds life ban on former top officials for doping blackmail
Sports highest tribunal has upheld life bans on two top Russian athletics officials and the son of former world governing body president Lamine Diack for covering up an elite Russian athlete's positive dope test and blackmailing her over it.
Valentin Balakhnichev, the former head of the Russian athletics federation, and Alexei Melnikov, the country's former head distance coach, were banned by the IAAF (International Association of Athletics Federations) ethics commission in January last year.
Papa Massata Diack, a former marketing consultant to the IAAF, was also banned. All three denied any wrongdoing and subsequently appealed to the Court of Arbitration for Sport (CAS).
"The IAAF Ethics Commission decision is confirmed and Valentin Balakhnichev, Alexei Melnikov and Papa Massata Diack remain banned for life from any involvement in the sport of athletics," said CAS in announcing its verdict on Monday.
"The panel concluded that on the evidence adduced, the charges established against Messers Balakhnichev, Melnikov and Diack were established beyond reasonable doubt and the sanctions imposed should be upheld."
It said it would give a full reasoned decision at a later date.