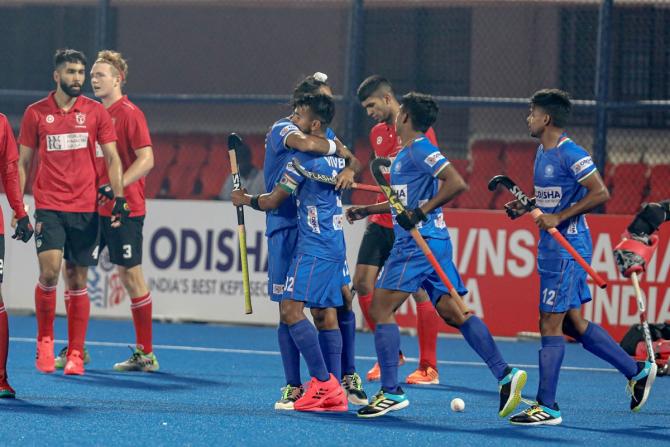 Over 70 goals were scored on the second day of the men's Junior Hockey World Cup, with Spain registering a record-breaking 17-0 win over the USA in a Pool C game, in Bhubaneswar, Odisha, on Thursday.
Following the thumping win, Spain set a new record for the highest victory margin in the history of the tournament.
The record was previously held by Argentina, who defeated Egypt by 14-0 in a Pool D game earlier on Thursday.
Argentina had broken the record of the highest victory margin in the tournament's history, previously held by India, who defeated Singapore by a margin of 13-0 in the 1982 edition of the tournament.
However, Spain's dominant display of skill meant that the record set by Argentina was broken in a matter of a few hours.
In another match on Thursday, stunned by France 5-4 in their tournament opener, India roared back into the tournament, crushing Canada 13-1 to register first win.
Sanjay (17th, 32nd, 59th) and Hundal (40th, 50th, 51st) scored three goals each, while Uttam Singh (3rd minute, 47th), Shardanand Tiwai (35th, 53rd), skipper Vivek Sagar Prasad (8th), Maninder Singh (27th) and Abhishek Lakra (55th) were the other scorers.
France top Pool B with two wins from as many games, after beating Poland 7-1 on Thursday, while India is placed second.
India will meet Poland in their last pool fixture on Saturday.
In another pool C match, Netherlands registered a 12-5 win over Korea.