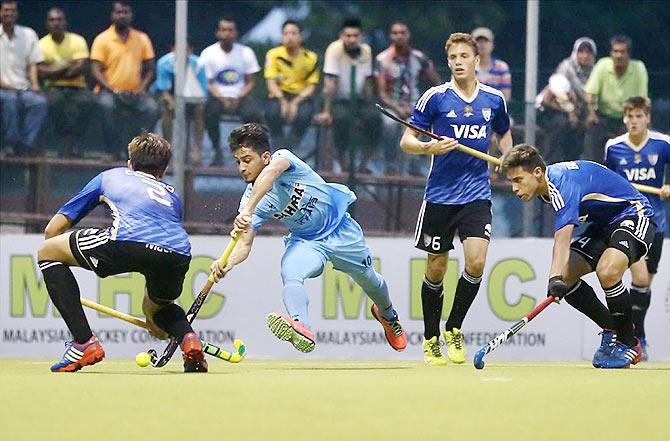 IMAGE: India junior hockey team's Nilakanta Sharma (centre) thwarts the challenge by Argentina players during their match at the 5th Sultan of Johor Cup in Johor Bahru on Wednesday. Photograph: PTI
India's junior men's hockey team came back strongly in the ongoing 5th Sultan of Johor Cup as they defeated Argentina 3-2 in the third league match in Johor Bahru on Wednesday.
The game commenced with an aggressive attack from the Indian forward-line who charged on the opponent's semi-circle from the very first minute.
Surprised by the initial raids by the Indians, Argentina didn't get enough time to react and failed to mark the Indian forwards.
In the 3rd minute, Arman Qureshi received a pass from the left-winger and after outplaying Argentinean goal-keeper Emiliano Bosso, he sent the ball into the goal-box.
Indian colts got their second success in the 11th minute when forward Gurjant Singh received a pass and he hit the ball hard into the nets for the second goal.
Leading by two goals, India maintained the pressure on the opponents from all sides. Arman and Gurjant led the attack with their fellow forwards Sumit Kumar and Parvinder Singh which helped put the Latin Americans on the back-foot.
After a series of attacks, the Indians received a penalty corner in the 34th minute but failed to convert it and the first half finished at 2-0 in favour of India.
The second half started with an intense battle as Argentina managed to keep the ball in their possessions and looked for opportunities to open their account.
In the 39th minute, Argentina earned a penalty corner and their captain Maico Casella converted their first goal to reduce the margin to 1-2.
After conceding the goal, the Indians counter-attacked from all sides with midfielders Santa Singh, Manpreet, Simranjeet Singh and skipper Harjeet Singh dealing in quick passes and tried to create opportunities for the forwards.
In the 50th minute, India through a penalty corner opportunity scored their third goal coming from the stick of Nilakanta Sharma, taking the score to 3-1.
However, after conceding the third goal, the Argentineans charged back from the right flank and in the 54th minute, Nicolas Keenan perfectly deflected a pass into the nets for their second goal.
India will face hosts Malaysia in their fourth match of the 5th Sultan of Johor Cup on October 15.