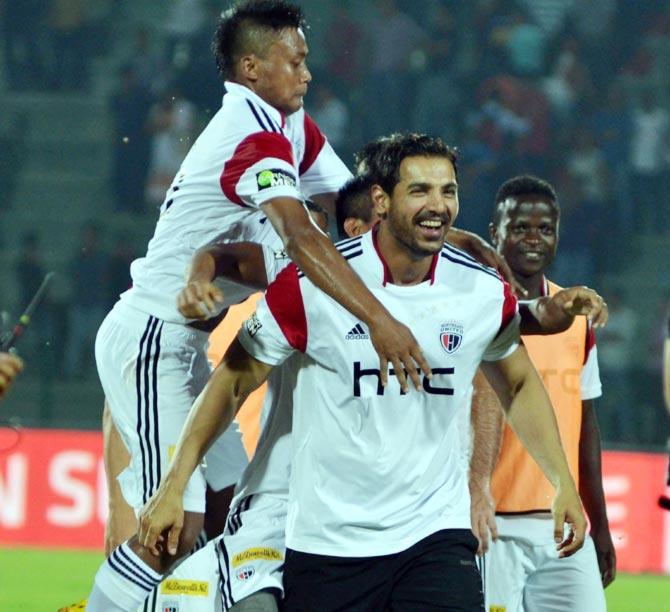 North East United FC co-owner John Abraham celebrates with his team after winning their match against Kerala Blasters FC. Photograph: PTI
Riding high on NorthEast United FC's home win against Kerala Blasters, team co-owner John Abraham said that his team will put up a strong fight in their upcoming against Atletico de Kolkata in the Indian Super League match.

However, the actor and football enthusiast admitted that the next game would be one of the toughest considering the way the Sourav-Ganguly co-owned Atletico outplayed Mumbai FC at the inaugural ISL match.
- 'Grassroots, not ISL, should be focus for India'

"Kolkata is a tough side but we are a young team... we will give our heart. We'll put up a fight like no one has ever seen," Abraham said in Shillong, on Tuesday.

NorthEast United FC pulled off a hard fought 1-0 victory against Kerela Blasters in a packed Indira Gandhi Stadium in Guwahati even as the latter were much better in the game statistically.

"They are a bunch of warriors out there," he said, optimistic that his team would give Atletico de Kolkata a tough fight in the latter's home turf.

As for the composition of the NorthEast United FC, Abraham pointed out that they are the only team in the ISL where domestic players had been drawn exclusively from the region.

He also said the passion for football across the region is unmatched pointing out that his team co-owner and Shillong Lajong's MD Larsing M Sawyan is a football player himself.

The team owners also revealed plans to take the ISL to Shillong, Imphal and Aizawl besides other state capitals in the north east in the future editions of the league.

Speaking on the involvement of Bollywood superstars and cricketers as team owners, Abraham said, "This is important to draw eyeballs initially."

However, he said, football is a sport of purist and domestic heroes only act as crowd pullers.

"As a team owner, my job is to build these domestic heroes," he said negating views that the ISL would turn out to be a show of vanity.