As the Concacaf (North America, Central America and the Caribbean federations) Gold Cup kicked off on Monday morning at the Rose Bowl, in Pasadena, California, Concacaf president and FIFA vice-president Jeffrey Webb spoke with Siddhanta Pinto over the telephone from Los Angeles.
Capping a tumultuous year for the Confederation -- with Jack Warner and Chuck Blazer the previous president and general secretary respectively being accused and recently proven to having committed massive fraud (Warner was also involved in the FIFA presidential elections controversy involving Mohammed Bin Hammam), Webb says, "The past two years have been very challenging, a transitional year for the confederation, and we've put various processes in place to ensure that what happened in the past does not happen again. But the past is the past. We are extremely excited with this edition of the Gold Cup, and it's great for us (the confederation) now to just focus on football and we look forward to seeing some great football."
In his 13th month in office, the former banker from the Cayman Islands has been credited with injecting new life in the 41-country federation's main money-spinner and tournament of pride. He's done it in two distinct ways -- by increasing the prize-money for the 12-team tournament to $1 million (a five-fold increase), as well as by giving the winner an equal shot at the even more lucrative Confederations Cup.
Hitherto, if you won the first Gold Cup (a biennial tournament) in any World Cup cycle you automatically qualified for the Confederations Cup, the second Gold Cup in that cycle was just for pride!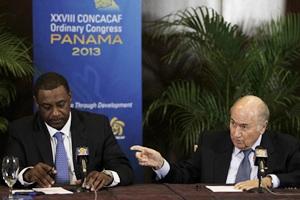 Webb has now ensured that that oddity is a thing of the past -- the two winners play-off for that prized Confederations Cup spot (and earn at least $1.7 million more). If the winner is the same for both Gold Cups, the play-off game will be scrapped.
Is that enough though to raise the profile of the Concacaf Gold Cup?
The first game saw a less-than-half empty stadium, while the Mexico-Panama game was played to a far-from-packed stadium too. But both group stage games witnessed upsets, Panama 2-1 winners over two-time defending champions Mexico, for the first time in their Gold Cup history, and Martinique 1-0 winners over past winners Canada).
Asked about ticket sales (tickets are still widely available for the final, in Chicago on July 28) and whether the tournament is growing in popularity, Webb replied, "Ticket sales have been very good -- we're right now on par with the biggest gold cup in the history of the confederation (the 2011 edition), and definitely our projection of ticket sales looks likes its going to equal or surpass it. We're expecting in excess of 600,000 fans in the stadiums.
"The Gold Cup has continued to grow, to evolve; it is, after all, our confederation championship. So, of course, the teams that have qualified are very proud and fortunate. And, of course, with the tying of the Gold Cup to qualification to the Confederations Cup, we're very excited."
The 41-team confederation has only had three winners of the Gold Cup, a tournament still not broadcast on Indian television. Mexico, on six occasions; the USA on four, and Canada, a solitary win in 2000.
"I think, if you look at World Cup qualifying, it has been so competitive; it's a great sign for our confederation. We see the gap closing between the bigger countries and up-and-coming ones. Definitely, the US and Mexico have dominated the competition, but I think we should recognize the great work by the member countries and their development programs which is starting to bear fruit.
"For this edition of the Gold Cup, going on current form, you have got to consider teams such as Costa Rica, Honduras and Panama as well."
Panama defeated the defending champions early Monday morning (IST), thanks to two goals from Gabriel Torres.
With the June phase of World Cup qualifying for the region having just completed three weeks ago, US coach Jurgen Klinsmann and Mexico coach Jose Manuel de la Torre haven't called upon the services of big names such as Clint Dempsey and Tim Howard or Chicharito Hernandez and Giovani dos Santos.
The Gold Cup has another unique feature. It has always been hosted in the United States -- all 12 editions!
"You know, I've said it publicly, this is our confederation's championship; we have to allow other countries to develop infrastructure, and definitely we're going to be inviting bids for future gold cups."
When probed on who the other possible hosts could be, "Definitely, Mexico and Canada. The Women's World Cup 2015 is being hosted by Canada. Costa Rica is doing some tremendous work with its footballing infrastructure too -- they will host the Women's Under-17 World Cup next year," he said.
Webb has also been quoted on previous occasions to claim, 'The 2026 World Cup belongs to the Concacaf.' If that's going to happen then it will be 32 years since the Concacaf hosted the World Cup, since USA '94.
On suggestions that India is also in the fray to bid for 2026, as FIFA vice-president, he said: "I think definitely India is an emerging country, not only from an economic standpoint but also from a footballing standpoint. Of course, its bid will be very competitive, but, for me, my loyalties lie with my confederation. I'm not sure if I can support your bid (laughs!).
Image: FIFA president Joseph Blatter (R) gestures to CONCACAF president Jeffrey Webb during a news conference at the CONCACAF congress in Panama City April 19, 2013.
Photograph: Carlos Jasso/Reuters