Jeev Milkha Singh eclipsed the big names in Thursday's Irish Open first round with an exhilarating eight-under 63, but the Indian player's feats failed to overshadow US Open champion Rory McIlroy.
McIlroy was embroiled in a furious spat with former European tour professional, American radio and television commentator Jay Townsend, after the Northern Irishman double-bogeyed the 18th hole for an often error-strewn round of 70.
The pair's row on Twitter proved to be the talking point of the day.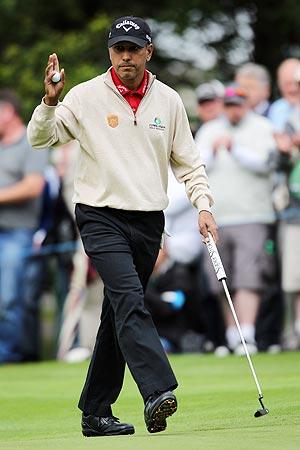 Townsend tweeted: "McIlroy's course management was shocking. Some of the worst course management I have ever seen beyond under-10 boys' golf competition."
McIlroy quickly replied: "Shut up ... you're a commentator and a failed golfer, your opinion means nothing!"
Later, McIlroy revealed that he and Townsend had been at loggerheads for three years. Neither would back down on their tweets.
Townsend's comments came after McIlroy dunked his ball into the lake on the last when trying to make the green from a fairway bunker.
The 22-year-old Northern Irishman blamed rustiness on several misguided tee shots and indecision with his shot-making, admitting that fairway bunker play was not exactly his strong suit.
The US Open champion trails Singh by seven strokes and the other three crowd-pullers also followed in the leader's wake.
British Open champion Darren Clarke was the best of the quartet of major champions that drew massive crowds to Killarney with a 69. Last year's US Open champion Graeme McDowell carded a modest 72 and three-times major champion Padraig Harrington a 73.
ON THE FENCE
After boosting his round with two birdies in the last three holes, Clarke preferred to stay on the fence about the McIlroy-Townsend controversy. "I respect Jay as a commentator and Rory is entitled to his opinion," Clarke said.
Leader Singh is delighted that he has battled back from back and shoulder injuries last year that threatened his career, resulting in him plummeting out of the world's top 50 to his current 209th placing.
A hot putter earned him a 30ft eagle and six birdies on an unblemished card.
"I've been doing a lot of yoga, stretching and meditation and I hope I'm on the way back," Singh, with 18 wins worldwide, told reporters. "I was in the top 50 for three, four years, and I've been feeling a bit left out."
Singh is two shots clear of surprise contender French rookie Alexandre Kaleka. New Zealander Michael Campbell, the 2005 US Open champion, Germany's Marcel Siem and Swede Christian Nilsson are a further stroke back in third place.
Campbell continued his recent resurgence of form, picking up five shots in the last five holes for his 66.