Top Indian golfer Jeev Milkha Singh's coach Amritinder Singh was on Tuesday forced to remove his turban at Milan airport by security officials there before being allowed to board the flight.
Amritinder, who was accompanying Jeev for three tournaments on the European Tour, was told that he could either remove the turban or not board the flight with several people at the airport watching the scene.
Jeev protested by telling the airport security officials that it was nothing but harassment, but to no avail.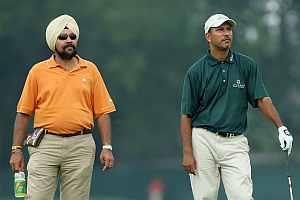 The adamant security staff at the airport let the duo off to board the flight only after Amritinder removed his turban and it was checked by them.
"I told the security people that this is not the way to conduct. I have been travelling for close to 35 years but such a thing had never happened," Amritinder singh said over phone from Italy.
"It is a personal insult as I have travelled all over the world and even though security officials put their detectors around my turban, I have never had to remove my turban. For me it is like being asked to strip in public," he said.
"I belong to a country whose Prime Minister wears a turban and I feel India should take up issues with other countries. I do not want to stand in the way of safety regulations, but a person's personal privacy has to also be respected," said Amritinder.
He said after the incident, Jeev called up India's Consul General in Italy and apprised him of the development.
"He has assured us that he will take up the matter," he said.
"I also told them that they could look at my passport and see that I am a sportsperson and have never been humiliated like this but they refused to comply. I even told them that this is not security but harassment," he added.
An agitated Jeev said it was nothing but harassment of him and his coach by the Italian authorities.
"My father wears a turban and I would be horrified if he was told to remove it unnecessarily and disrespectfully in front of hundreds of people," said Jeev.
Photograph: Getty Images