India Army's Lt Colonel Sudhakar Jayant has won gold medal at the IWF World Masters weightlifting championships, in Turin, Italy.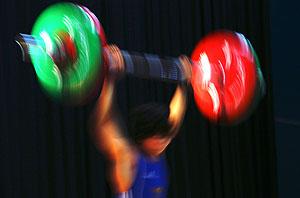 Forty-five-year-old Jayant competing in the 62kg weight category, lifted a total of 192kg. His lift of 87kg in Snatch was a Games record. The lift came in his second attempt.
In Clean and Jerk, he lifted 105kg. Finland's Jari Huuskonen (81 95) won silver while Jan-Olof Åkesson of Sweden took bronze (76 92).
The Armyman, now posted in Jabalpur, had also won gold last year when the competition was held in Ukraine.
Photograph: Mark Nolan/Getty Images