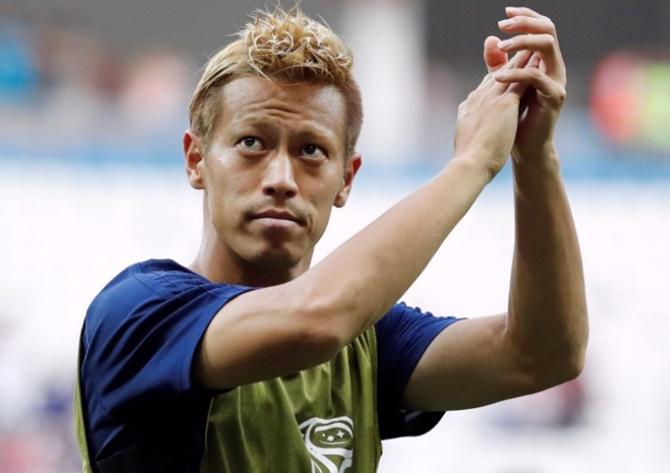 Keisuke Honda and captain Makoto Hasebe announced their retirement from international football following Japan's elimination from the World Cup at the hands of Belgium on Monday night.
Honda, 32, came off the bench late in the last-16 clash with Roberto Martinez's side, but was unable to prevent his side from slipping to an agonising 3-2 loss.
"Today we showed how we can proceed as Japanese football," the former AC Milan midfielder told reporters after the match.
"I might have finished my career for the national team, but I'm happy because we have many young players following us, and I think that they will make new history for Japanese football."
Japan held a two-goal lead in the 52nd minute following strikes from Genki Haraguchi and Takashi Inui, but Jan Vertonghen and Marouane Fellaini levelled the scores before Nacer Chadli's injury time goal secured a dramatic win for Belgium.
"This is the last World Cup for me," Honda added. "That's the reality. To be perfectly honest, I wanted to take everyone to the next round but I couldn't get the job done. I did everything I could. I did the best I could."
"Belgium deserved the win, but we also played as well as we possibly could. I just want to thank my team mates."
Honda, who scored 37 times in 98 appearances for his country, was used as an impact player off the bench in his third World Cup and had a couple of chances to grab a winner for Japan before the dramatic denouement.
"We had talked about the score being even if and when I entered the game, but I couldn't come through," said Honda.
"I've always said if you're in this competition you should be in to win it, and I hope the younger generation of players carry on that spirit."
Hasebe, once heralded by former Japan head coach Alberto Zaccheroni as one of only two "true captains" he had ever managed along with Paolo Maldini, has also decided to step down from international duties.
The midfielder, who plays in Germany for Eintracht Frankfurt, made 114 caps for Japan.
"I would like to express my gratitude to my colleagues who fought together for about 12 and a half years since 2006, and to all the Japanese people who supported me so much," the captain said in a post on Instagram.
"The time I walked with you is an important treasure for me. Thank you from the bottom of my heart!," he added.
"Last but not least, I am also a supporter of the national team. Let's dream about the Japanese national team together."
Japan's squad was one of the oldest at Russia 2018, with an average age of over 28.
With the majority of the squad set to be over 30 years old for the next World Cup in 2022, a new generation will need to pick up the mantle left by the likes of Honda and Hasebe.
Poland's coach to step down after World Cup humiliation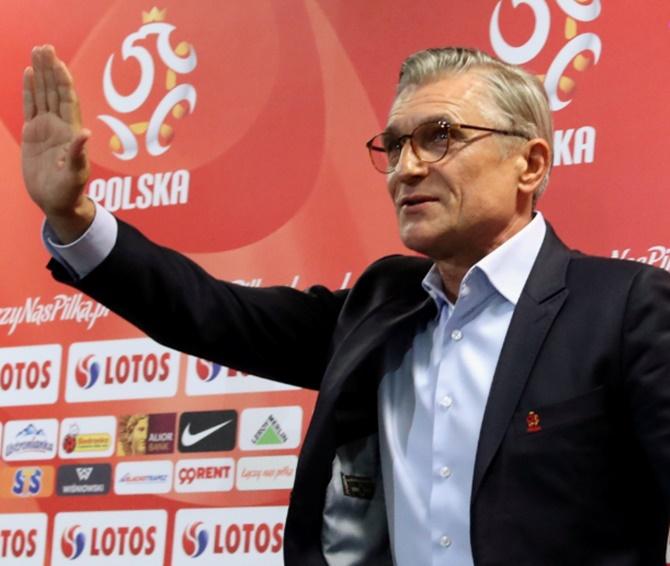 Poland's coach Adam Nawalka will step down at the end of July after his team crashed out of the group stage of the 2018 World Cup tournament.
"We have decided that Adam Nawalka will remain Poland's team coach until July 30 and after that day we will be looking for a new coach. We will try to build a national team in a new way," the head of the Polish Football Association, Zbigniew Boniek, said during a joint news conference with Nawalka.
The 60-year-old, whose contract was expiring after the World Cup anyway, and the Polish FA decided not to extend it, Boniek said.
"Of course I feel responsible that we did not meet expectations, we did not meet our plans, ambitions, our fans' expectations ... that we disappointed and I take full responsibility for that ...," said Nawalka.
Poland lost their two opening games and were the first European side to be knocked out of the competition, while Nawalka's tactics and choice of players were widely questioned. A win in the third and final group match against Japan was not enough to change the outcome.
Danish FA reports death threats against striker to police
The Danish Football Association said on Tuesday it has reported death threats made against striker Nicolai Jorgensen to the police, after he endured a barrage of online abuse for missing a World Cup penalty against Croatia.
Jorgensen's miss in Sunday's penalty shootout led to Denmark's elimination from the tournament following a 1-1 stalemate at the Nizhny Novgorod Stadium.
"Stop. Our society must never accept death threats - neither against World Cup stars, politicians or others. It is completely unacceptable and indecent," the Danish FA said in a statement on Twitter. "We are reporting the case to the police to end this madness."
Three Danes missed from the spot as Croatia won the shootout 3-2 but Jorgensen was the last to do so, drawing threats and abusive language on his Instagram and Facebook profiles. However, fans responded with a strong show of support for the player.
Russian activist detained after protest outside St Petersburg stadium
A Russian teenage activist said she was detained after staging a lone protest outside the soccer World Cup stadium in St Petersburg on Tuesday, lying down in a bloodied shirt in what she said was a bid to draw attention to the country's problems.
Russia has pledged to hold a safe and secure World Cup, putting on its best face to host the world's most prestigious soccer tournament.
"We wanted to draw attention to the fact that no matter what you show foreigners, things on the inside aren't that good and pretty," 16-year-old Lika Petrovskaya told Reuters.
"No matter the pretty things that are shown, people in Russia are still suffering."
Petrovskaya lay for a few minutes at the foot of a statue of Zabivaka, the wolf that serves as the tournament's mascot, outside the St Petersburg venue where Sweden beat Switzerland 1-0 in their round of 16 match on Tuesday.
She was not detained the first time she lay down by the statue despite the presence of security officers, and voluntarily stepped away when tourists asked her to move so they could take a picture. But she said she was detained by police when she returned for a second attempt.
The local branch of the Interior Ministry could not immediately be reached for comment.
Petrovskaya said one the issues she was protesting was the imprisonment of Ukrainian filmmaker Oleg Sentsov, who is being held in a Siberian jail.
Sentsov was sentenced to 20 years in a maximum security prison in 2015 after being found guilty of setting fire to two offices in Crimea, including one belonging to Russia's ruling political party, after Moscow annexed the territory from Ukraine.
He was also convicted of plotting to blow up a statue.
Last month, Russian activists held a covert protest on a central Moscow street popular with World Cup fans to call on the Kremlin to release Sentsov.
Lithuania turns away 56 soccer fans at its border
Lithuanian border guards have removed nearly 60 soccer fans from trains between the Russian mainland and its Kaliningrad enclave after they failed to produce visas or correct documents.
Most of the 56 people were citizens of Nigeria, Senegal, Morocco or Bangladesh, the border guard said. Some had forged documents.
They included more than a dozen people who were removed from Kaliningrad-bound trains long after the last World Cup game was played in the city on Thursday, a border guard statement said.
All of them had the Fan ID, which is issued to World Cup ticket holders and provides visa-free travel in Russia and Belarus but not in Lithuania.
All trains between Russia's isolated Kaliningrad enclave and Belarus, Russia's ally, pass through Lithuania, a member of NATO and the European Union since 2004, which requires proper paperwork for the 235-km (150 mile) stretch of railway on its territory.
About 100 Nigerian soccer fans were stranded in Kaliningrad following their team's loss to Croatia in their World Cup opener after what was described as a visa gaffe.
Most of the supporters had planned to take the train from Kaliningrad back to Moscow following the Super Eagles 2-0 loss but did not have the necessary visas to pass through Lithuania.
Russian officials stepped in to help the marooned fans by arranging flights, but they were not free.