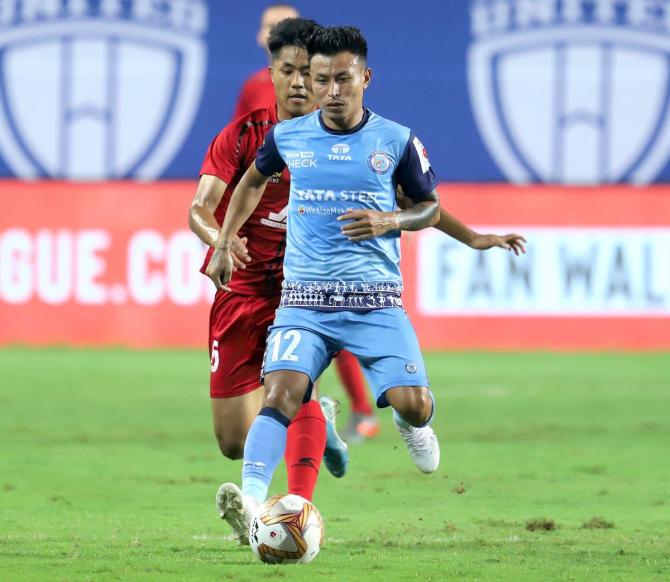 NorthEast United FC slumped to their first defeat in the ongoing Indian Super League as they went down 0-1 to Jamshedpur FC, in Vasco on Friday.
Aniket Jadhav's strike (53rs minute) was the difference between the two sides in what was the 500th game of the ISL.
T P Rehnesh also pulled off a terrific penalty save in the second-half to keep Jamshedpur's unbeaten streak against NorthEast intact.
Kwesi Appiah and Rochharzela were among the two changes made by NorthEast while Jamshedpur made three changes to their line-up.
Both sides were unable to break the deadlock in the first half as they managed to cancel out each other's threat. As a result, no shots on target were registered.
NorthEast nearly had the chance to go ahead in the 18th minute when Idrissa Sylla and Appiah combined well at the edge of the box. However, the Ghanaian striker placed his shot wide.
Jamshedpur, too, had their chance to grab the lead and it arrived just before the break. Alexander Lima found Stephen Eze in the box with a long ball but the towering defender failed to get his header on target.
NorthEast started the second half with great intensity in pursuit of the opening goal. But a quick counter-attack from Jamshedpur saw them concede first.
Isaac Vanmalsanwma and Jackichand Singh linked up well in the opposition box. The latter then swung in a cross for an unmarked Jadhav, who found the back of the net with ease.
But despite conceding first, the Highlanders too had their chance to make amends soon after the hour mark through a penalty. The referee pointed to the spot when Eze brought down Benjamin Lambot in the box.
Sylla stepped up to take the spot-kick but Rehnesh dived the right way and produced a fine save to ensure his side remained in the driver's seat.
The Red Miners almost doubled their advantage in the 79th minute but were unlucky. Jackichand received the ball on the right and whipped in a cross that was intended to find Nerijus Valskis but only managed to rattle the woodwork.
Jamshedpur defended with resilience in the dying minutes to ensure they bagged their second win of the season.
AS Roma win to climb to fourth, deepen Torino woes
AS Roma rose to fourth place in Serie A with a 3-1 home victory over relegation-threatened Torino on Thursday, aided by an early red card for the visitors.
Torino's 19-year-old wing back Wilfried Singo was shown a second yellow card after 14 minutes to leave his side with a massive task.
Roma made short work of their depleted opponents, as Henrikh Mkhitaryan rattled in his eighth goal of the season and Jordan Veretout converted a penalty before halftime.
Lorenzo Pellegrini slammed Roma's third into the top corner midway through the second half, but Torino captain Andrea Belotti capitalised on chaotic defending from the home side to slot a consolation strike into an empty net.
The result left Roma fourth with 24 points, four less than leaders AC Milan and level with third-placed Juventus, while Torino are second-bottom with six points and only one victory after 12 games.
Messi overlooks Ronaldo while voting for Best FIFA Men's Player award
Barcelona's Lionel Messi named Paris Saint-Germain duo Neymar and Kylian Mbappe and Bayern Munich's Robert Lewandowski as his three picks for The Best FIFA Men's Player award, overlooking his long-time rival Cristiano Ronaldo. Interestingly, the Portuguese did name Messi, putting the Argentine on his second preference for the award.
Messi placed Neymar as his first choice for the accolade and put Mbappe and Lewandowski on the second and third spot respectively. Ronaldo named Lewandowski, Messi and Mbappe as his choices, in the same order, for the prize.
On December 11, FIFA had announced Lewandowski, Messi and Ronaldo as the three finalists for the award and during the virtual event at the Home of FIFA in Zurich on Thursday, Bayern Munich's striker outclassed his competitors to claim The Best FIFA Men's Player award for the first time in his career.
The eventual winner for the award, Lewandowski, had voted for Liverpool's Thiago Alcantara, Neymar, and Manchester City's Kevin De Bruyne. Whereas, India skipper Sunil Chhetri had voted for Lewandowski, De Bruyne, and Liverpool's Sadio Mane, in the same order.
Lewandowski's Bayern Munich teammate Manuel Neuer was chosen as The Best FIFA Men's Goalkeeper, while Jurgen Klopp claimed The Best FIFA Men's Coach Award for the second consecutive year, having steered Liverpool FC to the English Premier League title for the first time, 30 years after their last top-flight success.
After winning the award, Lewandowski said: "This really is something -- Messi and Ronaldo have been playing at the highest level for years and now I'm rubbing shoulders with them. This means that all the hard work has paid off. I wouldn't have achieved this without the team -- they're the ones who create the situations for me. It'll take a while to absorb what I've achieved and I think I'll struggle to get to sleep tonight. But I'm really happy. We're all proud because it's an award that recognises the whole team."
2021 U-17 Euros cancelled due to COVID-19 pandemic
The 2021 men's and women's U-17 European Championships have been cancelled due to the impact of the COVID-19 pandemic, UEFA said on Friday.
"Based on a constant monitoring of the development of the pandemic ... the UEFA Executive Committee decided after consultation with all 55 member associations to cancel and/or postpone some of the 2020/21 youth national team competitions," European soccer's governing body said in a statement.
UEFA also said the men's U-19 Euros would go ahead in July in Romania, with the women's event set to take place in July-August in Belarus.
Euro 2020, UEFA's flagship tournament which was due to take place this June, was postponed by a year and will run from June 11–July 11, 2021.
Rapinoe questions her inclusion in FIFA team of year
Women's World Cup winner Megan Rapinoe has said her inclusion in FIFA's "Women's World11" team of the year despite playing so little is a sign that the women's game needs more visibility and exposure.
Rapinoe, who was named best player at the 2019 World Cup and finished top scorer, said she appreciated being included in the team of the year but pointed out she had not played since March, when the coronavirus pandemic disrupted global sport.
The winger said on Twitter she appreciated being chosen by her fellow professionals but other players deserved more recognition this year.
"We have so many phenomenal female players around the world and all of us need to do what we can to recognise them," she said.
She added that her inclusion "sheds light on the fact that to push our game forward we need continued investment ... to give more female players the opportunity to be seen on TV in their home countries and globally while performing for club and country".
Rapinoe, who won FIFA's The Best award last year and gained extra attention for her criticism of U.S. President Donald Trump, chose not to play for her club OL Reign when the U.S. women's season resumed in June.
But she said she was excited to return to playing next year, when the United States will be playing in the Olympic Games in Tokyo.
"The future of our game is so bright, the potential is limitless, and our commitment to pushing it forward from every possible angle has to match that," she added.
"Again, I am honoured and flattered to have been recognised by my peers for this honour, and look forward to getting back out on the field in 2021!"
Amazon secures rights to screen top Champions League matches in Italy
Amazon said on Friday it has secured exclusive rights to screen top European Champions League matches in Italy on its Prime Video streaming platform for the 2021-2024 seasons, in its first foray into broadcasting sports events in the country.
Beside sixteen UEFA Champions League to be aired on Wednesday, Amazon has secured the right to screen the UEFA Super Cup, a one-off fixture between the winners of the UEFA Champions League and the UEFA Europa League.
Sources have told Reuters in October that Amazon's bid for the rights was worth 80-90 million euros ($98-110 million) per season.
Man City spread Christmas cheer with donations, gifts
Manchester City have helped raise spirits in the festive season by donating funds and other gifts to vulnerable families in the local community, the Premier League club said on Friday.
Players and staff members were among those that funded, wrapped and delivered over 5,000 Christmas presents to school children in East Manchester and those in the care of Manchester City Council.
The club also donated 500 three-course meals to local families in East, Central and South Manchester, and 45,000 everyday essential items to 10 charities across the city.
"We all know how difficult this year has been and that for some, the festive period will be particularly challenging," chief executive Ferran Soriano said.