Jamaican 400 metre runner Dominique Blake was banned for six years on Thursday for a second doping offence.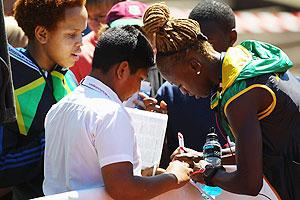 The Jamaica Anti Doping Disciplinary Panel issued the penalty after Blake tested positive for the banned stimulant methylhexanamine at last year's Olympic trials.
It was her doping offence after she served a nine month suspension for testing positive to ephedrine in 2006.
"The panel unanimously decided that Ms Blake did not satisfy the panel comfortably that the substance entered her body without the intent to enhance sporting performance and we decided on a sanction of six years commencing this day June 13, 2013," said Kent Pantry, the chairman of the disciplinary panel.
Blake finished sixth at the trials and was picked as a relay runner for the London Olympics but did not compete at the Games. Jamaica's women finished third in the 4x400m relay.
Blake's attorney said the sanction was excessive and Blake may appeal.
Photograph: Matthew Lewis/Getty Images