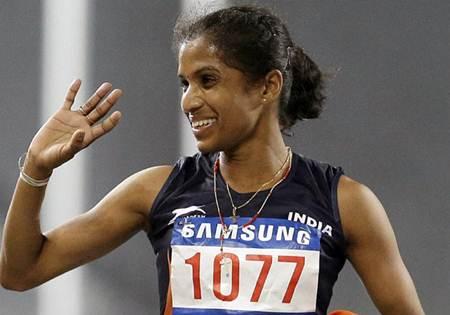 O P Jaisha and Kavita Raut, India's best distance runners and medallists at the Asian Games in the past, found themselves out of depth in the women's marathon at the Rio Olympics and finished way behind in the 150-plus field on Sunday.
National record holder Jaisha, bronze medallist in the 5,000 metres and 1,500 metres at the 2006 and 2014 Asiads in Doha and Incheon respectively, ended up 89th, finishing the energy-sapping 42.1km race in two hours, 47 minutes, 19 seconds.
The 33-year-old Kerala-born runner's time was more than 23 minutes behind that of the gold medal winner, Jemima Jelegat Sumgong (2:24:04s) of Kenya.
At the half way mark she was behind the leader by three-and-a-half minutes, but then slowed down, unable to sustain her early pace.
She was well off her personal best of 2:34:43s and season's best of 2:42:26s.
She was 67th after 30 kms and dropped to 87th with 2kms to go.
Jaisha had achieved her personal best at the World Championships at Beijing last year where she finished 18th overall.
Kavita, who won medals in the 5000m and 10,000m six years ago in the Guangzhou Asian Games, finished 120th, clocking a shade under three hours
(2:59:29s).
The 31-year-old Maharashtra athlete finished 35 minutes behind the champion from Kenya after being nearly ten minutes off the leader's pace at the half-way stage of the gruelling race.
Kavita started off much slower and had a woeful first 30kms which she covered in 2:02:24s. She was in 122nd place at that stage. By the 40km mark, she improved her position by two places.
The silver was won by Bahrain's Eunice Jepkirui Kirwa (2:24:13s) while the bronze went to Mare Dibaba of Ethiopia (2:24:30s) after a sprint finish.
Twenty-three runners who started the race did not complete it.
IMAGE: O P Jaisha
Photograph: PTI