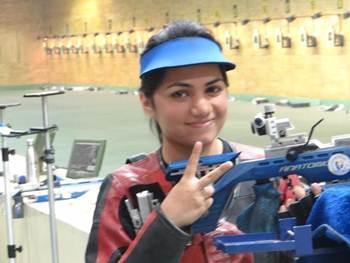 I decided to become a shooter after watching Abhinav Bindra win a gold medal for the country, 21-one-year-old shooter Apurvi Chandela tells Shahnawaz Akhtar.
It was a memorable outing for Jaipur shooter Apurvi Chandela in the Intershoot Championships at the Hague, in the Netherlands. She not only won four medals at the just-concluded event but also had the privilege of representing India alongside her role model, Abhinav Bindra.

The 21-year-old shooter did the country proud by bagging four medals, including two gold in the 37th edition of the tournament, which was spread over three days.

Participating in the Air Rifle women's category, on Day 1, she won an individual gold in her first match, with scores of 414.6+208.9. One Day 2, she won an individual bronze, with scores of 414.2+185.4, and a Team gold (1232.5) teaming with former Olympian Suma Shirur and Neha Chaphekar. She ended her campaign with a sliver on Day 3 after scoring 414.3+204.2 points.

Apurvi, who was National champion in 2012, told Rediff.com the competition was tough as many Olympians used the event as a start in preparation for the 2016 Olympics.

"But my win will boost my confidence for upcoming events like the Asian Championships and World Cup," added Apurvi.

She said it was special to be part of the Indian team which had 2008 Beijing Olympics gold medalist Abhinav Bindra, who also won a gold medal in the championship.

"I decided to become a shooter after watching Abhinav Bindra win a gold medal for the country, and in this championship I was also there to participate."

Besides shooting, Apurvi, a third year student in sociology, loves to read fiction. Her favourite writer is Paulo Coelho.

Her father Kuldeep Singh was ecstatic following her success.

"We had the confidence as we have seen her practicing shooting since day one. We also hope that one day she will win gold for the country in the Olympics," a jubilant Kulddep Singh said.

"And watching her talent, now Abhinav Bindra also guides her. So now we all have got double reason to rejoice at her success," he added.
Image: Apurvi Chandela