Jabeur upset with fans reselling tickets due to women's match in night session
Tunisian Ons Jabeur said fans should not simply assume that women's matches will be 'crappy' after learning that tickets for Sunday's French Open night session were resold when a women's singles contest was scheduled for the first time this year.
The first seven days had only men's singles matches played in the night session at Court Philippe-Chatrier but on Sunday women's second seed Aryna Sabalenka will take on American Sloane Stephens.
Jabeur said she hoped to see a full stadium with fans giving women a chance as "two excellent and incredible players" battle it out under the lights for a place in the quarter-finals.
"It's time to change that vision, because I find that people don't watch many female matches and they just judge that it's going to be a crappy match. But it's not the case, there are a lot of extraordinary matches," Jabeur told reporters.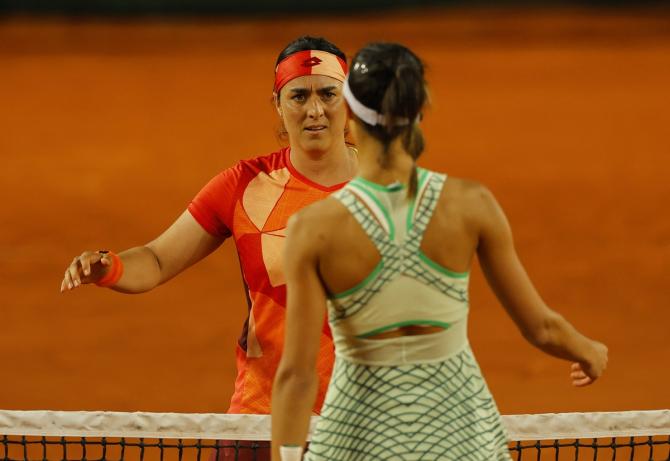 "Women are training, playing extraordinary matches ... How can you judge a women's match without watching it? I hope that is going to change the mentality of giving a chance for these women who fight on a daily basis.
"Because honestly, we do a lot of efforts. We make a lot of sacrifices that men don't have to do on the tour."
Jabeur said it was "high time" they scheduled a women's match in the night session and questioned why Roland Garros did not have two matches like the other Grand Slams.
"I played very late in Australia, I played very late at the U.S. Open. It's not necessarily a good thing, but it's just putting two matches," she said.
"Maybe they should start the night session a bit earlier to be able to put two matches. I understand with men playing five sets it can be difficult, but we did it in the other Grand Slams."
Jabeur came from behind to beat Olga Danilovic 4-6, 6-4, 6-2 on Saturday and when asked why she had struggled against the Serbian qualifier, she smiled and said it was an issue "men will never understand".
"Being a woman is tough," she said. "It depends with the time of the month that you have, but sometimes you have to manage. Unfortunately I had few days where it's very tough.
"This thing you can never 100% manage, unfortunately, but I'm learning to know my body better."