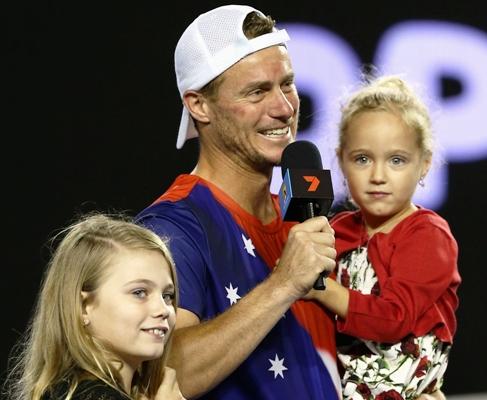 IMAGE: Lleyton Hewitt of Australia is interviewed on court with his children after losing his second round match against David Ferrer of Spain. Photograph: Cameron Spencer/Getty Images
Lleyton Hewitt was ushered into retirement as Spain's David Ferrer ended the Australian former world number one's career with a 6-2, 6-4, 6-4 victory on an emotional night at Melbourne Park on Thursday.
Hewitt, a two-time grand slam champion, scrapped for all his worth against the tenacious eighth seed but was unable to extend his record 20th and final appearance in the Australian Open men's singles to the third round.
Once he has completed his doubles duty with Sam Groth, Hewitt's playing career will be over and he will turn his thoughts to becoming Australia's Davis Cup captain.
"I left nothing in the locker room. My whole career I've given 100 percent," the watery-eyed 34-year-old said on court after video tributes from the likes of Roger Federer and Rafa Nadal were played on the Rod Laver Arena screens.
"I love coming out here and competing. I've been so fortunate to have that opportunity 20 years in a row."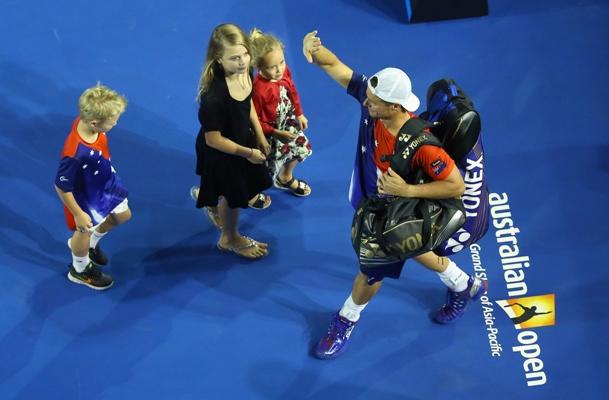 IMAGE: Lleyton Hewitt of Australia waves good bye to the crowd as he leaves the stadium with his kids after losing his second round match against David Ferrer of Spain. Photograph: Quinn Rooney/Getty Images
Ferrer was in no mood for sentimentality as he hustled his way to victory after Hewitt's periodic fightbacks brought the crowd into the match, but was generous in his praise for the former Wimbledon and U.S. Open champion.
"It's a sad day. I never had idols, but Lleyton was one for me," Ferrer told the crowd.
"I have a museum in my house and I have a T-shirt of Lleyton. It's the only T-shirt I have of a tennis player."
Fans on Rod Laver Arena, including the Fanatics who have followed him everywhere, did their best to motivate the man.
Chants of "here we go Rusty" or simply "COME ON!!" in reference to the war cry Hewitt has trademarked throughout his career filled the air.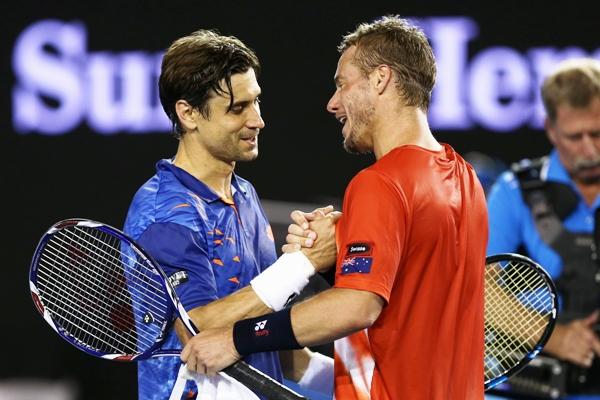 IMAGE: David Ferrer of Spain and Lleyton Hewitt of Australia meet at the net following their second round match during the Australian Open in Melbourne. Photograph: Cameron Spencer/Getty Images
Every Hewitt winner was met with full-blooded zeal. Every unforced error with a collective sigh.
Ferrer's winning shots, meanwhile, were met with polite applause, no matter how brilliantly played, but he did not mind.
"Tonight was Lleyton's, not mine," he said.
The crowd sensed this was to be Hewitt's last stand when Ferrer won the first set after breaking serve twice despite some typically pugnacious defense from the Australian who will go down in the history books as one of the game's true warriors.