Narsingh eyes fairy-tale climax, Yogeshwar Dutt keen to sign off on high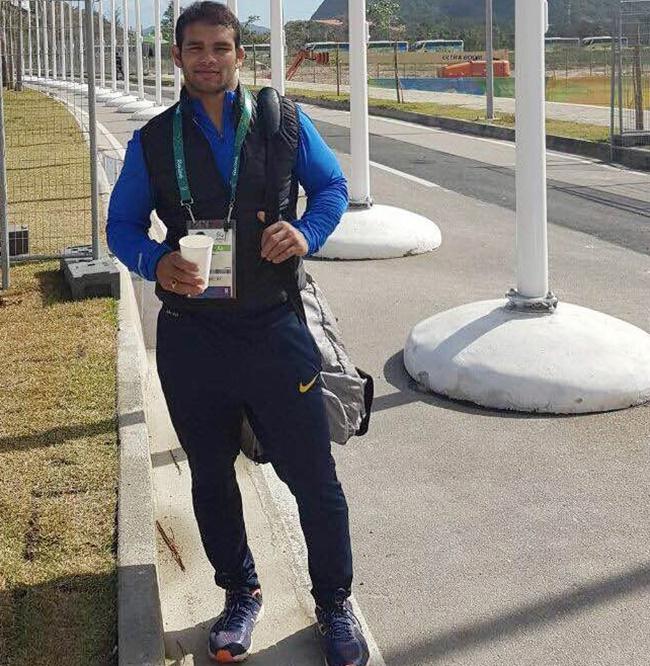 IMAGE: Narsingh Yavdav in Olympic Village. Photograph: Twitter.
A turbulent run-up to the Rio Games behind him, Narsingh Yadav will be eyeing a fairytale climax while old warhorse Yogeshwar Dutt would look to bid adieu with a second straight medal when India begin their Olympic wrestling campaign on Monday.
Midway into the 17-day extravaganza, the biggest ever Indian contingent of 100-plus athletes is yet to land a medal and the onus would now be on the wrestlers to make up for it.
Having finished with two medals in wrestling at the London Games four years ago, the expectations are high and it would be up to the eight-member team to shoulder the responsibility.
However, the build-up to the Rio Games hasn't been very smooth for the Indian wrestling contingent with Narsingh fighting to clear his name in a doping scandal till the last moments.
While the entire team's preparations were affected due to a doping "conspiracy" surrounding Narsingh, but the man at the centre of the controversy himself had put up a brave front all through and fought out against all odds to emerge triumphant in the end.
It started with two-time Olympic medallist Sushil Kumar demanding a selection trial in men's 74kg freestyle against Narsingh, who had bagged the quota place for India last year in this weight category.
The fight went to the Delhi High Court, which dismissed Sushil's plea of seeking a trial. However, that was not the end of hurdles for Narsingh as there was more trouble in store.
With just 20-odd days for the Olympic Games to start, 27-year-old wrestler from Maharashtra tested positive for a banned substance in two dope tests conducted by the National Anti-Doping Agency (NADA).
The failed dope tests almost derailed his participation in the Olympics but Narsingh appealed and NADA constituted a three-member panel to hear his case.
After a week's ordeal, NADA gave a verdict in Narsingh's favour, exonerating him of all charges after being convinced by the 'sabotage' theory advanced by the wrestler's legal team, just four days ahead of the Games Opening Ceremony.
Finally, on Wrestling Federation of India's request, the world body (United World Wrestling) reconsidered his name in the 74kg category.
It is now time that Narsingh bury the ghosts of the past and concentrate on job at hands. And the wrestler is more than keen to do exactly that when he takes the mat on August 19.
"I don't want to think about it (the past) anymore. I'm just focusing on my training. I just want to win a medal for my country. That's the only hope left for me. I am giving my 100 per cent," Narsingh said after arriving at the Games Village a couple of days back.
In fact, there is extra pressure on Narsingh to prove his worth as he denied the only double Indian Olympic medallist a chance to bid for a third Olympic medal.
Reigning Olympic wrestling champion Jordan Burroughs, 28, is one of the favourites to win here in the 74kg division.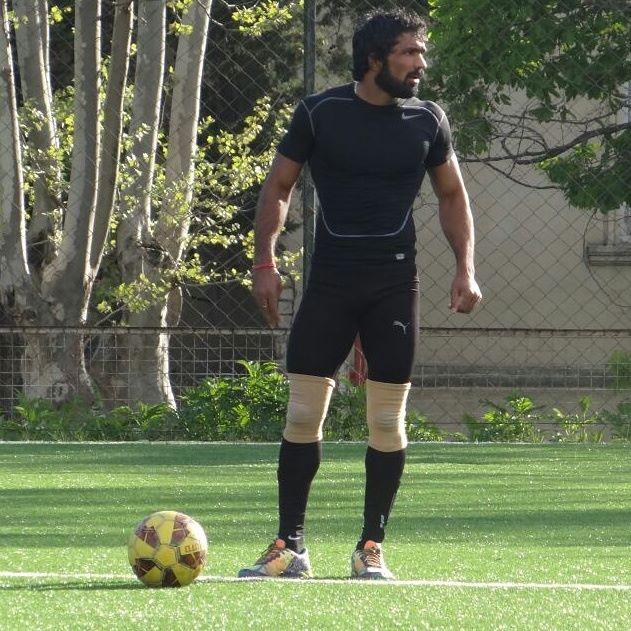 IMAGE: Yogeshwar plays football as part of his cardio session. Photograph: Twitter.
Meanwhile, the biggest draw in Indian squad is London Olympic bronze medallist Yogeshwar Dutt, playing in his fourth and, in all probability, last Olympics.
All eyes and hopes would be pinned on the 33-year-old to end with a medal on the final day of the competition as his event -- men's 65kg freestyle -- is slated on August 21.
Yogeshwar will have his task cut out when he faces the world champion Frank Chamizo of Italy and also Russia's Soslan Ramonov.
Besides Narsingh and Yogeshwar, Sandeep Tomar (57kg freestyle) also has a chance of bagging a medal here as the Asia champion has not returned from an international tournament without a medal in the recent past.
Although with a field boasting of world's gold medallist and London silver medallist Vladimer Khinchegashvili and Iran's Hassan Rahimi, Tomar will be up against some stiff challenge.
Indian wrestling may see a surprise package in Hardeep Singh, who will fight in the Greco-Roman 98kg category. He had booked the quota with a silver medal at the Asian Olympic qualification, becoming the first in Greco-Roman since 2004 Athens Olympics.
Hardeep will be joined by Ravinder Khatri in Greco-Roman 85kg category and the duo will look to popularise the discipline which is not India's forte.
The women's field also looks promising for India and the two Phogat cousins -- Vinesh (48kg) and Babita Kumari (53kg) -- would compete along with Sakshi Malik (58kg).
However, Vinesh is the best bet for India in the women's section. 21-year-old girl from Haryana, with an aggressive attitude, has proved her worth by winning medals at Asian Games, Commonwealth Games and Asian Championships.
But it would be a different kind of a challenge at the Olympics and she would have to play out of her skin to win a medal.
Veteran Babita was down with high fever a couple of days back and although she has recovered and has started practising, it remains to be seen whether she attains full fitness before her bout, scheduled on August 18.