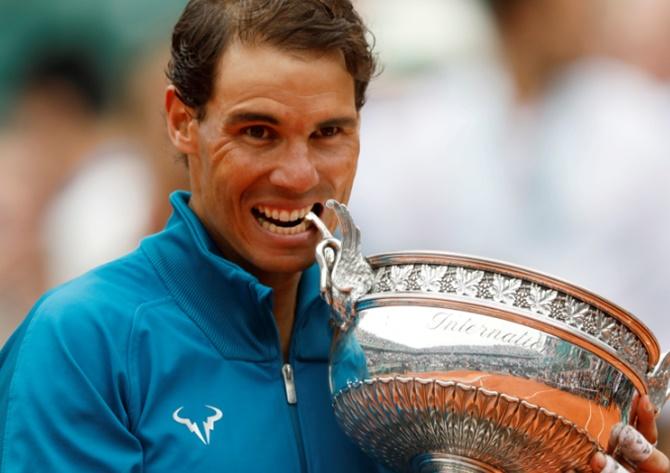 IMAGE: Spain's Rafael Nadal celebrates by biting the trophy. Photograph: Charles Platiau/Reuters
World number one Rafael Nadal said it was beyond a dream to win his 11th Roland Garros title after defeating Austrian Dominic Thiem in straight sets on Sunday.
"It's amazing now, I can't describe my feelings," Nadal told the crowd on Philippe Chatrier Court moments after capturing his 17th Grand Slam trophy with a 6-4, 6-3, 6-2 victory.
"It's not even a dream to win here 11 times, because its impossible to think of something like this."
Nadal saluted his 24-year-old opponent, who is the only man to have beaten the Spaniard on clay over the past two seasons.
"He's very aggressive, with big shots," Nadal said in halting French before switching to English.
"I want to say well played to Dominic. He played a great two weeks. He's a good friend, one of these players that the tour needs. I am sure you'll win here in the next couple of years."
The emotional Spaniard wiped away tears as he held on to the Coupe de Mousquetaires.
"Many thanks," he told the crowd. "I hope to see you again next year."