'Even at 42, Leander's ball skills, his reflexes at the net, the hand-eye coordination... nothing has diminished. In fact, he is as good as he's ever been.'
Enrico Piperno, Leander Paes's coach in his formative years, celebrates the longevity of the 16-time Grand Slam Champion with Bikash Mohapatra/Rediff.com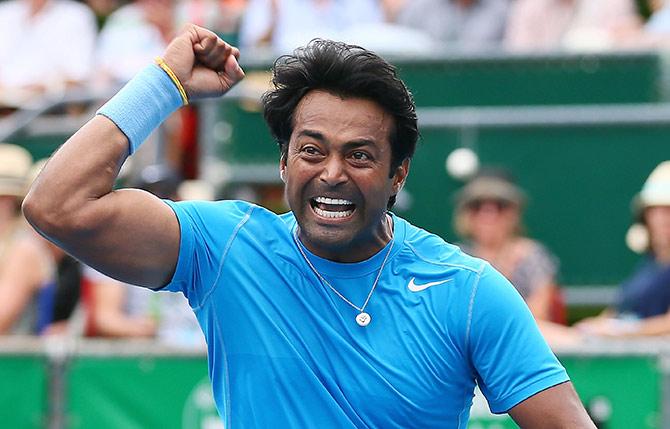 Image: India's evergreen Leander Paes celebrates after winning a match. Photograph: Getty Images
"If someone had told me back then -- in the early 1990s -- that Leander Paes would still be playing, and winning Grand Slams in 2015, I would have told him to go and see a psychiatrist."
Enrico Piperno's elation at Leander's success at this year's Wimbledon has an element of disbelief.
Paes teamed up with Switzerland's Martina Hingis to win the mixed doubles title at the Championships and pick his 16th career Grand Slam title.
"It's a marvel that he is still playing so well, especially the manner in which he is dictating points at the net," Piperno, the veteran coach, says.
"Even at 42, his ball skills, his reflexes at the net, the hand-eye coordination... nothing has diminished at all. In fact, he is as good as he's ever been."
"It was an amazing performance."
Piperno was still a player when Paes joined him, as partner and pupil. The former Indian Davis Cupper takes pride in the fact that it was he who guided Leander to his debut on the professional tour.
"I was coaching him at that time and also happened to be his doubles (and practice) partner," Piperno recalls, adding, "I took him to his first ATP tournament (the Singapore Open in 1991)."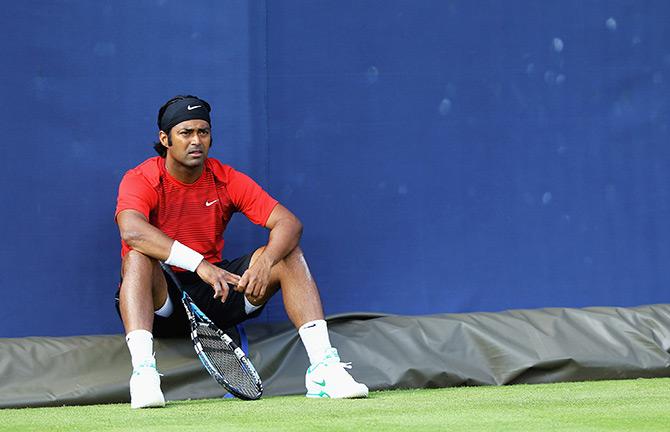 Image: Leander Paes in a pensive mood during a training session. Photograph: Getty Images
Predominantly a singles player early on in his career, Leander made a switch to doubles when the going was still good.
Piperno says the switch was more of a necessity than choice.
"In Leander's case, the circumstances were such that he had to make the transition to doubles," explains India's former Fed Cup captain.
"His body was playing up and he needed to make this career switch to ensure longevity."
"I would say he made the right decision at the right time."
While undoubtedly happy with Leander's success, Piperno is upfront in accepting the pragmatism behind Paes's choice as well the status of 'doubles tennis' in the present day.
Image: Leander Paes made the career switch from singles to doubles at the right time, says Enrico Piperno. Photograph: Getty Images
In professional tennis doubles no longer carries the prestige it used to till the early 1990s.
The rigours of the tour and an extended season, with players being made to play a mandatory number of tournaments to protect their rankings, has ensured most top singles players are no longer interested in playing doubles.
Weak draws, lack of spectators and considerably less prize money has dogged doubles events in recent years.
"The standard of doubles has certainly diminished," says Piperno.
"The fact that Leander, at 42, has entered the playing field is proof of this," he adds, "It would not have been possible if the top singles players took to doubles, like they did till the 1990s."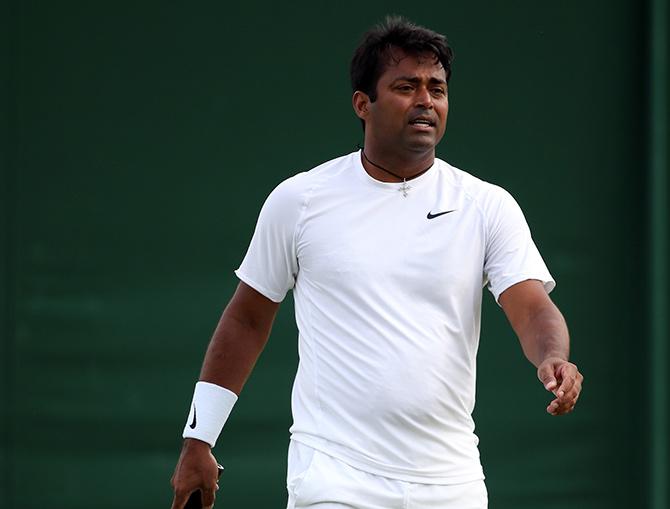 Image: Leander Paes, at 42, is still a force to reckon with in doubles. Photograph: Getty Images
"It is not Leander to blame," Piperno points out. "It is the system (the ATP Tour)."
"Playing in singles has become so strenuous that the top players avoid playing doubles."
"The lack of top players does diminish the quality of the playing field in major events. However, it doesn't diminish the fact that you are a Grand Slam winner and have put in the effort to win it."
"At the end of the day no one asks what kind of Grand Slam titles you have won. They ask how many? And Leander has 16 now. You can't take those achievements away from him," he adds.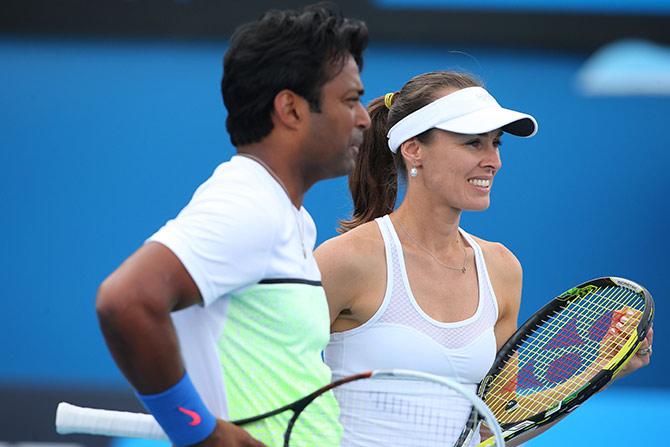 Image: Martina Hingis and Leander Paes. Photograph: Getty Images
Leander has shown no inclination of hanging up his racquet any time soon, but Piperno feels there's not much time left.
"He's 42 now. It will get only tougher for him as it goes on."
"I think he will continue playing till the Rio Olympics next year and thereafter reassess whether he can carry on any further or not."